Bus from Pompei to Gallipoli
The distance from Pompei to Gallipoli is 188 miles (304 km). Therefore, you can be assured to view a lot of the environment's beauty throughout the journey. At least one bus leaves for Gallipoli from Pompei every day. route Most buses offer direct services but some buses make a stop along the trip. This way, you are assured that you can never miss a bus, especially if you book early.
Pompei to Gallipoli bus time: Daily departures
At least one bus operates from Pompei to Gallipoli each day. However, sometimes, there are multiple journeys in a day. The bus departing in the morning mostly departs around 8:15 a.m., but if a bus departs in the evening, it leaves at around 11:00 p.m. Thus, you should check the updated schedule before booking your bus ticket. Again, departure times may change, especially during weekends, events, and peak hours.
How long is the journey by bus from Pompei to Gallipoli?
Each bus from Pompei to Gallipoli covers a distance of 188 miles (304 km). The average bus duration in this route is 6h 20min. route This is the time taken by the fastest bus which offers direct services in this route. However, if you choose a slower bus, you spend an average of 7h 53min on the bus. Some buses are even slower and take a duration of 9h 10min to cover this distance.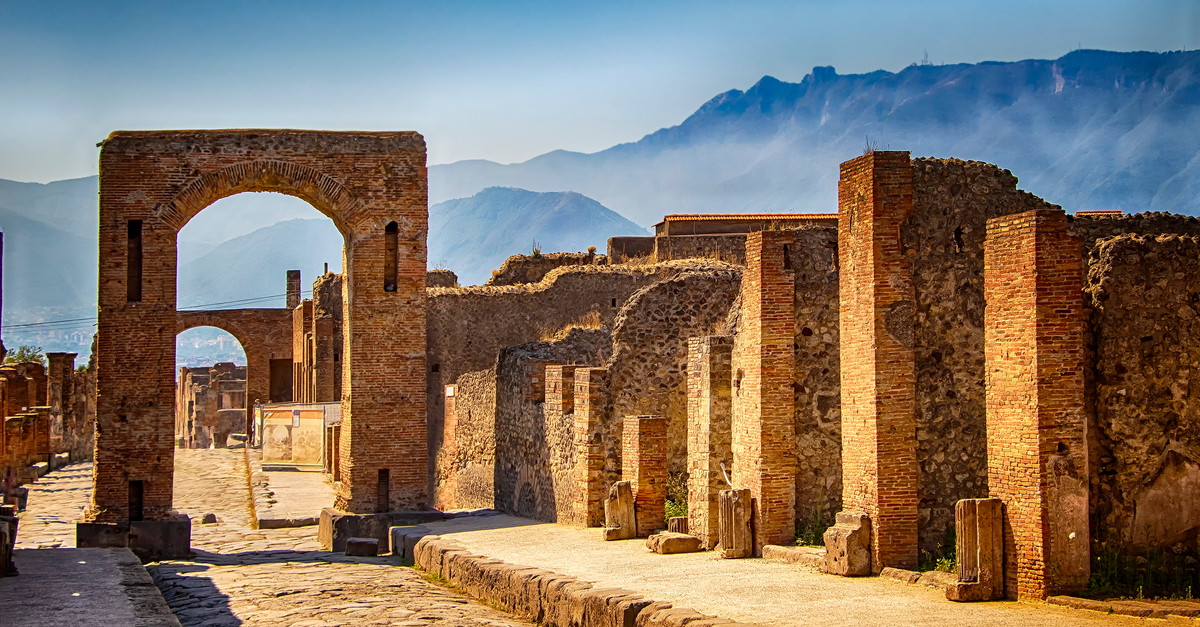 Pompei Arch. Source: Shutterstock
What are the departure and arrival stations for bus from Pompei to Gallipoli?
Departure bus station: Departure bus stations in Pompei include Pompei, Casello Autostrade Castellammare, Pompei, Piazza Falcone e Borsellino, and Pompei, Scavi. Buses from Pompei depart from Pompei, Piazza Falcone e Borsellino, located 0.4 miles (780 m) from the city center. Though the station is located at the heart of the city, you can catch a public bus to drop you at the entrance of the station. Facilities in this station include restrooms, a retail outlet, and parking.
Arrival bus station: Arrival stations in Gallipoli include Gallipoli, and Gallipoli, Parcheggio Cimitero. Mostly, buses depart from Gallipoli, Parcheggio Cimitero, located approximately 1.1 miles (1.7 miles) from the city center. The available public transport is a line 4 tram which takes around 7 min to get to the station. This bus station has numerous facilities you need during your trip, including toilets, parking, a retail outlet, and a waiting area.
Which bus companies travel from Pompei to Gallipoli?
Miccolis is the main company for buses operating from Pompei to Gallipoli. These buses serve urban, and suburban routes, and also offer interregional connections. At least one bus offers direct services in this route every day. route However, the bus schedule is changeable and sometimes offers indirect buses, especially during holidays. The fastest buses travel at an average speed of 43 mph (70 km/h) to arrive at Gallipoli after approximately 6h 20min. Miccolis bus company is an official Omio partner to provide exceptional services to all travelers. You can get all information about Miccolis by checking the latest information on the Omio app. Thus, you can choose your bus ticket type, travel date, and time.
Miccolis buses from Pompei to Gallipoli
One or more buses operate from Pompei to Gallipoli daily. Most of these buses travel directly to the arrival station but sometimes you can catch a connecting bus. The duration of the fastest buses is 6h 20min because they don't stop along the way. However, slower buses making a change along the way or traveling at night can take between 7h 53min to 9h 10min. High_speed buses travel at around 43 mph (70 km/h) and cover long distances. Thus, you can choose to take a direct or a connecting bus depending on your preferred journey.
Traveling by bus is a sustainable journey
Traveling by Miccolis buses is more sustainable than traveling by air. These buses use and offer recyclable materials to serve drinks and food. This helps to reduce the disposal of materials in landfills and reduce carbon footprint in the atmosphere. Again, buses carry more people compared to minivans and taxis, reducing the congestion in the streets. These buses also cut their carbon emissions by up to 75% compared to hybrid vehicles. Carbon is a greenhouse gas that reduces air quality. Reduced carbon prevents the destruction of the ozone layer and climate change in the future.
Bus Pompei to Gallipoli: Services on board
Most buses from Pompei to Gallipoli offer second_class services. passengers can get comfortable on Extra_urban, urban, or sub_urban buses. The on board services available in these buses include toilets, air conditioning, large velvet seats, velvet seats, free Wi_Fi, stereo, and video systems. However, you enjoy some of these services depending on your bus ticket. To board the bus, you can either carry a handbag or two pieces of luggage. If you have a piece of extra luggage such as a bag with a folded bike, you need to pay an additional fee. Unfortunately, pets aren't allowed on Miccolis buses because there are many passengers on board. However, you can contact the company carrier services to check if you'll be allowed to bring your pet on a particular travel date. Miccolis buses provide services for the disabled. Buses are equipped with special features that aid wheelchair access when getting in or off. To avoid inconveniences on your departure, you should request assistance beforehand. This way, you'll be assured to have a smooth journey despite your disability type.
How to find cheap bus tickets from Pompei to Gallipoli?
If you are on a tight budget, you can find a cheap bus ticket from Pompei to Gallipoli by booking a few months or weeks in advance. By early booking, you enjoy special deals and discounts set by the bus company. You can also find a cheap ticket by choosing connecting buses instead of traveling directly to your destination. However, you spend a longer duration on the road but enjoy various adventures. Again, being flexible with your travel dates is another way to find a cheap ticket on this route. This helps you avoid traveling during busy schedules with increased ticket prices. Despite booking a cheap ticket, be assured to have a luxurious trip.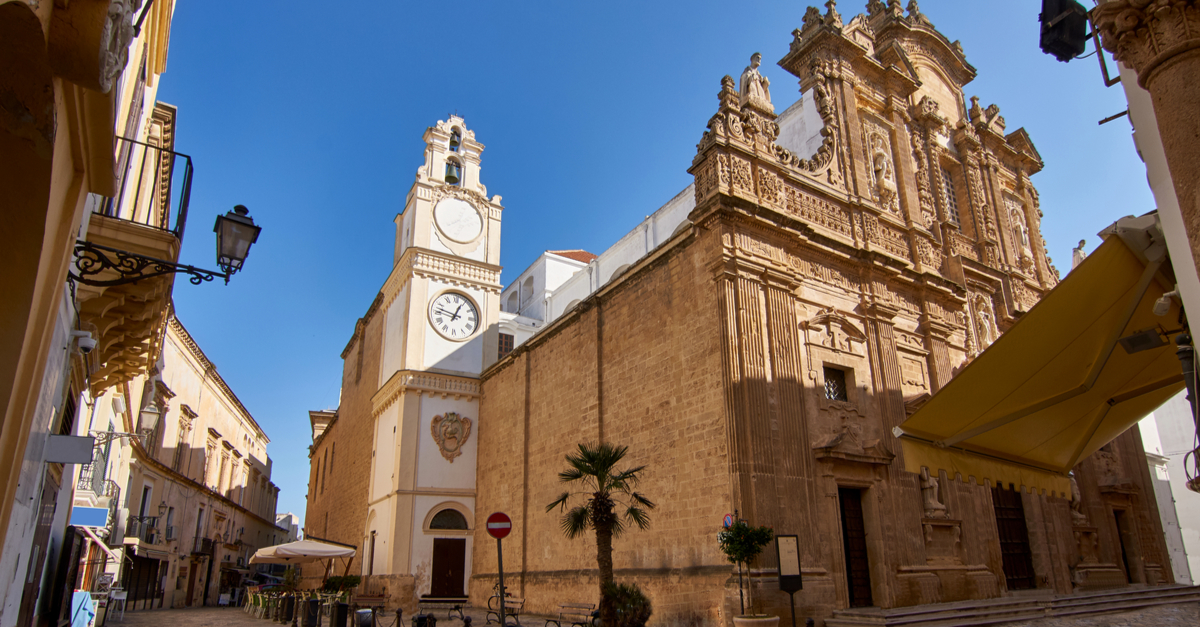 Gallipoli Cathedral Perspective. Source: Shutterstock
To Gallipoli by bus – travel tips
Gallipoli City is the best place to visit, especially during summer. This city has several museums to preserve the city's history, art, and culture. Museums to visit during your stay include Frantoio Ipogeo di Palazzo Granafei, Marea _ Centro di Cultura del Mare, Museo Civico Emanuele Barba, and Biblioteca Comunale ed Archivio Storico. For fun, things to do in Gallipoli include Scuba diving and joining day tours at Alberobello and Puglia. You can also swim and have fun at Spiaggia Baia Verde di Gallipoli, Zeus beach, Lido Punta Della Suina, Lido Scottovento, Spiaggia della Purita, and Samsara beaches. If you have kids, you can never get enough at Splash Acquapark. Attractions to visit in Gallipoli include Centro Srtorica di Gallipoli, Isola di Sant'Andrea, and Chiesa di Santa Maria della Purita. This city also offers delicious dishes, including burgers, steakhouse, seafood, Italian, and Mediterranean cuisines. Therefore, you can never go hungry any day. Restaurants that offer delicious dishes include;
L'angolo Salentino
Antica Ucceria di Salvatore Coribello
II Chioso
Vecchio Ingrosso
Baguetteria De Pace
Brasserie
AI 123 Pucceria Pizzeria
Pizzeria Terra del Sol
Calo Urban Food Experience
La Pizza da Franco Alla Vecchia