Bus from Ithaca to Syracuse
If you're traveling from Ithaca to Syracuse, you may want to consider taking a bus for the 45-mile journey (72 km). Using the bus, you can reach your destination in about 1h 20min. OurBus offers one daily route between the cities. The buses from Ithaca to Syracuse travel on a direct route most days, although occasionally passengers may need to change buses once along the way in Binghamton.
Ithaca to Syracuse Bus Time: Daily Departures
There is one daily bus from Ithaca to Syracuse, which is scheduled to depart from Ithaca around noon every day, including weekends and most holidays. You'll arrive in Syracuse in about 1h 20min, usually without the need to transfer buses.
How long is the journey by bus from Ithaca to Syracuse?
Ithaca, NY is located about 45 miles (72 km) southwest of Syracuse, NY. When taking the bus from Ithaca to Syracuse, you should budget about 1h 20min for the trip, usually without the need to transfer buses. Passengers should note that on some days, there may be one change of buses along the route, usually in Binghamton. It's always a good idea to check the schedule when purchasing your ticket to see if your bus will travel directly to Syracuse.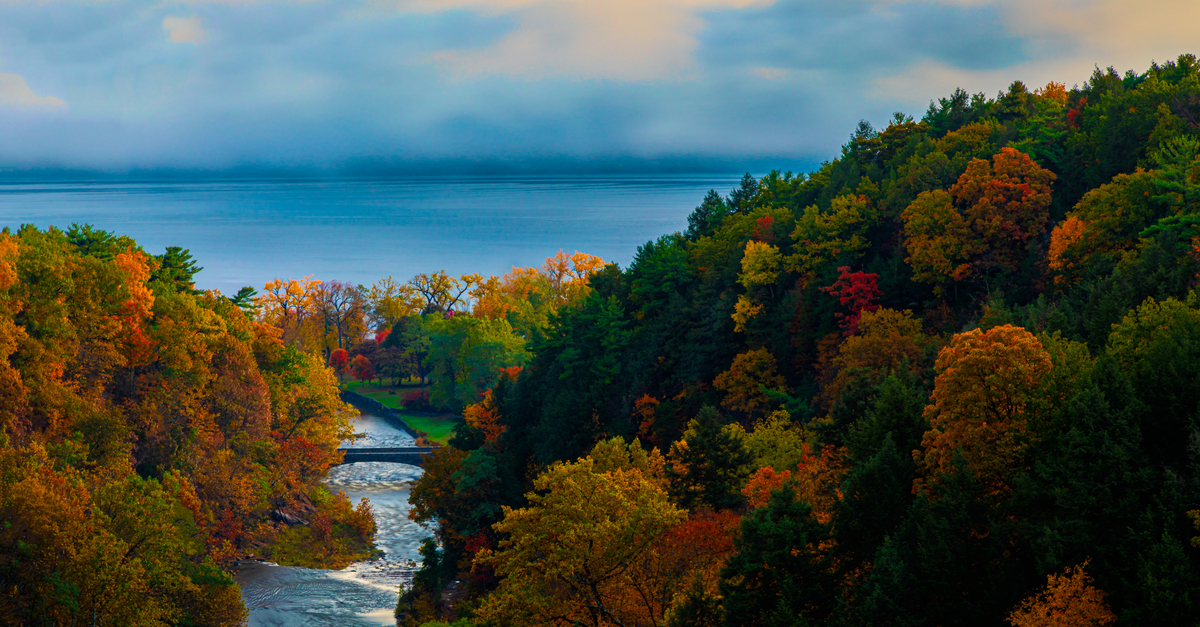 Ithaka Autumn Colours. Source: Shutterstock
What is/are the departure and arrival stations for buses from Ithaca to Syracuse?
Departure bus station: All buses from Ithaca to Syracuse depart from the stop outside of the Starbucks at 130 E Seneca Street in the heart of downtown Ithaca, just off the Ithaca Commons in the city center. If you'll be driving to the bus stop, you should use the address of 118 E Seneca Street to ensure you receive the correct directions to the station. Paid overnight parking is available near the bus stop, in the Green Street Garage. If you prefer to use public transportation, many of the daily TCAT bus routes stop at Ithaca Commons near the bus stop, including routes 11, 13, 14, 15, 17 and 20. Because the bus stop is an uncovered stop on the street, there are no facilities. However, there are plenty of restaurants, shops and services nearby in Ithaca Commons, which is a pedestrian mall.
Arrival bus station: Buses from Ithaca to Syracuse arrive outside Syracuse University's Schine Student Center at 222 Waverly Avenue in Syracuse, NY, between Walnut Place and University Avenue. The bus stop is a sheltered bench along the street. Although there are no facilities at the bus stop itself, the Schine Student Center does have a few services available to the public during the day (usually between about 7:30 a.m. and 8:00 p.m.) including restrooms, dining options, and a market. The stop is about 1.5 miles (2.4 km) southeast of Clinton Square in downtown Syracuse. It takes less than 20min to reach downtown Syracuse using the local #530 or #340 Centro buses.
Which bus companies travel from Ithaca to Syracuse?
OurBus is the bus company that offers daily service from Ithaca to Syracuse. Formed in 2016, the OurBus company schedules intercity bus travel in many states, including New York, Pennsylvania, Maryland, Texas and Florida. It also offers commuter bus services in cities such as New York City and Philadelphia. Passengers should note that OurBus does not own or operate its own buses, but it coordinates services with its partners to fulfill the schedules that it offers. Therefore, the bus that provides service on your route may or may not have an OurBus logo on the bus's exterior; if the bus is not branded with the OurBus logo, there will be an OurBus sign on the dashboard.
OurBus buses from Ithaca to Syracuse
OurBus offers one daily route from Ithaca to Syracuse. The trip lasts about 1h 20min on one of its modern buses designed for comfortable, long-distance travel. All buses running on the OurBus routes are equipped with reclining seats, charging stations, and restrooms. There is also free Wi-Fi on the buses, although the availability of Wi-Fi is reliant upon the availability of signals from cell phone towers along the route. OurBus does not sell tickets on the bus; all tickets must be purchased in advance. When you purchase your ticket through Omio, you can simply show your electronic boarding pass to your driver when boarding the bus.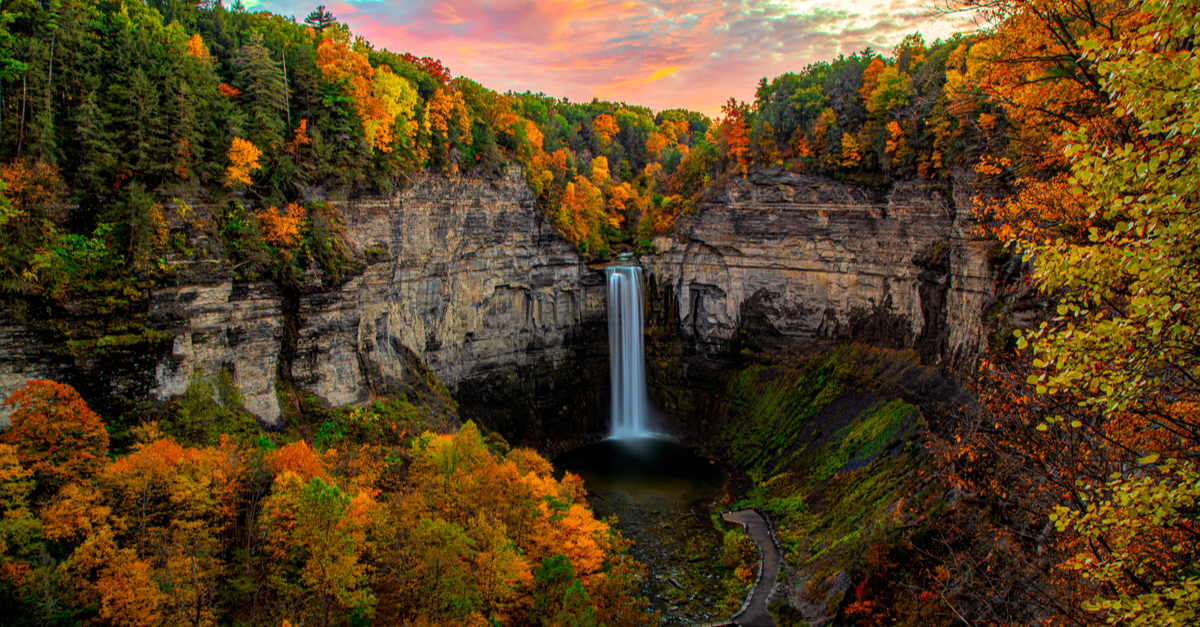 Ithaka Waterfall Sunset. Source: Shutterstock
Bus Ithaca to Syracuse: Services on Board
All tickets for buses from Ithaca to Syracuse are standard-class tickets. Passengers may bring one carry-on item and one checked luggage item that will be stowed in the cargo bins under the bus. The total dimensions (length plus width plus height) of the checked luggage item must be less than 62 inches (157 cm). Passengers who wish to bring an oversized item such as a bicycle, golf clubs or large musical instrument may do so as long as the item fits in cargo area.
Oversized items count as the passenger's checked bag. Be sure to pack the item carefully to prevent damage, as OurBus will not cover damage caused to (or by) your item. Alternatively, passengers may purchase an extra seat on the bus and may store the large item in the extra seat, if practical. Pets are not allowed on board OurBus buses, with the exception of trained service animals who remain harnessed during the trip.
How to find cheap bus tickets from Ithaca to Syracuse?
A good rule of thumb for finding cheap bus tickets from Ithaca to Syracuse is to be flexible with your travel dates and times, because sometimes certain days or travel times can be less expensive. Also, booking in advance can often save you money. Tickets for OurBus routes usually go on sale about a month before the date of travel. Purchasing your ticket early will also guarantee your seat as some routes do sell out. OurBus also allows children under two years to travel for free if they sit on an adult's lap.
To Syracuse by bus—travel tips
Known as the Crossroads of New York State, Syracuse has plenty of activities to keep any traveler happy. If you love the great outdoors, you can spend time hiking, picnicking, swimming or boating in one of the many parks surrounding the city, including Green Lakes State Park, Jamesville Beach Park, and Clark's Reservation. If you just have a few hours, you can walk enjoy a stroll along the Onodaga Creekwalk without leaving the city's downtown area. The famous Erie Canal also runs through the city, and many parks line the canal's shores.
If you want to learn more about the canal's history, you can visit the city's Erie Canal Museum. Family-friendly activities include visits to the Museum of Science and Technology (MOST) and the Rosamond Gifford Zoo at Gifford Park. In the winter, you can go ice skating in Clinton Square or enjoy skiing and other snow sports at one of the nearby ski resorts, such as the Four Seasons Golf and Ski Center and Toggenburg Mountain.
If you're in town in late August or early September, you may want to spend a day at the Great New York State Fair. It's easy to shop 'til you drop at one of the many malls in the area, including Destiny USA and the Great Northern Mall. You can also "shop local" at the City Market and along streets like Marshall Street and University Hill downtown, where you'll find many boutiques and specialty shops.