Bus from Foggia to Naples
When researching buses from Foggia to Naples you will find there are eight departures every day during every day of the week. The length of time you will travel on this journey can vary quite greatly with the quickest bus is taking around 2h to make the trip and the longest ones taking 8h 40min. This is a mix of routes with some direct buses, some trips requiring one transfer and some requiring two.
Foggia to Naples Bus Time: Daily Departures
During every day of the week, you will find several different departures from Foggia that make the trip to Naples. The first of these buses leave quite early during the day at around 4:00 a.m. and just before 6:00 a.m. Beyond that, there are a couple of midday buses, an early afternoon bus, an early evening bus, and a final departure that occurs at around 9:15 p.m.
How long is the journey by bus from Foggia to Naples?
This journey that travels west through the heart of Italy to the seaside town of Naples covers a distance of around 117 miles (188 km). Of all the choices you have for buses on this route there are two that are direct options to make the trip and just a little over 2h and these are by far the fastest buses on this route. There are also quite a few that make one and two bus transfers along the route and the added time to your trip is going to be due mainly to the amount of time you spend waiting for your transfer.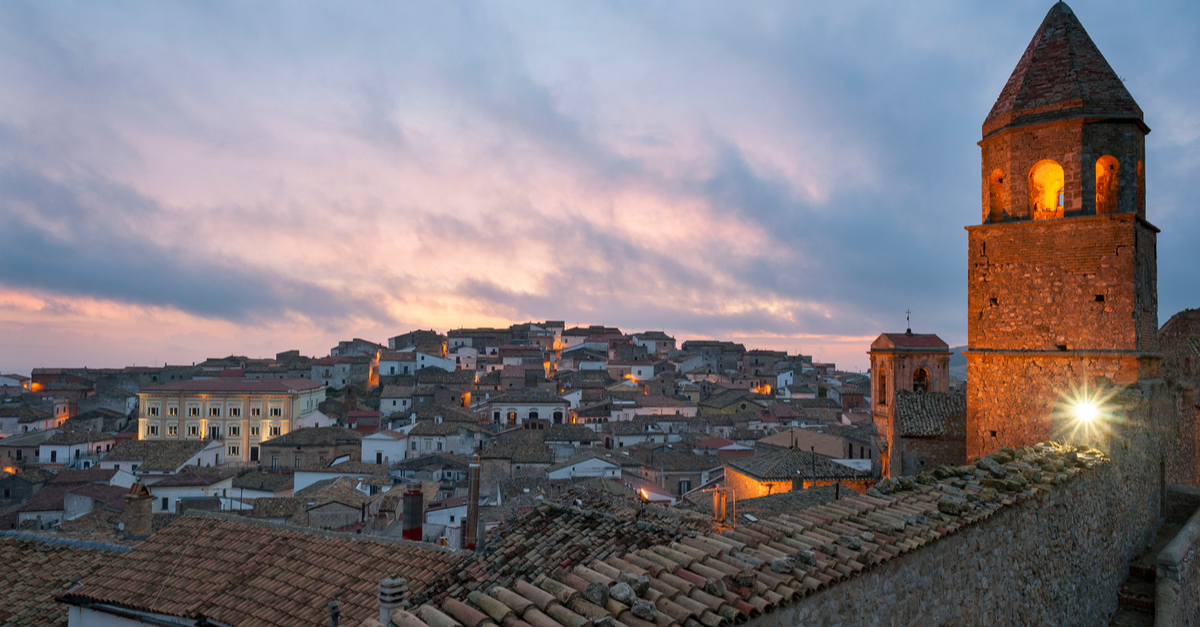 Foggia Night. Source: Shutterstock
What is/are the departure and arrival stations for bus from Foggia to Naples?
Departure bus station: Foggia Nodo Intermodale. The station has a location northeast of the center of the city and sits around .75 miles (1.2 km) away. There is no public transportation you can take to travel from the city center to the station but you can take a taxi there in around 2min and you could also walk in around 13min. The station itself affords waiting rooms for buses as well as an information office and a ticket office. You will also find restrooms on_site as well as some choices for food located just outside the station.
Departure bus station: Foggia Stazione Ferroviaria. This is the main train station in Foggia. It should be noted that the Nodo Intermodale sits right next to this station so they are in about the same spot. As with that station, no public transportation is available to get you here but there are taxis that can make the journey. The station offers things such as restrooms, ticket counters and ticket machines, and you can find eating choices just outside of the station.
Arrival bus station: Napoli, Napoli Centrale With a location in the heart of Naples, the Napoli Centrale Station offers fast and simple access to the center of town because the location of the station is right in the city center. This is also a station that offers plenty of train options as well to points beyond Naples. If you want to head to a popular destination in the city after you Foggia to Naples bus, you can get to the waterfront of the city on the metro L1 in around 19min or on the number 151 or R2 bus in about 30min. The station features great amenities for travelers such as restaurants and shops, and there is also an information office for tourists plus a currency exchange. There are restrooms for passengers on all levels of the station.
Which bus companies travel from Foggia to Naples?
There are four different bus companies that operate on the route from Foggia to Naples. Two of the better_known bus providers in Italy that offer service on this route are Itabus and Marinobus. You will also find bus offerings aboard the main rail provider in Italy, Trenitalia, and there is one daily bus operated by Moveliaconnect that is better known for charter bus offerings. The quickest trips on this route happen on the direct buses offered by Itabus at around 11:45 a.m. and 9: 15 p.m.
Itabus buses from Foggia to Naples
Itabus has two different options for Foggia to Naples buses with one leaving just before noontime and one leaving a little after 9:00 p.m. Each of the buses they offer on this route are direct buses and they make the trip to Naples in the shortest amount of time of all the buses offered on this route in just about 2h.
Marinobus buses from Foggia to Naples
Marinobus has one departure every day on this route that leaves at around 5:00 p.m. The trip on their bus will take around 2h 25min and that trip time includes roughly a 10min transfer time in Candela. Compared to the other buses you will find on this route this is one of the quickest ways to make the trip on buses from Foggia to Naples with only the Itabus offerings being a little quicker.
Trenitalia buses from Foggia to Naples
Trenitalia offers five different bus choices on this route. Part of the reason that they offer so many choices is that they also operate several trains that will be departing from Naples once you arrive on your Foggia to Naples bus. All of the choices that they offer on this route are going to require one or two transfers along the way and all of these transfers will add a substantial amount of time to your trip. Their quickest offering makes the journey in around 4h 50min and their longest choice will take around 7h 10min and that route has two transfers that take around 3h of combined waiting time at each of the transfer points.
Moveliaconnect buses from Foggia to Naples
This bus company offers one daily departure and although you will see that they list the Naples Metropark as the destination, this is in the same location as the Naples Centrale station. Their bus leaves Foggia at just after 4:00 a.m. and the trip on their bus is one of the longest journeys on this route at around 8h 40min and that includes around 45min of transfer time in the city of Matera.
Traveling by bus is a sustainable journey
One of the reasons that traveling by bus is such a sustainable method of travel is the economies of scale that bus providers can provide to their customers. Estimates suggest that when individual passengers travel by bus as opposed to, for example, driving themselves from Foggia to Naples, they can reduce their environmental impact by up to 50%. One example of this are providers such as Itabus that offer some of the most fuel_efficient buses available for this route.
Bus Foggia to Naples: Services on Board
Marinobus offers one class of seating on their buses. The seats they offer are all very comfortable lounge chairs that make the drive a pleasure. Passengers will find free Wi_Fi on the bus and they can bring a carry_on bag onto the bus. Additional luggage of up to two more bags can also come on the trip free of charge. Passengers can bring a bike on the bus instead of one of their pieces of luggage. Pets can travel on these buses free of charge in a pet carrier. Itabus offers one class of seating as well. They offer reclining seats that feature a light, a USB port, and an electric socket. The buses have free Wi_Fi as well as toilets and vending machines onboard. You can bring your bike with you for a fee and you can bring a pet free of charge. Because Trenitalia is such a large provider of transportation in Italy, it should come as no surprise that their buses offer quite a few creature comforts including plenty of room for carry_on baggage, restrooms, and air_conditioning. Like the other providers, they offer one class of seating, allow one carry_on bag and two other pieces of luggage, plus allow things such as pets and bicycles. Moveliaconnect buses are also quite comfortable with features such as free Wi_Fi and restrooms and have generous luggage allowances and allow pets and bikes as well although they may incur an added fee. All bus providers offer similar services for passengers with disabilities or limited mobility. If these passengers need extra help each of the providers will provide free transport for a companion to help in travel.
How to find cheap bus tickets from Foggia to Naples?
If you are looking to save money on your bus travel one of the best ways that you can do that is to book well in advance of your travel date. This gives you the best chance to find any discounts that may be offered on that route. Another great tip for saving money is to be flexible in the days and times that you travel. As you research this route you will see that the prices for buses can vary quite a bit from time to time and from provider to provider. It is also often the case that if you are willing to spend a little more time traveling and take buses that require one or more transfers, you can save money on your bus trip.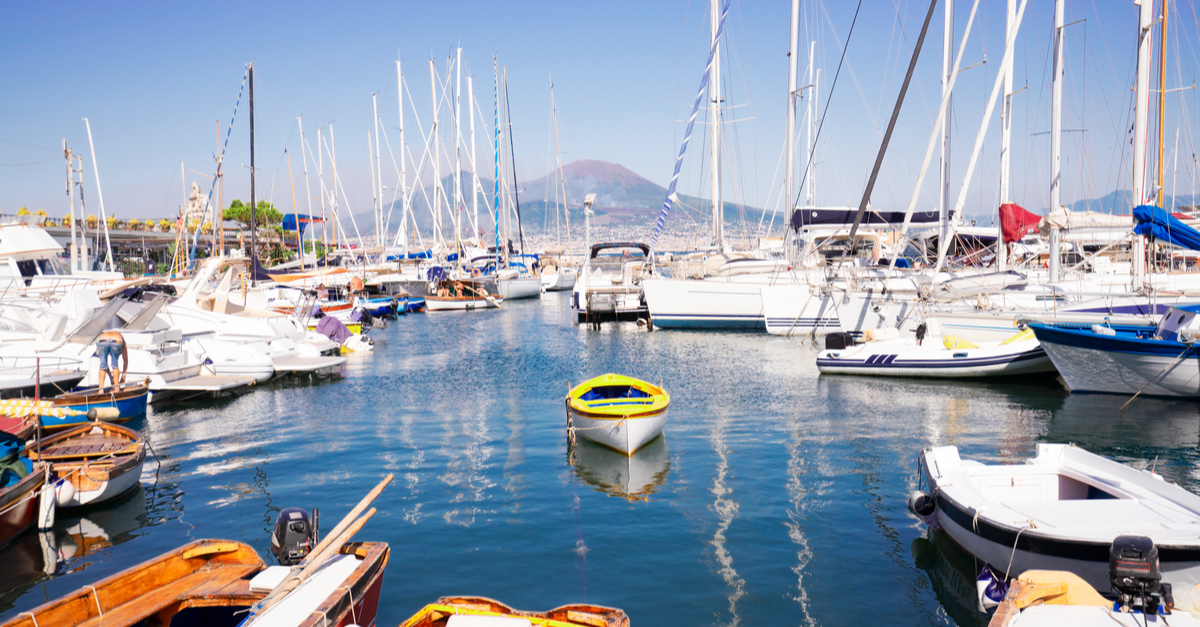 Naples Marina Vesubio. Source: Shutterstock
To Naples by bus—travel tips
Naples is the third_largest city in Italy. This is a city known for great food, amazing architecture, as well as a multitude of artwork and history. When most people think of food in Naples they often think of Neapolitan pizza and in fact, Naples often gets the credit for inventing pizza pies. Here you will also find a bustling coffee culture and spending an afternoon sitting in an outdoor cafe sipping on an espresso is most certainly time well spent in Naples. One thing that visitors are often pleasantly surprised by is all of the free walking tours offered here. These will take you to all of the iconic spots in the city and teach you the history and importance of all of them. Some sites you need to see during your visit include:
Royal Palace of Naples
Piazza del Plebiscito
Castle Nuovo
Ovo Castle
Mount Vesuvius
San Carlo Theater