Bus from Bari to Turin
On the route that offers buses from Bari to Turin there are roughing three buses every day of the week seven days per week. The journey is going to take around 12h 40min and will cover a distance of around 536 miles (863 km).
Bari to Turin Bus Time: Daily Departures
On a daily basis, you are going to find three departures on the route for buses Turin from Bari. One thing that is important to note is that two of those routes are a combined route that makes two different stops in the city of Turin. One bus will leave the city of Bari at around 8:00 a.m. and the second bus will leave the city just after 8:00 p.m.
How long is the journey by bus from Bari to Turin?
The journey on buses from Bari to Torino is going to cover large swaths of the Italian countryside over a distance of around 536 miles (863 km). The time it will take to make this trip will be anywhere from 12h 20min up to 12h 55min although it is of note that the longest travel time is since there are two transfers required on that route.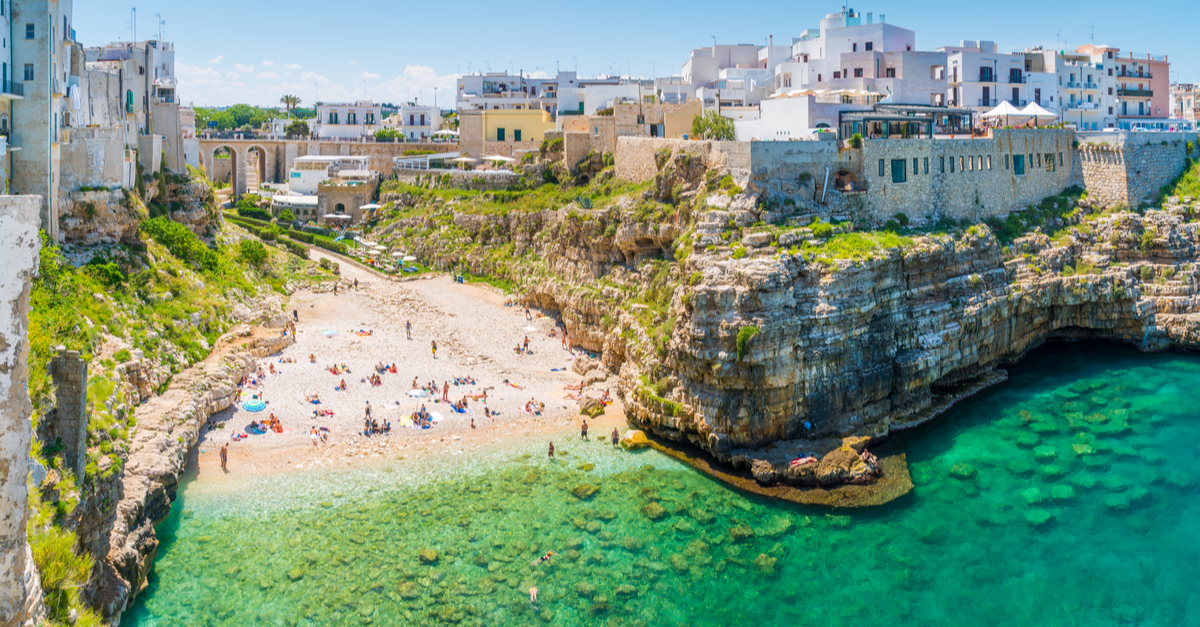 Bari Poligano Amare. Source: Shutterstock
What is/are the departure and arrival stations for bus from Bari to Turin?
Departure bus station: Bari Stazione Centrale on Via Guiseppe Capruzzi. This is a station that offers both train and bus routes that is quite common in Italy. In fact, about 300 trains and around 400 buses pass through the station every day. Some of the amenities that travelers will find in the station include ticket offices, luggage storage, an information booth, public restrooms, as well as food and shopping options.
Arrival bus station: Torino Corso Vittorio Emanuele II. This station sits in the northeastern part of the center of the city of Turin about 1.3 miles (2.1 km) from the heart of the city. Bus routes number 55 and 68 offer service from the station to the center of the city in about 8min as does train number 9 that makes the trip in around 4 min. The station does provide a ticket office in an information booth as well as public restroom facilities. There are several places to get something to eat or drink that are within a short walk of the station.
Arrival bus station: Torino Stazione Torino Stura. The station is well to the northeast at the center of Turin and is about 6 miles (9.5 km) from the center of the city. You can make the journey from the station to the center of the city on a combination of train number four and bus number 19 in about 36min or you can take the Itabus in around 29min. The station offers a multi_level parking garage and contains a cafe and a bar plus a tobacco stand.
Which bus companies travel from Bari to Turin?
Marinobus is the only provider offering buses from Bari to Turin. The first bus that leaves Bari at around 8:00 a.m will require two transfers along the way in Cerignola and Bologna but these transfers are quite quick at only and 15min and 10min respectively so it does not add too much time to your travels. The second bus of the day leaves Bari at around 8:00 p.m. and is a direct bus to Turin and makes stops at two different stations in Turin.
Marinobus buses from Bari to Turin
The journey on a Bari to Turin bus that you will find on Marinobus is going to take about 12h 20min although your time will be a little bit longer when you take the morning bus that requires two transfers during the trip. The distance you will travel on this route is around 536 miles (863 km) as you travel from south to north through the heart of Italy.
Traveling by bus is a sustainable journey
By its very nature bus travel is a very sustainable form of transportation. Because of the economies of scale a bus company such as Marinobus can utilize, getting several passengers to travel in one vehicle on a long trip such as this one leaves a much smaller environmental footprint than all of those travelers making the trip separately. Specifically, Marinobus has its own environmental policy that applies to all of its operations and helps them to make sure they are operating in as efficient a manner as possible.
Bus Bari to Turin: Services on Board
although there is only one class of seating aboard buses from Bari to Turin on Marinobus, you'll find that all of the seats are high_end lounge chairs that offer passengers the ability to recline in comfort during their trip. There is free Wi_Fi on board the bus and with their digital ticketing system, you won't need to carry around extra pieces of paper to board the bus. When you travel with Marinobus you can bring one carry_on bag aboard the bus and store it under the seat in front of you or in the overhead bins plus you can also bring two other bags that travel below the bus. If you would like to bring a bike on board with you, you can do that in place of one of your bags that travels under the bus so long as the bicycle can break down into two pieces and you place it in a bag. You can also bring a pet on board the bus with you but the pet must ride in a carrier and sit on the floor next to you on the bus. Marinobus makes every attempt to make sure the passengers with disabilities receive the same travel experience as any other passenger. If for any reason there is an issue regarding these passengers' travel experience, they may request that a companion travel with them, and Marinobus will allow this free of charge.
How to find cheap bus tickets from Bari to Turin?
By far one of the best ways to save money when you travel by bus on buses from Bari to Turin is to try to book your tickets as far in advance of your travel date as possible. When you do this you have the best chance possible of finding any discounts or specials offered on the route. Another good tip for saving money is to be as flexible as possible in your travel dates and times. If you can search out different days of the week to make your trip you'll often find there are days that are cheaper than some of the peak days when many people make this trip. One last trick is to book tickets on routes that require transfers as these can often cost less than direct buses.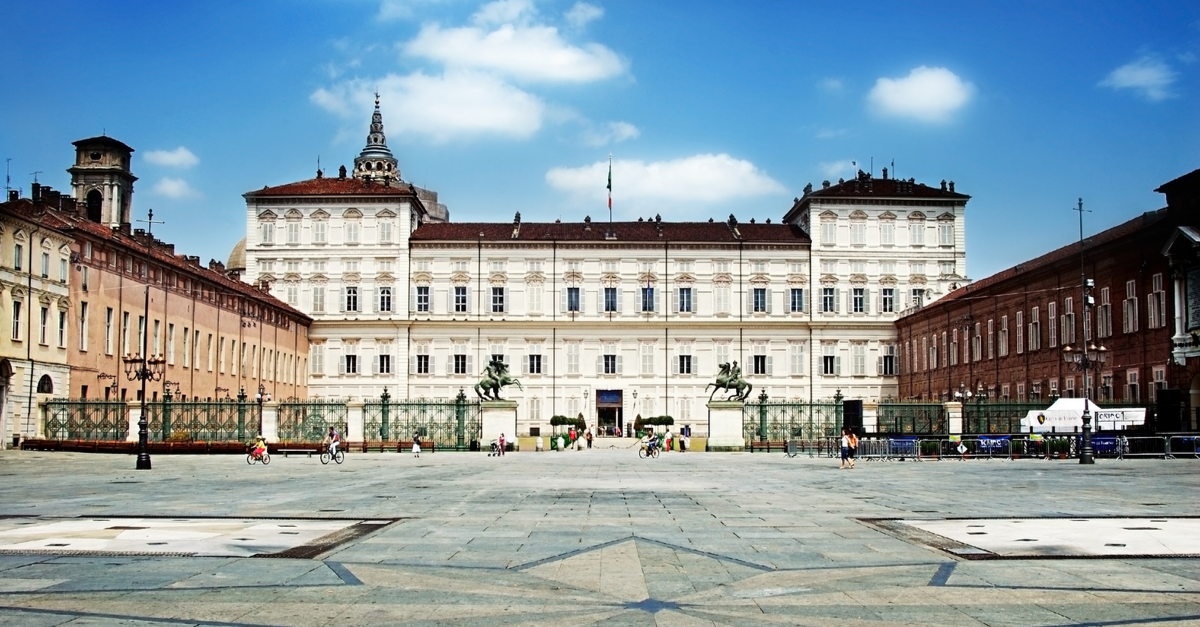 Torino Valentino Castle. Source: Shutterstock
To Turin by bus—travel tips
Turin was at one time an industrial city but the city went through a complete overhaul when it hosted the 2006 Olympics. Today this is a city that should be on the list of cities in Italy to visit such as Rome, Venice, and Milan. This is a city that is full of all types of world_class museums such as The National Automobile Museum and The National Cinema Museum. In addition, visitors will also find several royal residences, churches, and sprawling town squares. Some of the sites you need to see in Turin include:
Egyptian Museum
Royal Palace of Turin
La Venaria Reale
Mole Antonelliana
Madama Palace
Basilica of Superga
Civic Gallery of Modern and Contemporary Art
Piazza San Carlo
Medieval Village