Bus from Bari to Bologna
The journey on buses from Bari to Bologna covers a distance of around 364 miles (586 km) through the Italian countryside. Travelers should expect an average trip time of 9h 10min on these buses although the fastest of these takes around 7h 55min. There are six departures every day on buses to Bologna from Bari and these occur every day of the week.
Bari to Bologna Bus Time: Daily Departures
For travelers that are planning on making the trip on buses from Bari to Bologna, you will find six different buses that depart throughout the day from the station in Bari. The first of these buses is going to depart the station at around 8:00 a.m. and the last bus of the day will depart at around 11:00 p.m. Buses generally leave either in the morning hours or at 8:00 p.m. or later.
How long is the journey by bus from Bari to Bologna?
When you are riding on a Bari to Bologna bus the trip is going to cover about 364 miles (586 km) as you make your way north along the east coast of Italy. Most of the buses offered on this route provide direct service between the two cities although the bus that departs the station at 8:00 a.m. will require one transfer to another bus in Cerignola but the transfer time here is relatively short at only around 15min. The quickest of the trips on this route takes around 7h 55min while the longest trip will take about 11h.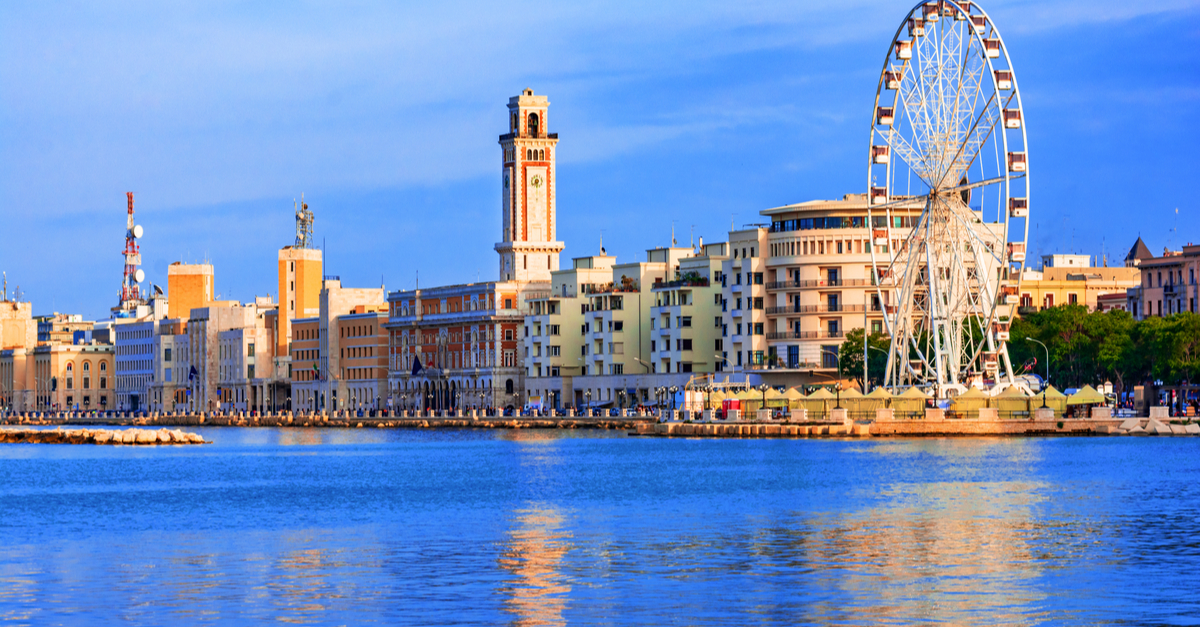 Bari Pier View. Source: Shutterstock
What is/are the departure and arrival stations for bus from Bari to Bologna?
Departure bus station: Bari Stazione Centrale on Via Guiseppe Capruzzi. This is a station that offers both bus and train routes which travelers will find is quite common in Italy. There are about 300 trains and around 400 buses that make stops at this station daily. Some of the amenities that travelers will find in the station include ticket offices, luggage storage, an information booth, public restrooms, as well as shopping and dining options.
Arrival bus station: Autostazione Bologna. One of the best things for travelers on Bari to Bologna buses is that this station has a location that is very close to the center of Bologna. The station is only about 4.7 miles (7.6 km) to the northeast of the city center. There are bus routes on the local bus service that have numbers 27, 41, and 50 that can all make the trip from several locations in the center of the city to the station with one of these buses making the trip around every 9 minutes throughout most of the day. Some of the features you will find in the station include public restrooms for bus riders, some choices for food and beverages, as well as a prominent information board giving the status of all buses arriving and departing the station.
Which bus companies travel from Bari to Bologna?
The two providers of buses to Bologna from Bari are Marinobus and Itabus. Marinobus has a departure at 8:00 a.m. that is the only bus on this route that requires a transfer during the trip and they also have two nighttime departures with one at a little after 8:00 p.m. and one at around 11:00 p.m. Itabus has three direct buses that depart at about 10:00 a.m., 10:25 a.m., and then one in the evening leaving at about 9:30 p.m.
Marinobus buses from Bari to Bologna
This company is going to offer three daily Bari to Bologna buses. The first of the buses leave in the morning at around 8:00 a.m. and their final two buses leave well into the evening at around 8:00 p.m. and around 11:00 p.m. The first bus of the day does require a transfer to another bus along the route but the transfer time is relatively short at around 15min so this route will not add a lot of time to your overall travel. This schedule of service occurs daily every day of the week.
Itabus buses from Bari to Bologna
Itabus offers three daily departures on buses from Bari to Bologna. They offer two different daily departures in the middle of the morning every day of the week with one at around 10 a.m. and then the next one just about 25 mins later. Their final bus of the day departs station in Bari at around 9:30 p.m. All of the buses that they offer are direct routes with no transfers needed along the way. Their evening bus makes the trip in the quickest amount of time at 8h 45min while their morning buses take anywhere from 10h 30min to 11h and this is mostly because of traffic delays you will find traveling during the daytime hours.
Traveling by bus is a sustainable journey
The very nature of bus travel and the economies of scale the bus companies can offer make traveling by bus a much more environmentally friendly way to travel than all of the individual travelers that would travel on a bus driving themselves from Bari to Bologna. On top of that, each of the companies that offer service on this route operate in a way that is very environmentally friendly helping to leave a minimal environmental impact during the trip. Itabus has a fleet of buses that offer some of the lowest emissions you will find in any class of bus. Marinobus has an environmental policy that extends not to just bus routes but their entire operation to try to minimize their environmental footprint in all of their operations.
Bus Bari to Bologna: Services on Board
Marinobus offers one class of seating on their buses but do not be fooled by this because their lounge chairs are quite comfortable and spacious. Passengers will find free Wi_Fi on the bus and they can bring one carry_on bag on the bus and also store two more bags under the bus. Passengers can bring a bike on the bus and put it under the bus as they would any other piece of baggage. Pets can travel on these buses as well but they must be in an approved carrier. These pets need to ride on the floor next to the passenger. Itabus generally only offers one class of seating on Bari to Bologna buses yet all of their seating comes in the form of reclining seats. Each of the seats features electric sockets, USB ports, and reading lights. The buses offer free Wi_Fi as well as toilets on the bus and vending machines for snacks and drinks. When you travel on their buses you can bring a bike on board for a fee and pets must ride in a pet carrier inside of the bus. Both bus providers offer comparable services for passengers with disabilities or limited mobility. If for any reason disabled passengers cannot travel safely alone, each of the providers will provide free transport for a companion to aid in travel.
How to find cheap bus tickets from Bari to Bologna?
A great way to save some money on your bus travel is to decide on a travel date and then try to book your tickets as far in advance of that as possible. When you do this you have the best chance of finding any discounts or specials offered on buses to Bologna from Bari. If you have the opportunity to be flexible in the days and times that you travel this is another great way to find a cheaper price on your ticket because you could stick to days that have less demand. One final tip to save money is to steer clear of direct routes as those that require transfers and may take a little longer to make the trip generally are going to cost less.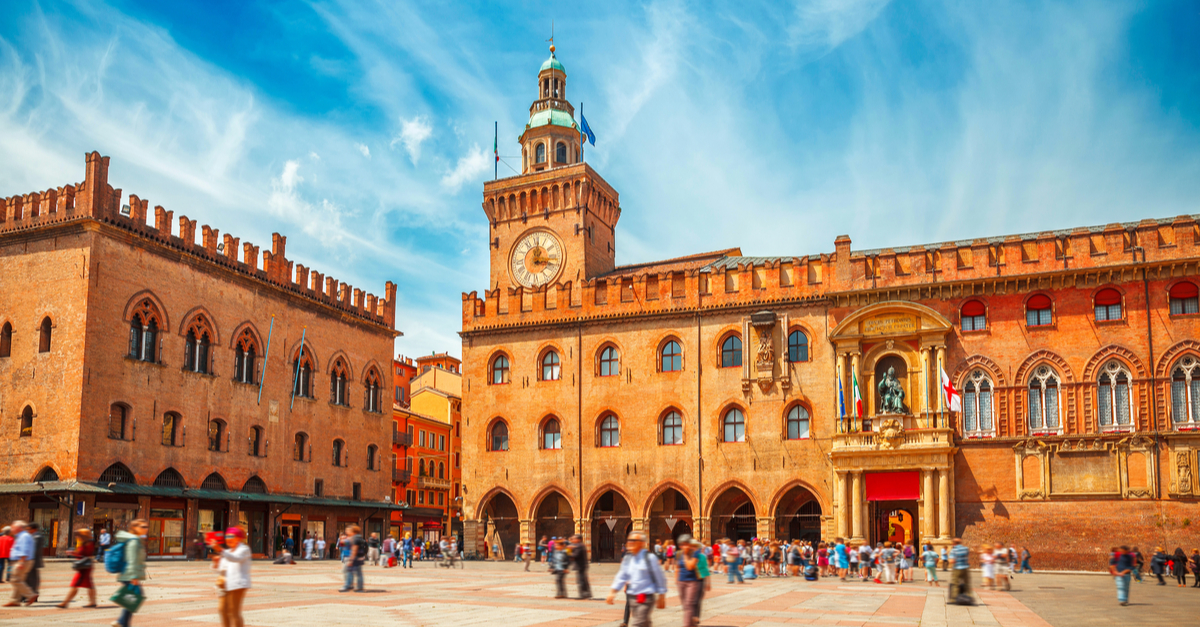 Bologna Main Square. Source: Shutterstock
To Bologna by bus—travel tips
The city of Bologna has three different nicknames. Each of them seems to hint at what an amazing city this is to visit. One is La Grassa which means "the fat" and that is due to all the great food you will find here. Another is La Rossa which means "the red" which is a nod to all of the crimson roofs on the old_world buildings you will find in this city. Finally, there is La Dotta which means "the learned" because this city is home to one of Europe's oldest universities. Because the city sits centrally in the country of Italy, this is not only a great place to make a stop in and visit but also can act as a base of travel as you travel throughout Italy. Another reason to visit is because of all of the lively markets offering a large assortment of items for visitors to explore. Some of the sites you will want to see when you head to Bologna include:
Piazza Maggiore
Basilica di San Petronio
Fountain of Neptune
Basilica di Santo Stefano
Sanctuary of the Madonna di San Luca
Two Towers
Museo Civico Arquelogico de Bologna