Buses from Atlantic City to New York
The distance between Atlantic City and New York is 126 miles (203km). There are about 26 daily buses that travel the Atlantic City-New York Route. This means that travelers can take the bus at any time of the day, depending on their convenience. A bus ride from Atlantic City takes you to the heart of New York, saving you the hassle of commuting from the station to other parts of the city. On average trains take about 2h 45min. When you take the bus between the two cities, you get a chance to explore some of the scenic views along the route hard to catch with flights.
Atlantic City to New York Bus Time: Daily Departures
About 26 daily buses are departing from Atlantic City headed to New York. Typically, 196 buses run on this route weekly, offering travelers plenty of options to choose from. The earliest bus leaves Atlantic City to New York at around 1:00 a.m. while the latest bus departs at around 10:50 p.m. Different buses gave different routes, some with layovers and some with direct transfers. Omio offers travelers all these options so that they can choose the most convenient time. These hours vary on weekends, holidays, and seasons.
How long is the journey by bus from Atlantic City to New York?
The average journey time from Atlantic City to New York is 2h 45min. The journey time between that route varies depending on whether they have changes. The fastest bus takes about 2h 25min while the slowest bus takes 5h 55min with multiple stops along the route.
What are the departure and arrival bus stations for Atlantic City to New York buses?
Departure bus station: Buses leaving Atlantic City for New York either leave from the Bus Terminal or Bally's. Atlantic City Bus Terminal lies at 1901 Atlantic Ave, Atlantic City, NJ 08401. It operates daily from 10:30 a.m. to 10:30 p.m. It features a store, vending machines, a seating area, and a ticket office. It is also wheel0chiar accessible for reduced mobility passengers. It is a hub for Greyhound buses and New Jersey Transit. Travelers can opt to take a bus or a taxi to the station. Buses can also depart Atlantic City from Bally's Station at 1900 Boardwalk Atlantic City NJ 08401. The station operates 24 hours a day but does not offer ticket sales. The station is located near a hotel, a wide variety of eating options, and a casino.
Arrival bus station: The arrival bus station for buses from Atlantic City to New York is the Port Authority at 30th St & 9th Ave GW Bridge. It is located in the heart of Manhattan and a few blocks west of Times Square. It features excellent connectivity, and travelers will find plenty of transport options from the station. Facilities at the station include baggage storage, payphones, parking options, and taxi services. The station is wheelchair accessible for reduced mobility passengers.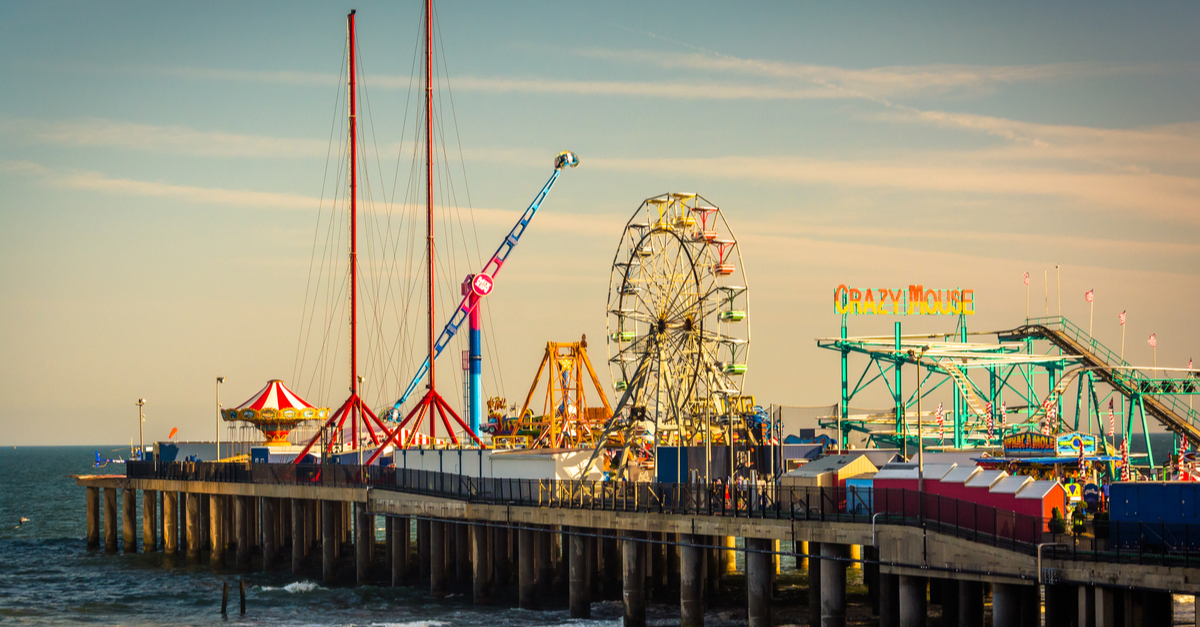 Atlantic City Bay. Source: Shutterstock
Which bus companies operate from Atlantic City to New York?
Two bus companies operate rides from New Atlantic City to New York. They include OurBus and Greyhound. They both provide immediate changes and buses with layovers. Greyhound buses. With Omio, you can compare both providers and their schedules and choose the most convenient bus.
Greyhound buses from Atlantic City to New York
Greyhound provides over ten daily trips from Atlantic City to New York. The first greyhound bus departs New Atlantic City at around 1:00 a.m. arriving at New York at around 3:25 a.m. while the last bus departs Atlantic City at around 10:50 p.m. and arrives at around 1:15 p.m.
OurBus buses from Atlantic City to New York
OurBus provides about 14 daily trips from Atlantic City to New York. The first OurBus departs Atlantic City at around 11:00 a.m. arriving in New York at around 1:30 p.m. The last bus leaves Atlantic City at around 7:30 p.m. and arrives in New York at around 10:30 p.m.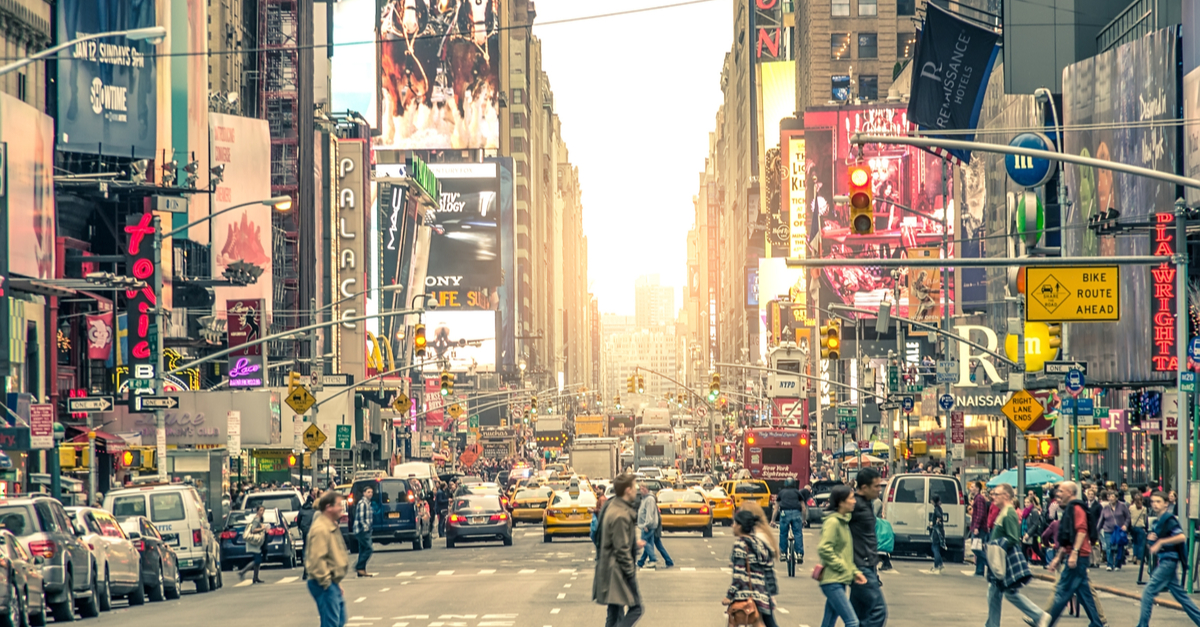 NYC People. Source: Shutterstock
Buses from Atlantic City to New York: Services on Board
Greyhound buses have two fare classes; Economy passengers pay non-refundable fees, a free carry-on, and one checked bag. Economy Extra passengers get extra baggage allowance, priority boarding, and complimentary snacks on board. Greyhound buses offer two –two seating arrangements where passengers do not have to worry about fighting for an armrest. Seats come with ample legroom and overhead storage racks above the seats. Even though the bus often stops for breaks, there is an onboard restroom for passengers that need them.
Almost all Greyhound buses seats have personal power outlets to keep their devices charged along the journey. Greyhound buses restrict luggage. Checked luggage has a maximum of 62 inches (157cm) and a maximum of 50lb (22.5kg). Greyhound buses do not let pets on board unless they are in the company of disabled persons. Ourbus buses offer only one type of travel class. Ourbus buses offer free Wi-Fi for travelers' entertainment. It also offers wide comfortable reclining seats for your comfort. There are also charging ports onboard, bus tracking information, and a complimentary water bottle. Their buses only allow passengers to bring one piece of luggage on board that weighs under 50lb (22.5kg) and is smaller than 62 inches (157cm). The buses only allow services animals on board.
How to find cheap bus tickets from Atlantic City to New York
Travelers can find cheaper tickets through the Omio platform. Omio generates a list of the riders along the Atlantic City –New York route with different schedules and fare prices. Travelers can then pick the most convenient choice from the options provided. Travelers that want cheaper tickets should consider booking in advance. You will likely get cheaper tickets if you book your ticket three months earlier than the travel date.
Also, if you need cheaper tickets, consider being flexible with your dates. If you are flexible to travel any time, you can land a cheaper deal. Direct buses often charge more than routes with changes. Routes with changes often take longer journey times but are likely to land cheaper tickets. You can also land cheaper tickets if you buy them during off-peak hours. Travelers can also land platforms that offer discounts for purchasing bus tickets.
To New York by bus-travel tips
New York has good connectivity, and there are plenty of ways of getting around New York. Buses are often the cheapest means and a great way of touring the city. New York is an ideal destination for all types of travelers as it encompasses scenic attractions and a plethora of activities.
Art and culture lovers will love visiting the Statue of Liberty and Ellis Island, which houses Battery Park and rich views of the New York skyline. Metropolitan Museum of Art showcases millions of artworks that span over 5000 years. Catch a live performance at the Broadway and Theatre District, which houses many theatre venues and playhouses.
Outdoor lovers will love a tour at the observation decks of the Empire State Building, which offers outstanding views. The High Line offers an outdoor scene for breathtaking views of the city. The Brooklyn Bridge is ideal for thrill-seekers as it offers great views of the East River and Manhattan. Fifth Avenue offers scenic views and a neighborhood of the city alongside top designer stores for shopping lovers.
New York is not only a hub for scenic landmarks but also worldwide cuisine. Kochi restaurant offers rich Korean Cuisine, while Crown Shy is popular for its elegant ambiance and top-notch cocktails. Treat your taste buds to an array of pasta made with ingredients from the farmers market at Rezdora during your visit to New York. Families will love a visit to Coney Island, which features a roller coaster and a beach.
Families can also enjoy a picnic at Washington Square Park, which offers plenty of entertainment options, including career chess, music performances, a strolling area, and a picnic space to enjoy quality time.