The Czech capital's fairy-tale atmosphere is perfectly complemented by the city's cobblestone streets, ancient squares and medieval churches. Prague, which has been perfectly preserved from the middle ages, is one of Europe's most walkable cities and features a medieval castle dating from the 9th-century. History is always palpable in Prague, with an Old City that has remained unchanged for over a millennium.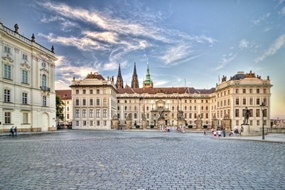 Prague Castle
Standing tall above the city is Prague Castle which was built in the 9th century and is the largest ancient castle in the world according to the Guinness Book of Records. The castle has been home to Holy Roman emperors, Kings of Bohemia, currently it is now the residence of the President of the Czech Republic.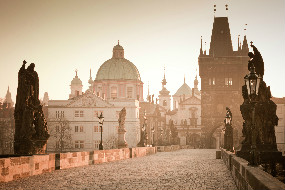 Charles Bridge
Possibly one of the most beautiful bridges in the world, the Charles Bridge amazes both locals and visitors since its completion in 1342. Connecting the Castle district with the Old Town, it's the impressive decoration of 30 statues and statuaries, their baroque style complementing the bridge's dramatic Gothic architecture which is considered a high point for most visitors.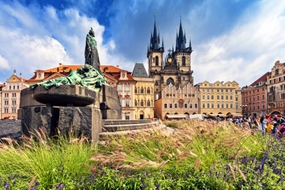 Old Town Square
A highlight for many visitors, Prague's Old Town Square has a bustling atmosphere between performing street artists, traditional markets and statues, steeped in history. These features would mean little without the surroundings of magnificent Gothic architecture, including the Church of Mother of God before Týn.
Public Transport in Prague
Prague has an excellent public transport system consisting of the tram, metro, bus, and train services. There are 17 carriers with about 2,000 specialized vehicles that offer interconnected services through the city and its suburbs. The leading operator comprises of 150 bus lines, 30 tram lines, and three metro lines. Operating both an underground and subway, the Metro is the fastest means of transport in Prague, as it's not prone to traffic and weather interruptions - making it a crucial part of the public transport system in the city. Buses are the most flexible means of transport in Prague, since they are not reliant on tracks. For those commuting between the capital and the neighboring small towns and villages, Prague Buses are the most efficient means of transport. The Prague Public Transit Co. Inc. has around 95 miles of tram lines with double tracks and about 1000 trams. Such an extensive network makes it an integral part of Prague's public transport system. The railway system in Prague is crucial as well, as it links the capital to the surrounding towns and the rest of the continent. The main train station in Prague is the Praha hlavní nádraí.
Walking Around in Prague
The best way to experience Prague and take in all its glory is on foot, as the city's main tourist attractions are relatively close together. These attractions are all connected by dreamy cobblestoned streets and meandering alleys. When exploring this historic city, start at the magnificent Wenceslas square located at the heart of Prague. A brief walk northwest of Wenceslas square reveals the famous Don Giovanni theatre where Mozart made his debut performance. Further in the same direction along Melantrichova Street, a winding cobblestoned path brings you to Prague's Old Town square, an architectural wonder. Stop by the café Mozart's first floor for refreshments and an opportunity to marvel at the astonishing clock tower with the dancing statues atop Our Lady of Tyn Church. Make your way to Karlova via Hosova Street for authentic souvenirs, continue along Vltava River over Charles Bridge, and be blown away by the breathtaking Prague castle that commands the skyline. The city of Prague is full of splendor and it is common to come across countless guided tour groups led by local tour guides who are passionate about the city.
Eating in Prague
Svíčková, tender beef served in a creamy vegetable sauce with a side of bread dumplings and garnished with whipped cream on a slice of lemon, is the traditional Sunday dish of Prague. Visitors are encouraged to try this delicacy, as well as many other home cooked specialties, in U Topolů, a friendly neighborhood pub in Prague-Dejvice. Other Czech food treats are beef tartare: raw, minced beef with a raw egg on top. It is typically served with a variety of condiments and spices so that you can mix it to your taste and then spread it on toasted bread, which has been flavored with garlic. The quirky Fraktal restaurant in Prague's Letná district serves this dish to perfection. If you feel like you need a snack whilst exploring Prague, try one of the many varieties of grilled sausages available from small stalls throughout the city. For something lighter, try a chlebíčky, an open sandwich that comes with toppings like cold roast beef or cheese salad. And if you have a sweet tooth, nothing beats buchty, sweet yeast dough rolls filled with plum jam and served with warm vanilla sauce - Cafe EMA at the Masaryk railway station serves excellent buchty.
Best Time to Visit Prague
Prague, the capital of the Czech Republic, is a gorgeous historic city that offers a lot to visitors. This city hosts beautiful cathedrals, ancient castles, and medieval bridges among other stunning architecture. You can visit Prague at any time, although some seasons are better than others. Prague experiences a continental climate that is characterized by extreme temperatures. The city has four distinct seasons, each with its pros and cons. Summers get scorching hot while winters are frigid. The best time to visit Prague is, therefore, during spring or early fall. For the most comfortable temperatures, visit Prague between March and May. March may still be chilly, but by April, the warm weather kicks in and is a delight to witness. From trees blooming, to fresh air flowing, to longer days, spring presents the perfect setting for outdoor sightseeing. Apart from the mild weather, springtime in Prague is not touristy and the fewer crowds means better and faster access to services and tourist attractions. Several festivities also occur during spring. Besides the wonderful Easter celebrations, the Khamoro festival is a must-attend event. Held in May, the Romani people will entertain you with their culture and great music.