How to Travel from New Brunswick to Boston
If you're traveling from New Brunswick to Boston, you can choose to either take a train or a flight, as these are the available options. Many people usually travel from New Brunswick to Boston, as Boston is home to a number of fantastic destinations.
Given that plenty of individuals usually travel to Boston from New Brunswick, there are at least two daily trains and five daily flights that operate this route. Boston is located 218 miles (351 km) away from New Brunswick. When onboard a flight, you'll take approximately 1h 10min to get to Boston, while when onboard a train, you'll take roughly 5h to complete the journey.
What is the cheapest way to get from New Brunswick to Boston?
Between the two available options, trains are significantly cheaper than flights, as you would expect. It is worth pointing out that, at the moment, Amtrak is the only company offering the train service with at least two trains departing New Brunswick for Boston every day. The departure station for both trains is New Brunswick Station. However, their arrival stations are different. The first train from New Brunswick usually stops at Back Bay Station, whereas the second train from New Brunswick usually stops at South Station.
What is the fastest way to travel from New Brunswick to Boston?
Flying offers the fastest way to travel from New Brunswick to Boston, with the average flight ranging between 1h and 1h 30min. The duration is dependent on the airline as well as the airports of departure and arrival. There are about three different airports that serve flights from New Brunswick to Boston. These airports are John F. Kennedy International Airport, LaGuardia Airport, and Newark Liberty International Airport.
Many who usually travel to Boston Newark usually prefer taking off at Newark Liberty International Airport, as it is the closest airport to New Brunswick city center is (EWR). Upon arrival in Boston, you are most likely to land at Edward L. Logan International Airport. The flights that cover these two cities are serviced by United Airlines, and American Airlines.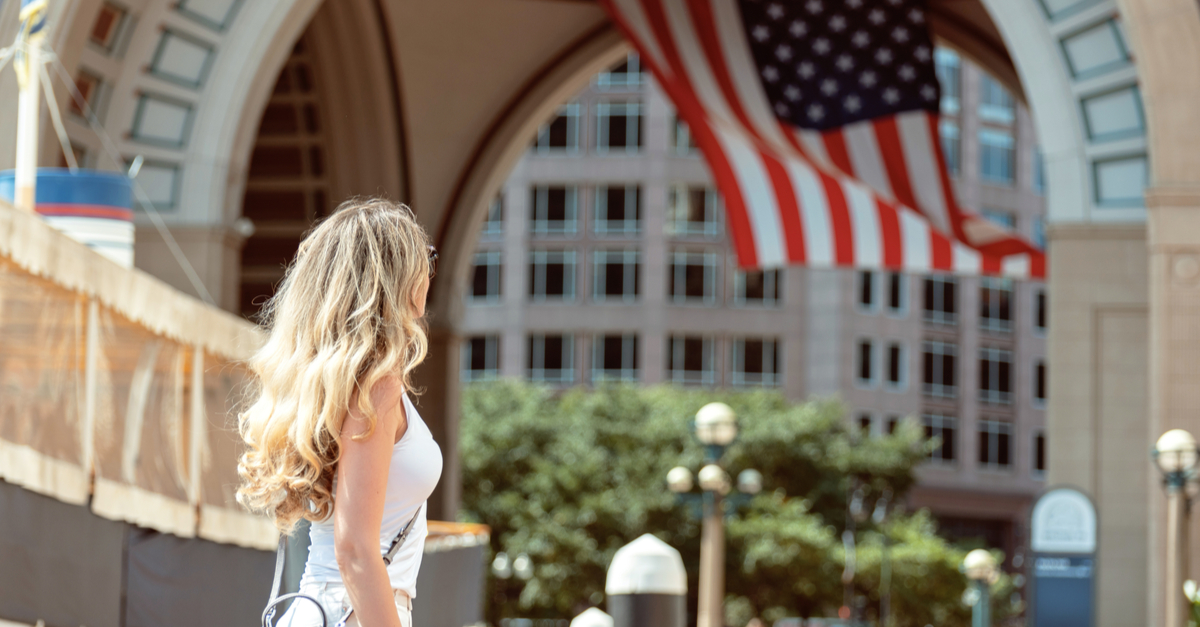 Boston Flag Street Tourist. Source: Shutterstock
Find the best tickets from New Brunswick to Boston and book with Omio
If you are on a budget and you are looking for ways to make your trip cheaper, you should consider booking your ticket weeks in advance. The reason behind this is that advance tickets are often sold at low prices. Another way you can make your trip cheaper is by boarding connecting trains or flights, as connecting trains/flights tickets are cheaper than direct train/flight tickets.
You can also find cheap tickets by visiting our platform, Omio. We are an online booking platform that provides travelers with all the available travel options between New Brunswick and Boston, allowing you to compare and contrast until you settle on the one that works for you best. Other than comparing different travel options, you can also compare different travel times within one option as well as the different companies providing the services.
In addition to that, you get mobile tickets which provide a different level of ease and convenience. To check out the tickets we have on offer, feel free to visit our website.
Trains from New Brunswick to Boston
Trains, as a mode of travel, come with a certain level of comfort that you wouldn't get with other travel means. For instance, there is a lower risk of accidents compared to other modes of travel, and even in the event of accidents, they aren't fatal. They are ideal for travelers who don't mind the long travel hours and also for anyone looking to travel on a budget.
The trains along this route are serviced by Amtrak. However, the two daily trains take a different route, with one arriving at Back Bay Station and the other South Station. Downtown Boston is only a few minutes from each station with South Station being the closest at only five minutes via Federal Street. Back Bay Station, on the other hand, is thirteen minutes away via Beacon Street.
Traveling by train from New Brunswick to Boston with Amtrak
Amtrak is the only company operating trains on this route with two trains every day. Both of them depart from New Brunswick station, but one arrives at Back Bay Station while the other at South Station. They offer a variety of onboard amenities, including extra legroom and power plugs in case you need to charge up your devices.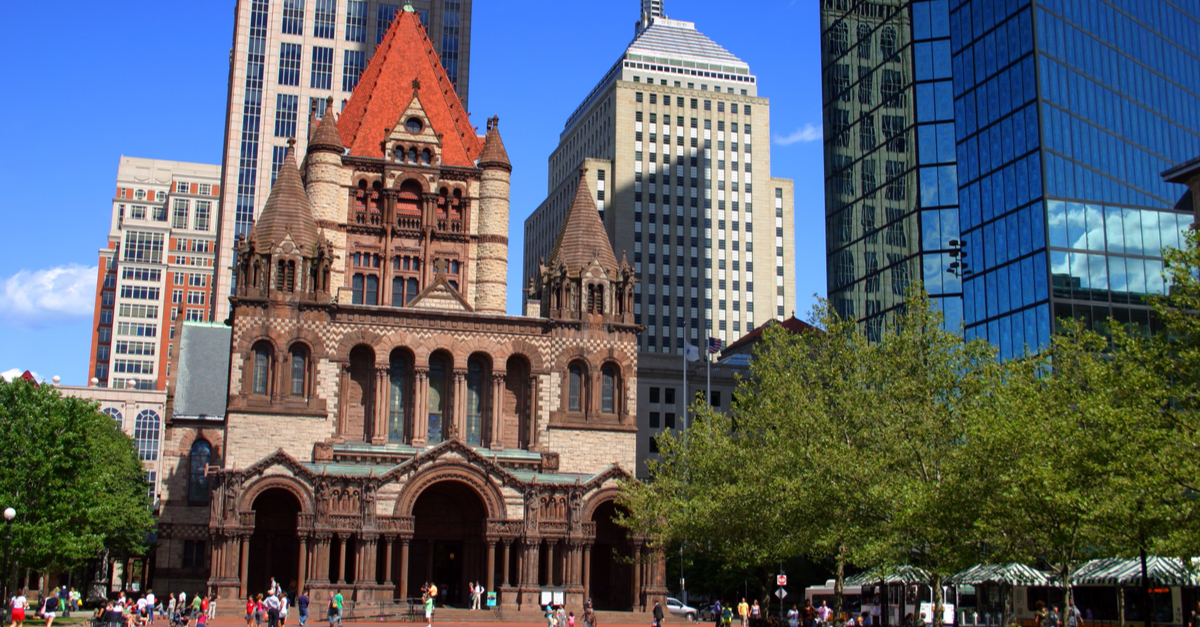 Boston Copley Park Tourist. Source: Shutterstock
Flights from New Brunswick to Boston
Flights provide the fastest way to get to Boston from New Brunswick, with at least two airlines servicing this route. These airlines include American Airlines and United Airlines. Both of them have at least three daily flights each, with other days having up to five or even seven flights each departing at different times. Each airline offers different onboard amenities as well as benefits.
For example, when flying with United Airlines, you have the option of different classes, and they give you the chance to save up to 50% on your fare when you add your bags when booking instead of waiting till you get to the airport. They also offer direct and connecting flights, with the stopover option being Dulles International Airport. The two airports that service this route are Newark Liberty International Airport in New Jersey and Edward L. Logan International Airport in Boston. There are multiple ways to get to Downtown Boston from Edward L. Logan International Airport, but the most common one is a ferry from Logan Airport to either Rowe's Wharf (South) or Long Wharf (North).
Flying from New Brunswick to Boston with United Airlines and American Airlines
United Airlines and American Airlines are both incredibly popular, as they have, time and again, proved that they are reliable. Both airlines use the same airports, Newark Liberty International Airport and Edward L. Logan International Airport, but prices and amenities offered tend to vary. For example, United Airlines offers passengers light snacks and wireless internet while American Airlines doesn't offer snacks, so you might want to fill up before boarding.
To Boston by flight/train-travel tips
There are a good number of reasons for you to visit Boston, with one of the most popular ones being the amazing historical sites. Places such as Isabella Stewart Gardner Museum, Faneuil Hall Marketplace, and Boston Museum of Fine Arts are worth visiting as you are sure to have a good and fun time but also get to learn a lot about different times in America's history.
Freedom trail is another place that you should definitely check out. It is a 2.5 mile (4 km) long path that passes by 16 locations, each with an element of significance to the history of the United States. The path is marked largely with brick and winds from Boston Common in downtown Boston through the North End to the Bunker Hill Monument in Charlestown. If you would much rather catch some live sports action, TD Garden is the place to be. This is a multi-purpose arena that plays host to the NBA's Boston Celtics and NHL's Boston Bruins, both of which are teams with a massive following all over Boston. Anytime one of the teams is playing, you are guaranteed an electric atmosphere.