Trains in New Orleans
A train journey to New Orleans, LA, takes you through metropolises, nature reserves, archaeological places, vast scenery, plains, and mountains on your way to the Big Easy. Traveling by train allows you to appreciate the diversity and vastness of the United States as you journey across the country. The railroad network is extensive, and there are numerous options available.
The Empire Builder, operated by Amtrak, is a famous train pathway in the Pacific Northwest. The trip takes approximately 46h and follows the Lewis and Clark trail from New Orleans to Seattle or Portland, depending on the destination. Before arriving in Yellowstone, the train travels through Mississippi, Minneapolis, the North Dakota Plains, and Glacier National Park.
Booking your train ticket with Omio to New Orleans, LA
When it comes to booking trains to New Orleans, travelers can depend on Omio. To begin, they must go to the website and enter their pick-up location, departure point, and travel date. Using Omio, travelers will be directed to a website that displays available trains for New Orleans, LA, as well as ticket prices and the locations of the stations.
Travelers can also take advantage of special offers and discounts to bring the cost of their ticket down. It is recommended that you turn on alerts on the Omio app and remain vigilant until the trip's date to receive price alerts. Once a reservation is made, Omio will send the tickets to the customer's mobile phone for easy access.
Train companies in New Orleans
Amtrak is the largest passenger train company in New Orleans, with a fleet of more than 2,000 trains. It provides service in 46 states and Canada, covering more than 22,000 miles (35,000 kilometers). When purchasing a ticket, passengers are typically given the option of choosing between the couch, business, or sleeper classes. Amtrak's extensive train network includes some of the world's most famous train rides, such as the the Grand Canyon Railway, Coast Starlight, the California Zephyr, and the Empire Builder, all available for travel.
However, intercity trains in New Orleans are operated by a variety of different companies. The Metro-North Commuter Railroad usually serves New York City and the surrounding areas, while the Massachusetts Bay Transportation Authority mostly serves Massachusetts. Travelers can use Omio to compare routes and prices between different operators before deciding on which tickets to purchase.
Popular international routes by train
New Orleans has several popular train routes to visit. Amtrak runs trains to Canada. The Maple Leaf links New York and Toronto in the United States. The train goes through New York's wine regions, Hudson River Valley, Niagara Falls, and Finger Lakes. That route is on the Empire Builder from Chicago to Vancouver.
The train proceeds through some breathtaking national parks, along with Stanley Park and Granville Island. On this trip, Amtrak works with Canada's VIA Rail. Southwest Chief is also a popular travel route within the region. The train traverses the American West from Albuquerque to Los Angeles. It passes over the Santa Fe Trail and then the Continental Divide in the Rocky Mountains.
When arriving by train in New Orleans
For long-distance train travel in New Orleans, an Amtrak Rail Pass is advisable. This pass offers different trip lengths and regions. Save much of your time and money by purchasing your tickets in advance. Examine the train amenities before your trip. On long-distance trains in the US, sleeping cars include couches, roomettes, and bedrooms. Also, look for internet, restrooms, and cafes.
Keep your card ready for purchases. Arrive early if you are traveling to Canada. Always carry your ID and have it updated to avoid lengthy verification procedures. To find out about trains in New Orleans, use the Omio app.
Train provider in New Orleans
As one of the most well-known train companies in the United States, Amtrak operates routes in 46 states that connect more than 500 cities across the country. These cities include New Orleans. In order to make traveling convenient, trains leave and arrive from central city stations. Daily, the company usually operates approximately 300 services, with each train providing amenities such as generous luggage allowance, air conditioning, and the ability to make seat reservations. They also own and operate Amtrak Canada, which provides service to major cities such as Quebec, Calgary, and Montreal.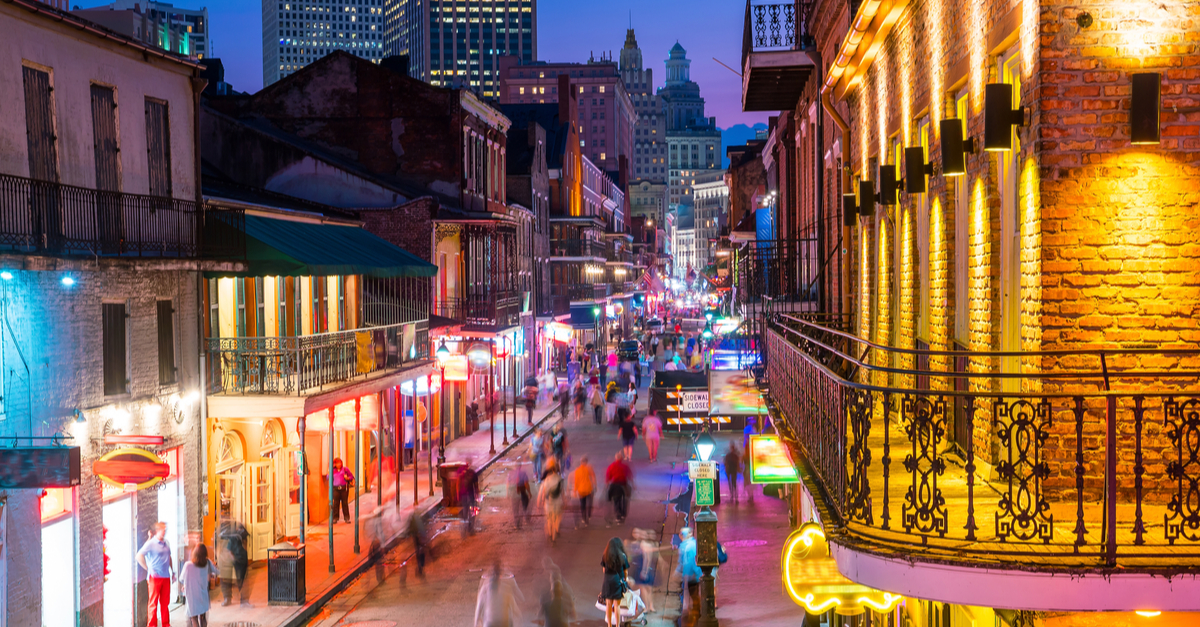 New Orleans French Quarter . Source: Shutterstock
Main train station in New Orleans
The Union Passenger Terminal is a multimodal facility located in New Orleans, LA. A stop on the Rampart–St. Claude Streetcar Line, located at 1001 Loyola Avenue, is served by Megabus, Amtrak, NORTA, and Greyhound Lines, and it has direct links to the Rampart–Loyola Avenue car Line.
In addition to aiding the long distance railways, including the New Orleans, the Sunset Limited and the Crescent, this station is a central southern terminus hub for Amtrak. In addition to the terminal, Amtrak maintains a coach and engine yard nearby.
Popular journey in New Orleans
In New Orleans there are many popular routes that can be done by train without going too far from the state of Louisiana, crossing the Mississippi and enjoying the landscapes. You can get to Baton Rouge in 1h 45min with an approximate price of $15. You can also venture a little further and get to Memphis, Tennessee, crossing the entire state of Misisispi in about 9h for $54.
When travelers use Omio to search for Amtrak deals, they can personalize their hunt to identify the most efficient and affordable ticket for their particular circumstances. There is no need to forego comfort, as even the cheapest tickets provide excellent Amtrak service, such as amenities like air conditioning and Amtrak Wi-Fi, to ensure travelers arrive in style.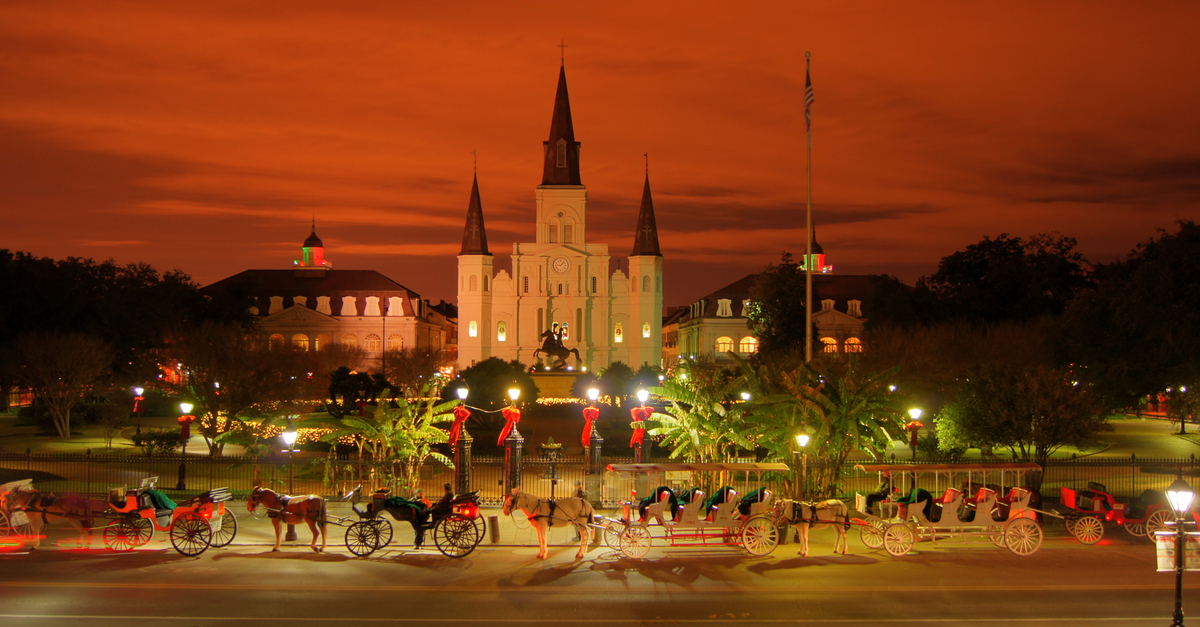 New Orleans Horses . Source: Shutterstock
Popular train routes from New Orleans
The New Orleans-New York Amtrak connection is one of the most popular. Trains leave from New Orleans, LA and reach New York City's Penn Station, usually take about 30h and tickets cost around $150. New Orleans, LA to Washington DC is another popular connection, with trains departing from Union Passenger Terminal and arriving at Union Station. Trains leave from early morning hours, and the fastest service takes about 27h and costs around $145. The best thing is that these routes, although they are long, are direct and do not require any transfers.
Good to Know
With Omio, it's easy to reserve tickets to a train in New Orleans. Just enter the route you are looking for, and the date you are searching will find all of the options available. What you must do is identify the one that is most appropriate for you. Most Amtrak mobile tickets in New Orleans are available to support you, making sure that your telephone is fully charged. It's best to print your ticket before boarding the train if a mobile ticket doesn't support your trip.
To New Orleans by train-travel tips
Customers who are traveling to New Orleans for business or pleasure prefer to travel by train, according to Omio customers. By train, travelers have the comfort of comfortable seats, spectacular views, and the option of first-class or second-class Wi-Fi. Omio's customers have established that the train to New Orleans is the best means of transport and has chosen to use it fast, secure, and efficiently.
When you get off the train, enjoy the streets flooded with jazz, the typical Cajun and Creole gastronomy of the city, the cheerful rhythm of the streets and the unmistakable architecture of the French Quarter, the most famous in the city.