Bus to Dublin
Known for being a warm and welcoming city with impressive architecture, interesting museums, and delicious food, Dublin is a particularly popular destination amongst travelers. There is one primary bus station in the city, which is known as the BusÁras (Central Bus Station), and can be found on Store Street. As Dublin is such a large and famous city, you will find that there are a variety of domestic and international buses that terminate here. If you would like to book a bus to Dublin, you can do so from a few different cities, including towns like Edinburgh, London, and Manchester.
Bus Eireann to Dublin
When you choose to book a bus to Dublin, you will find that many of the journeys that are offered are serviced by the company known as Bus Eireann. Bus Eireann is one of the largest transport providers in the Republic of Ireland and it offers services all throughout the country. Since it was founded in the 1980s, it has been providing passengers with hundreds of reliable daily voyages. When you travel to Dublin with Bus Eireann, you will most likely arrive at BusÁras (Central Bus Station).
Irish Citylink to Dublin
In addition to Bus Eireann, Irish Citylink also services many voyages to Dublin. This company is a subsidiary of the Singaporean company known as ComfortDelGro, and it primarily offers trips between the country's largest cities. Like with Bus Eireann, when you travel to Dublin with Irish Citylink, your bus will normally arrive at BusÁras (Central Bus Station).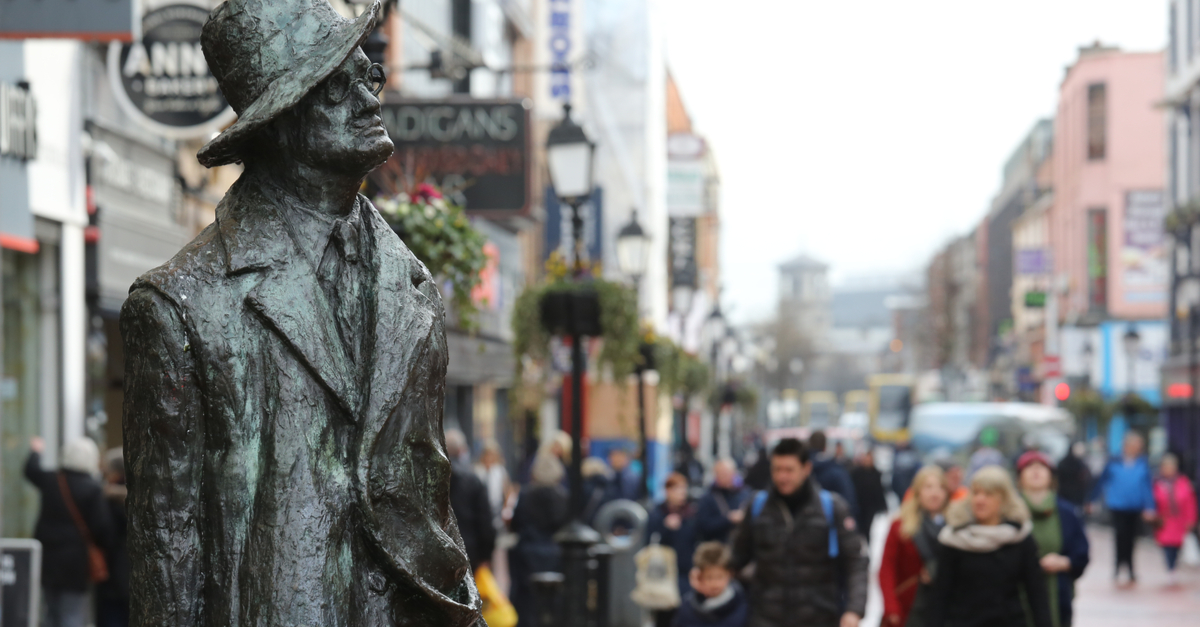 Dublin Statue Street. Source : Shutterstock
Main bus stations in Dublin
Dublin has one primary bus station, which is known as BusÁras (Central Bus Station). This station can be found on Store Street, approximately 1.6 miles (2.5 km) east of the city center. If you would like to travel to the city center after your bus has arrived in Dublin, you can do so by driving, which will typically take you around 10 to 20min depending on what traffic is like at the time. Public transportation is an option as well, and you can take either bus lines 14, 27, or 27A, as well as the Red tram line. If you take the bus, the journey will usually be around 10min in total, while if you take the tram, the voyage will typically take closer to 5min. There are a few different facilities and amenities that are available for passengers at BusÁras (Central Bus Station). For example, there are public restrooms, small shops to purchase light refreshments and snacks, outlets that can be used to keep your electronic devices charged, sitting areas for passengers to rest after their bus has arrived, and access to free Wi-Fi that works with most electronic devices.
Onboard facilities Dublin
Whether you're traveling by Bus Eireann or Irish Citylink, you will also have access to certain facilities and amenities onboard. Every passenger will have a comfortable seat that provides plenty of legroom and reclines. Most buses provide passengers with their own outlet to help ensure that their personal electronic devices remain charged during their journey. The overhead storage space can be used to hold small personal items as well as carry-on bags. If you have a larger item, such as a suitcase, stroller, or bicycle, you can always choose to store those underneath the bus. Some buses may be equipped with free Wi-Fi that you can use for the duration of your trip. Many buses have onboard toilets that are available for travelers. While not all buses may sell snacks and drinks on board, you will find that depending on what city you are departing from, your driver may periodically stop to allow passengers to purchase refreshments.
Bus tickets to Dublin: useful to know
Both Bus Eireann and Irish Citylink offer a few different ways for passengers to show their ticket to their driver when boarding their bus to Dublin. Once you have officially made your reservation, you will usually receive your ticket via email. If you would prefer to have a physical copy of your ticket, you can always print out this document. On the ticket, you will find either a barcode or QR code that can be scanned by your driver while entering the bus. Those that would prefer to use a digital version of their ticket can always show their driver the reservation on their smartphone or portable electronic device. Your driver will typically scan the barcode or QR code directly from your device's screen. Whether you use a physical copy of your ticket or a digital version on your portable device, it's important to keep in mind that you will be required to show an official piece of identification that has the same name that is included on your reservation. There are a few different types of documents that can be used, including your passport or a government-issued driver's license that is not expired. Booking a bus reservation with Omio is a simple and straightforward task that will only take you a handful of minutes. With our online platform, it's easy for you to store all of your reservations and tickets in one place directly in your customer account.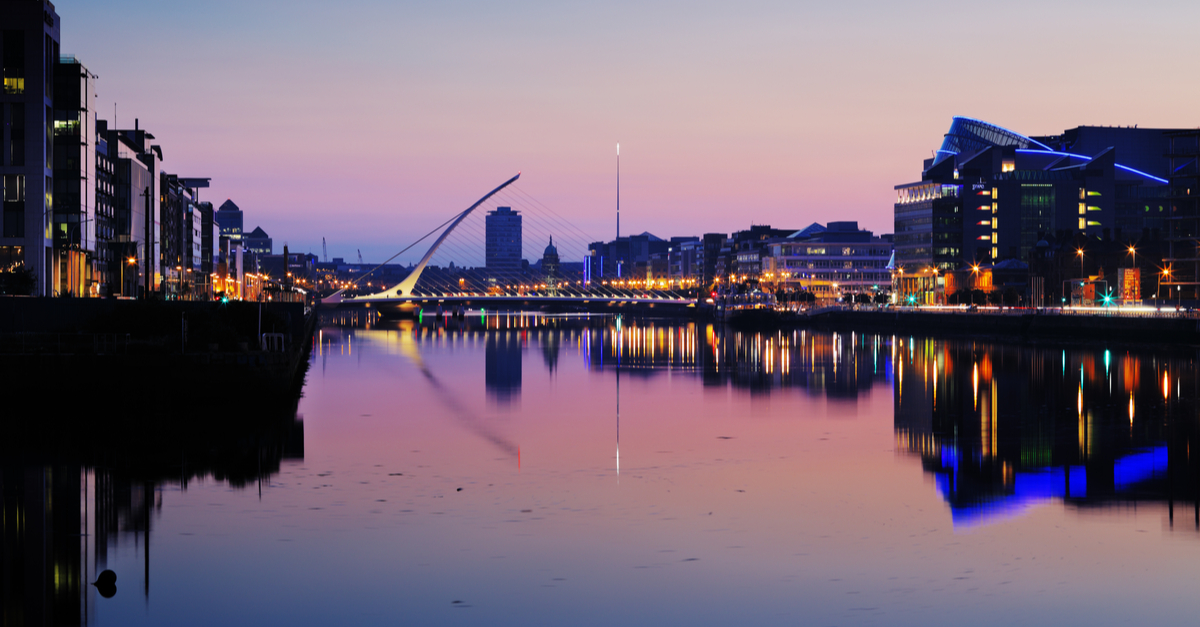 Dublin Night. Source : Shutterstock
To Dublin by bus - travel tips
As Dublin is such a large international city, people travel to this area for many reasons, including business and general tourism. The city is filled with interesting museums and attractions, as well as yummy restaurants and impressive architecture, making it the perfect place for a fun trip. With the public transportation system, it's easy and affordable to travel throughout the city and even to neighboring towns.
The Dublin rail network can be used to travel to different districts, as well as the local tram and bus systems. You can either buy individual tickets for the public transport systems or opt for a daily or week-long pass, depending on your personal preferences. If you want to stay in an area that is sure to be well-connected to public transport, try to find lodging that is in the city center.
No matter what type of traveler you are or what types of attractions that you are interested in, Dublin has something for you. If you enjoy beer, make sure to go to the Guinness Storehouse, which has a rooftop bar and can be found at the St. James's Gate Brewery. Those that want to learn more about local history can always take a tour of Dublin Castle, an attraction that dates back to the 18th century. To spend some time outside and enjoy the city's lush scenery, go to Phoenix Park, a large green space that is a nice place to have a picnic.
Art lovers won't want to miss out on the chance to see the Irish Museum of Modern Art, which houses works from all over the world. Experience the city's vibrant nightlife by going to The Temple Bar, a famous pub that is known for playing Irish music.
Immerse yourself in interesting Irish folklore by going to the National Leprechaun Museum of Ireland, an activity that the entire family is sure to love. If you want to spend some time along the coast, you can always go to Dublin Bay, which is around a 10min drive from the city center. Go on a scenic hike by heading to the Powerscourt Waterfall, which can be found at the base of the Glen Soalan Valley.