Train to Boston
Boston, located close to England's east coast, could be best described as a relatively small market town with only one railway station named for the city. Boston Station is located very near to the city center, perhaps walkable in about 10min or easily reached by taxi from anywhere in town. Although located in rural Lincolnshire, this town still receives regular trains from Skegness further to the east, or from Sleaford and Nottingham in the West Midlands region of the country. Indirect routes by train to Boston also link it to the capital London further to the south and to some northern cities, such as Leeds or even Manchester.
East Midlands Trains to Boston
East Midlands Trains to Boston are available from such cities as London or Peterborough to the south. These trains typically depart from the King's Cross station in London and connect through Grantham. Boston trains depart from the south each day of the week, with multiple trains leaving regularly throughout the day and making the journey north to Boston in around 2h to 3h. East Midlands Trains to Boston also arrive from the north, such as from Manchester, departing regularly from Oxford Road or Piccadilly Station in that city.
East Midlands Trains are available departing from Skegness in the east, traveling directly to Boston daily in about half an hour or so. From the west, East Midlands Trains travel from Nottingham Station each day of the week, with trains to Boston arriving around 1h 30min later with no connections along the way.
LNER trains to Boston
LNER (formerly known as Virgin Trains on this route) offers trains to Boston from the King's Cross station in London. These daily routes include a connection at Grantham before turning east to Boston, generally arriving just under 3h from departure. Boston trains from the Leeds Railway Station to the north are also offered by LNER, again connecting through Grantham. These journeys typically take around 2h to complete and are offered each day of the week.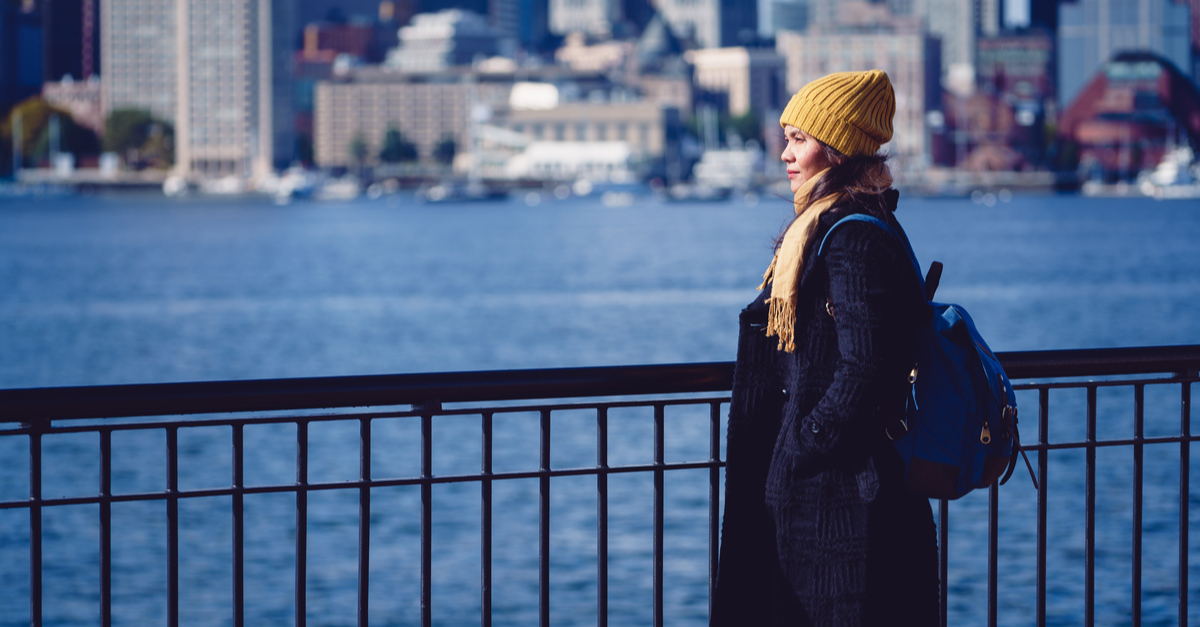 Boston River. Source: Shutterstock
Main train station in Boston
The main railway station in the city of Boston is the eponymous Boston Railway Station, a Victorian style building located just off Station Street very near to the city center. This station is easily reached on foot from the city center or by hailing a local taxi. Despite its rural location in Lincolnshire, Boston and its railway station processes around 200k passengers annually, making it an important waypoint between cities such as Nottingham in the west and Skegness to the east. Boston's train station features the typical shops and dining options one would expect in a modern British train station, in addition to public restrooms and comfortable waiting areas. There are customer help stations located on Platforms 1 and 2 as well as a ticketing office and automated ticketing machine.
Parking is provided at the station, and travelers coming by train to Boston who require special assistance will be pleased to note that the station provides step-free access throughout. Additional assistance is available for such passengers by request, as provided by station staff. Visitors to Boston can also make use of an ATM machine and postbox before leaving the station.
Onboard facilities Boston
Passengers on board LNER trains to Boston can expect free WiFi in both standard and first-class seating areas. Quiet coaches and a café bar are also available. LNER passengers may up to two small pets onboard without cost, and foldable bicycles are also welcome on LNER's Boston trains. Non-foldable bikes will need to be booked. If you're traveling by train to Boston on an East Midlands route, you will also have the benefit of free 4G WiFi as well as a choice between standard and first-class seating cars. Bicycles are welcome on East Midlands trains, so long as they are foldable. Otherwise, passengers will simply need to reserve a bike space on the train (for an added fee).
Those passengers with limited mobility, whether on LNER or East Midlands trains, can request special assistance before their trip and/or receive assistance from station staff. Simply contact the train carrier after booking your ticket on Omio. Service animals are always welcome on all trains to Boston, regardless of carrier. These animals, such as seeing eye dogs, for example, must be on a leash, but may enter any part of the train when accompanying their human counterpart.
Train tickets to Boston: useful to know
E-tickets are available for all East Midlands trains to Boston and include single-trip tickets as well as seasonal passes. The same goes for tickets for Boston trains offered by LNER (formerly known as Virgin Trains on the routes to Boston). When traveling by train to Boston or elsewhere in the United Kingdom, it is always advisable to carry a government-issued photo ID card or passport, as some train staff will want to confirm passenger identity at boarding times. When it comes time to plan for your next train trip, it's fast and easy to book these and any other types of tickets to Boston on Omio, and now you can even store your e-tickets to this and other destinations in your Omio account online!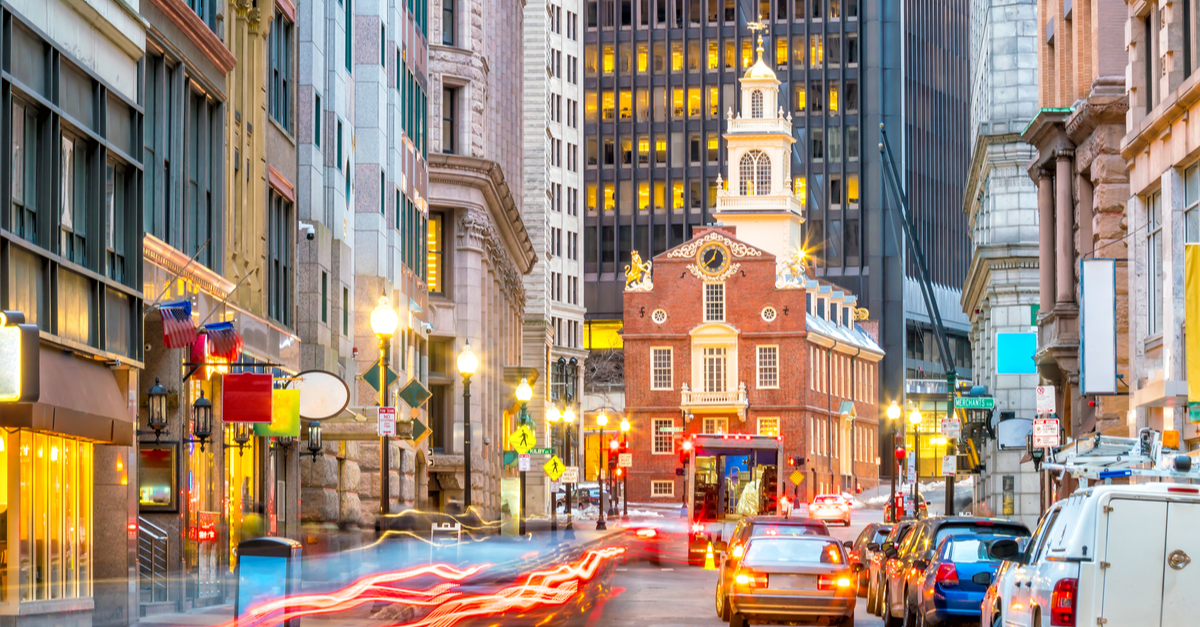 Boston Illuminated . Source: Shutterstock
To Boston by train: travel tips
The city of Boston, England is an old port town located about 100 miles (160 km) to the north of London in the eastern coastal region known as Lincolnshire. Here visitors can experience a vast array of shopping opportunities in addition to some excellent and unique dining options in the Market Place. Visitors will also be impressed by the grand historical architecture on display along the picturesque lanes and streets of this old market town, such as the Centenary Methodist Church or the Fydell House and Gardens.
And getting around in Boston is convenient as well, with city buses originating from the Stop Rot bus station in the north part of town or the Boston Bus and Coach Station right by the Boston Railway Station in the center of town. A leisure boat is available to sail through town on The Haven, and of course whenever you have had enough of strolling along the shops and restaurants on foot, a taxicab is never far away to bring you back to your hotel!
It almost feels like Boston was built for its visitors, with museums, attractions, and activities all comfortably placed near to one another in a town that is better experienced than visited! When you book a train to Boston on Omio, you will be able to discover for yourself the majesty of St. Botolph's Church or experience the excitement of the Market Place and the famous Five Lamps landmark!
Enjoy a leisurely cruise down The Haven or perhaps take the kids to the Central Park for some outdoors fun! Boston is full of unforgettable restaurants and pubs, along with inspirational sites like the Blackfriars Arts Center or the War Memorial. And of course, don't forget to take a picture of the city from atop the Hussey Tower before you leave! Whether you explore Boston on foot or on one of the local buses, be sure to book your train there today. You'll be glad you did!