Trains from Aveiro to Lisboa
On the journey on trains from Aveiro to Lisboa, you will find roughly 40 trains that travel this route on a daily basis. The route covers around 157 miles (253 km) and the time you will spend traveling will vary from 2h up to about 5h 45min and this is often dependent on whether or not there are transfers along the route.
Aveiro to Lisboa Train Time: Daily Departures
On trains to Lisboa from Aveiro, you will find about 40 departures per day with the first trains leaving at around 2:15 a.m. Departures occur pretty evenly throughout the day starting at around 6:00 a.m. and continuing all the way until the early evening hours and this schedule continues every day of the week.
How long is the journey by train from Aveiro to Lisboa?
The journey on trains from Aveiro to Lisboa covers about 157 miles (253 km) and the time you will spend on the train can be as quick as 2h and can be as long as 5h 45min. More than half of the trains on this route are direct trains while the rest can require one, two, or even there transfers along the route.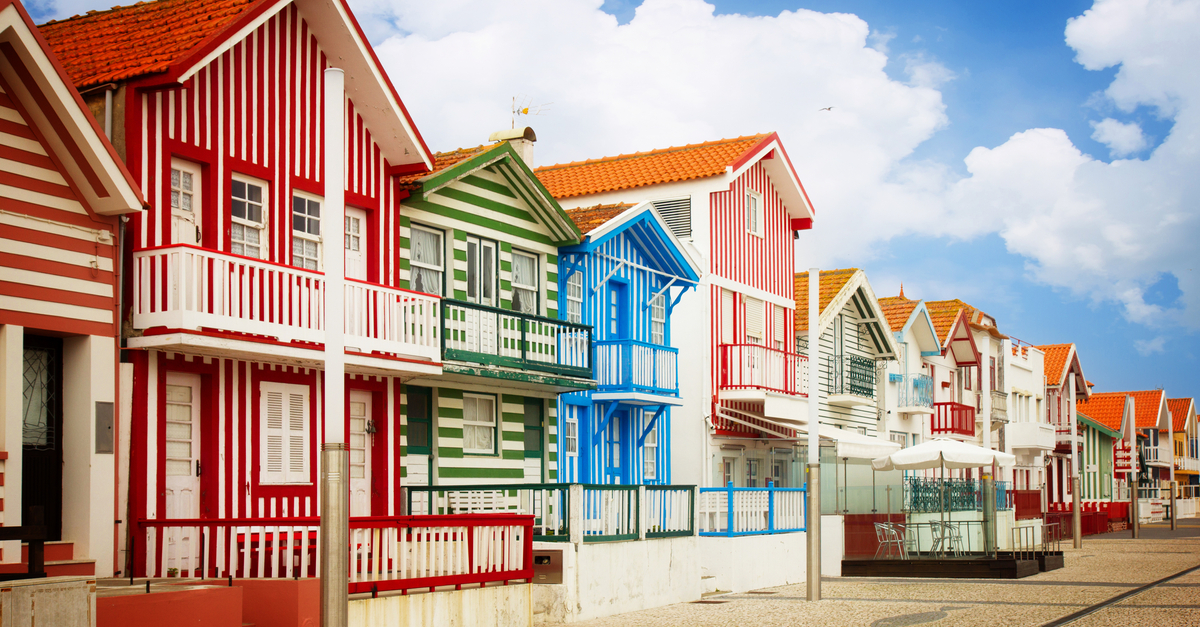 Aveiro Beach Houses. Source: Shutterstock
What is/are the departure and arrival stations for trains from Aveiro to Lisboa?
Departure train station: Aveiro Station. One of the best things about the station in Aveiro is that it is so close to the center of the city at only about 1.2 miles (2 km) from the center of the city. You can take a taxi to the station in about 3min or you could even walk in about 18min. While the architecture of the station is quite breathtaking, with an old-world European feel, the amenities here are somewhat limited. You will find public restrooms as well as both ticket machines and ticket kiosks. In addition, there is a large information board showing the status of trains plus a couple of small coffee shops to get a small snack or something to drink.
Arrival train station: Lisboa Oriente Station. This station is about 4 miles (6.5 km) to the north of the center of Lisboa. You can take a train to make the trip in about 7min, a subway to make the trip in about 10min, or a bus to make a trip in about 12min. The station is spacious and modern with plenty of great architecture and artwork to see. The station has a connection by an underground level tunnel to a shopping mall that has plenty of stores and a great food court. You will also find several shops and eateries as well as luggage lockers inside of the station.
Lisboa Santa Apolonia Station. This station sits right in the heart of the city and is the terminus point of this railway line in the city. Because of this, the center of the city is less than 1 mile (1.6 km) from the station. There is bus service available from the train station to the center of the city or you can also walk in about 15 min. This is the oldest train station in the city and the station offers just a few platforms so it is usually easy to navigate through the station. The station contains a café, some shops, as well as a supermarket. If you venture out of the station you will find plenty of shops, cafés, and bars within a short walk.
Which train companies travel from Aveiro to Lisboa?
All of the choices for an Aveiro to Lisboa train have Comboios De Portugal as their operator. Among their offerings on this route are several direct trains that make the trip between the two cities in just a little over 2h. They also offer several trains that require between one and three transfers to different trains along the route.
Night trains Aveiro
There are only a couple of trains that leave in the evening although there are no true overnight trains simply because this is a short journey. The two trains that depart in the evening include one that leaves at around 7:20 p.m. and one and that occurs at around 8:30 p.m. Most of the trains on this route only go as far as the Lisboa Oriente Station in Lisboa but some, such as these two trains, also continue onto the Lisboa Santa Apolonia Station. Both of these trains offer direct service to Lisboa with a travel time of just a little over 2h.
Comboios De Portugal trains from Aveiro to Lisboa
This company operates around 40 different trains from Aveiro to Lisboa on a daily basis every day of the week. They do not offer any high-speed trains along this route but because the distance between the two cities is so short most trains will only take about 2h to make the trip. If you are traveling on trains that require transfers along the way your travel time can increase to up to 5h 45min for the longest trip that will require two transfers along the way that total about 1h 30min in waiting time between trains.
Trains from Aveiro to Lisboa: Sustainability travel
By its very nature, traveling by train is a much more sustainable method of travel as opposed to all of the individual travelers that would travel on a train making the trip on their own through some other method. Comboios de Portugal has created their own environmental policy that strives to improve its environmental performance through all aspects of its corporate operations beyond just how specific trains operate.
Train Aveiro to Lisboa: Services on Board
Depending on the train you choose for this route there may be one or two classes of seating. Generally, those trains that are not direct only offer one class of seating. When traveling on any of these trains passengers can bring hand luggage on board with no extra charge so long as the luggage can sit in luggage racks or under the seat. You may also bring two additional pieces of baggage that will ride in the storage areas inside every train car.
You can bring a bicycle aboard the train free of charge and the only limitation is that the bicycle cannot block any doors or hinder passengers from getting on or off the train. Pets can ride on the train free of charge and most pets will need a ride in an approved pet carrier. There are circumstances where pets can ride just on a leash but in those cases, there will be a fee for being the pet onboard the train. For any passengers with disabilities or special needs, the train company offers an advisor that handles making sure that these passengers can travel in the same manner as all other passengers on every train.
How to find cheap train tickets from Aveiro to Lisboa?
One of the best ways to save money on tickets on trains from Aveiro to Lisboa is the book as far in advance as possible. When you do this you have a better chance of finding specials or discounts offered by the train provider. If you have flexibility in the times and days you travel you can search out different options for the route to find the cheapest choice. Another good way to save some money on your train travel is to take trains that are not direct. It is quite often the case that trips that require one transfer or more will cost less than direct routes.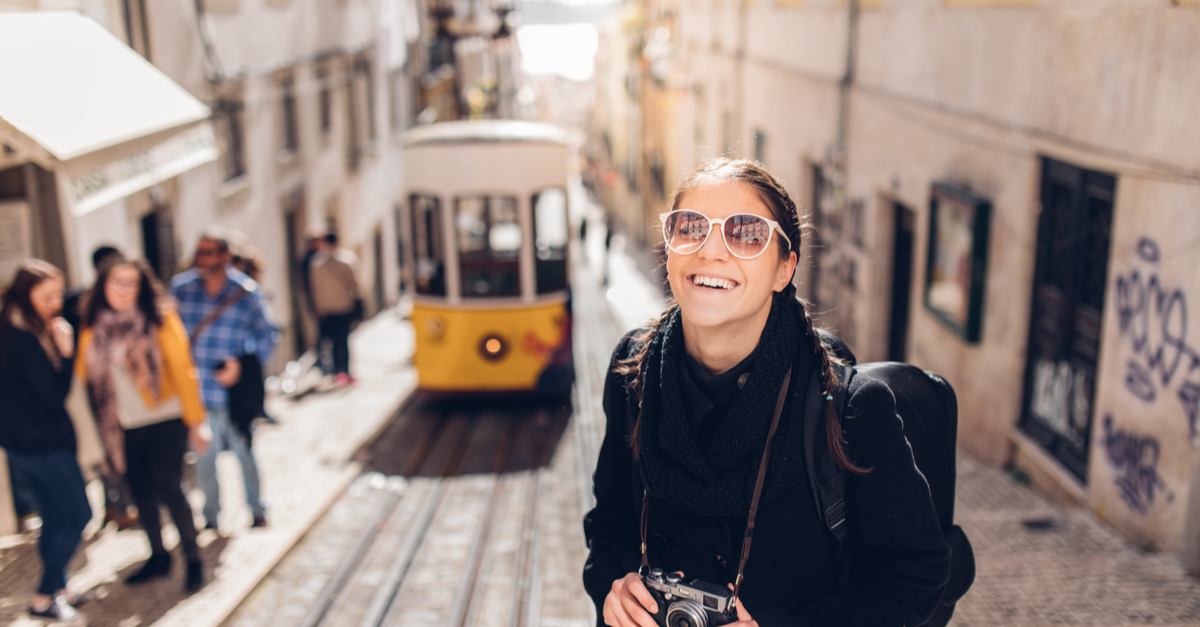 Lisboa Woman Backpack. Source: Shutterstock
To Lisboa by train—travel tips
Lisboa has a reputation as one of the oldest cities in Portugal and because of that, you're going to find quite a bit of classic architecture throughout the city. Visitors often think that the city has an easy-going and laid-back charm that is hard to find in other European cities. The city itself sits on top of seven different hills offering spectacular views of the water and the coffee and food culture of the city is quite well-known. Some of the spots that you cannot miss when you visit Lisboa include:
Belem Tower
Castelo de Santo Jorge
Jeronimos Monastery
Praca do Comercio
Santa Justa Lift
Padrao dos Descobrimentos
Ocenario de Lisboa