Flight to the Hague
To most people, The Hague is synonymous with diplomacy and international law. Located strategically near the North Sea coastline, The Hague attracts many tourists each year, most streaming into the city by air. Although there are slightly over 50 airlines that fly to The Hague, most travelers choose KLM, Transavia, and British Airways. Notably, most of these travelers come in from London, Paris, and Copenhagen airports. Therefore, when traveling to The Hague, you will most likely touch down at two major flight stations – Amsterdam Airport Schiphol or Rotterdam The Hague Airport. Although the city has no major airport, getting to The Hague by air shouldn't be a problem. Other nearby airports include Antwerp Deurne (ANR), and Eindhoven (EIN).
British Airways to The Hague
If you are flying to The Hague from London, you could book your flight with British Airways. The company has multiple flights each day leaving for The Hague, making it easy for you to plan around your travel itinerary. Being a recognized airline in the UK and worldwide, you have nothing to worry about. Furthermore, British airline offers comfortable leather seating and complimentary newspapers to keep you busy during your flight to The Hague.
KLM to The Hague
KLM is another popular airline you can book your flight with when traveling to The Hague by air. The company serves Amsterdam-Schiphol Airport with flights from over 150 destinations. Their flight times are convenient and easy to plan around. When flying with KLM, you will arrive at Amsterdam- Schiphol at terminal 2. Ideally, the airline offers two classes of service: Economy and Business. While onboard, you can enjoy entertainment provided on almost all intercontinental flights, including over 200 films.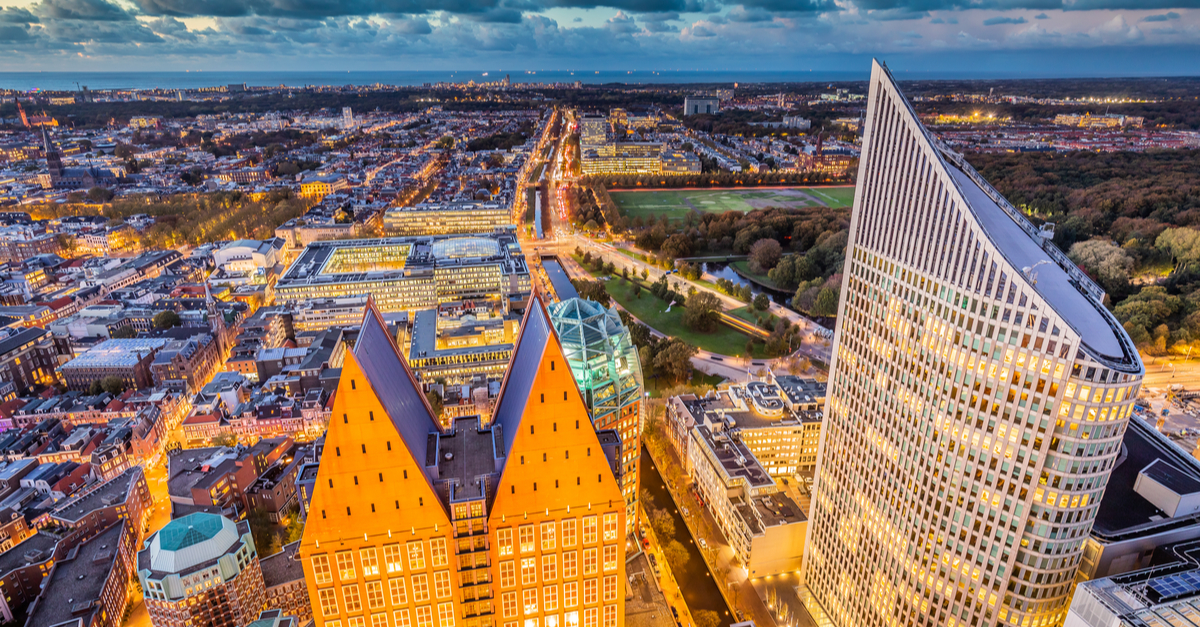 Hague Aerial View : Shutterstock
Main Flight Stations in The Hague
Rotterdam The Hague Airport is the closest flight station to The Hague. The airport, which is the third-largest in the Netherlands, manages approximately one million travelers per year. The airport is approximately 15.5 miles (25 km) away from The Hague. Being among the major airports in the country, it is packed with amenities, such as a cash machine, car parking, and car rental operators. Other facilities include a fully equipped baby room and a lounge.
The other popular airport that serves The Hague is Amsterdam Airport Schiphol. However, it's a little further from The Hague than Rotterdam The Hague, being approximately 25 miles (40 km) away. Notably, Amsterdam Airport Schiphol serves as the base for a couple of intercontinental airlines, including KLM and Transavia. Some of the passenger amenities you can find at this airport include ATMs, currency exchanges, an airport library, and free Wi-Fi. In addition, it is the hub for a number of airlines, including KLM and Transavia.
Onboard Facilities the Hague
Having been in the aviation business for such a long time, British Airways has quite mastered the art of customer service. They offer a wide range of onboard services to make your flight as comfortable as possible. For instance, all guests across all travel classes receive complimentary tea, coffee, an assortment of snacks, and drinks. The four classes are Economy, Premium Economy, Business, and First. If you have booked a long-haul flights to The Hague, you can get meals on board, and you can inform the company of any special dietary needs for the necessary arrangements.
If you book the most elite travel class (First), you could enjoy more facilities, such as access to lounges and spas. Similarly, KLM has a wide range of onboard services, such as complimentary drinks and snacks, as well as in-flight meals for long-haul flights. Furthermore, the airline has a carefully compiled collection of in-flight entertainment to keep you relaxed throughout the flight to The Hague. KLM is also known for its generous baggage policy. When in the economy class, you can carry one free checked bag and two in the business class.
Flight Tickets to The Hague
Checking in online is very convenient and saves you the trouble of queueing. Fortunately for you, most airlines have embraced technology, making it possible to do most of the work online. For example, British Airways makes it even easier for you to get your flight ticket to The Hague, as you can do so right from the comfort of your home. You can choose to print your boarding pass or work with a softcopy.
Furthermore, the airline now has a mobile app, through which you can download your boarding app. The same case applies to KLM. You can book your ticket, select a seat, and even see how much baggage you can bring onboard online. You can also change your ticket online. Although you don't have to, you can print your electronic KLM ticket. Besides, you also have to show other required documents, such as a passport and proof of accommodation.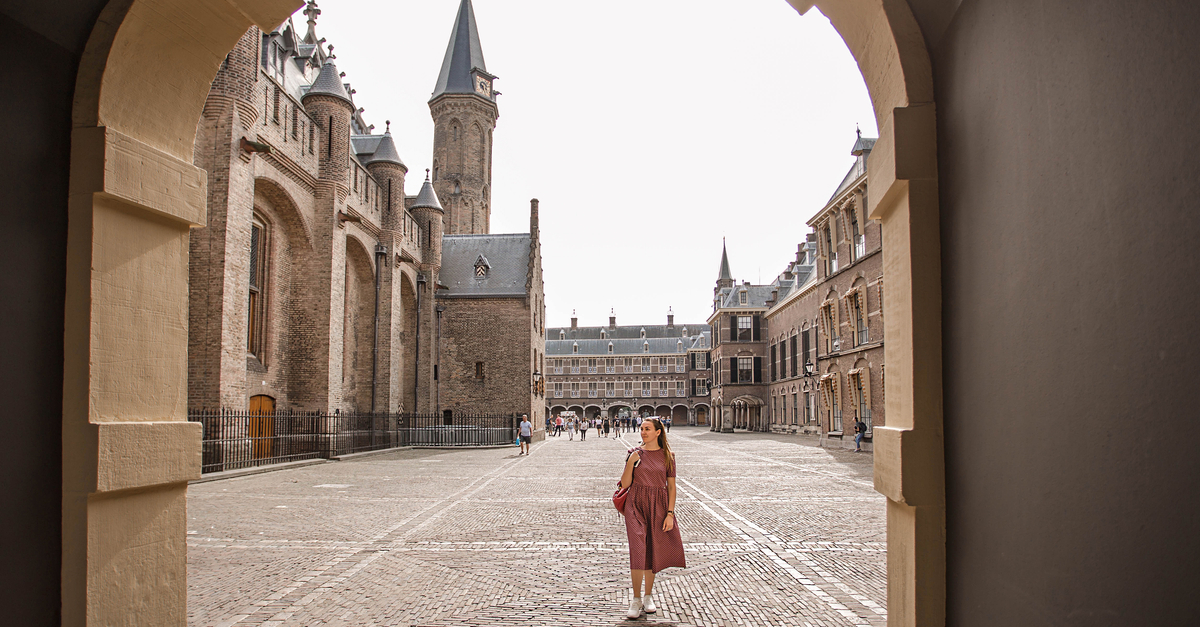 Hague Castle Bridge : Shutterstock
To the Hague by Flight- Travel Tips
Despite Amsterdam is the official capital of the Netherlands, The Hague gives it a run for its money. It serves as the seat of the Dutch parliament and government, not to mention it is the residence of the Dutch royal family. Although international law and diplomacy are the most remarkable things associated with The Hague, it has breathtakingly beautiful architecture and a wide range of shopping spots you can't miss.
If you are an art enthusiast, you will find the museums and galleries present in the city quite interesting. One of them is Escher in Het Paleis, which mostly features work from M.C. Escher, Netherland's most celebrated modern artist.
Other attractions in The Hague that could pique your interest include the dome cinema called Omniversum and the Royal Picture Gallery Mauritshuis. Notably, getting around The Hague isn't likely to be a struggle for you, as the city has excellent public transport, with more than 30 buses and tramlines at your service.
If you don't have the OV- chip card, you don't have to worry since cash is acceptable. You can also take the night bus after a night out, so you don't have to worry. Besides, you can also get around the city on foot while enjoying the fresh air.
For a long time, The Hague is served as Netherlands' political capital. While the political aspect is inseparable from the city, it also boasts fascinating features that entice travelers worldwide. While in this city, you could some of the popular museums, such as Louwman Museum, and view their rich collection of automotive history.
You could also embark on fun activities, such as playing a city game that gives you clues you can follow to discover some iconic buildings in the city. If you are on a family trip to The Hague, you might consider taking a trip to Museon, where the kids can have fun learning about history. After a long day of exploring the city, you can take some time to enjoy well-known Dutch dishes. Some of them include Hachee, Stamppot, and Dutch pancakes.
Furthermore, The Hague has magnificent buildings you can enjoy seeing. Top of that list is the Peace Palace, a center for international law and justice. You can also go site seeing to Panorama Mesdag, the oldest cylindrical painting still in its original location. The panorama, painted by Hendrik Willem Mesdag, could almost give you the illusion of traveling back in time.