Bus to Fullerton, California
Located in Orange County, California, Fullerton is a popular city amongst students, business travelers, and tourists alike. You will find that there are quite a few major bus stations in the area, including one at the city's Regional Transportation Intermodal Center and a second at the town's Metrolink Station. If you're interested in booking a bus to Fullerton, there are a few cities that you can do so from, including San Diego, a popular location that is in the southern region of California.
FlixBus to Fullerton
When you book a bus to Fullerton, including a cheap bus to California, your trip may be serviced by FlixBus, as this provider operates many of the journeys to this region. Originally created as a German company in 2011, FlixBus has since become one of the largest transport providers in both Europe and North America. Journeys serviced by this company will typically arrive at the Santa Ana train station, which can be found on E Santa Ana Boulevard.
Greyhound to Fullerton
In addition to FlixBus, Greyhound services many daily buses that ultimately arrive at the final destination of Fullerton. Greyhound was originally created in the United States in the 1920s and now services trips to over 3,500 different cities throughout North America. Similar to when you travel with FlixBus, buses to Fullerton that are serviced by Greyhound generally arrive at Santa Ana train station on E Santa Ana Boulevard.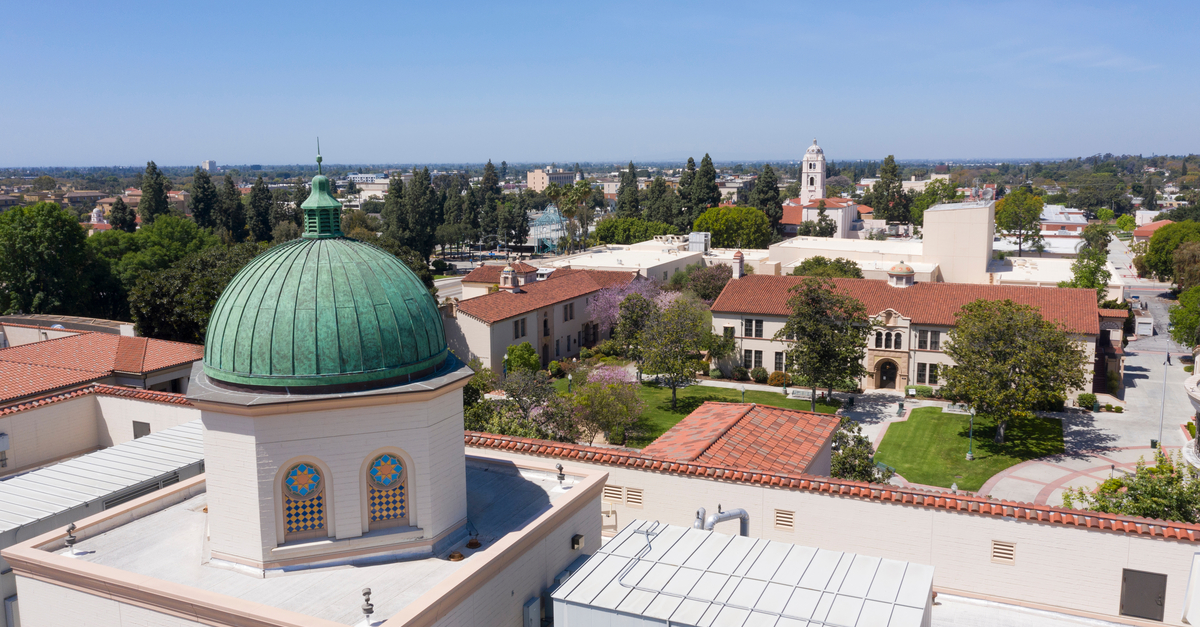 Fullerton Areial : Shutterstock
Main bus stations in Fullerton, California
The main bus station in Fullerton that is used by companies such as FlixBus and Greyhound is at the Santa Ana train on E Santa Ana Boulevard. You will find that this bus station is approximately 10 miles (16 km) from the city center of Fullerton. If you would like to travel from the bus stop at Santa Ana train station to downtown Fullerton, you can do so in around 15 to 20min by taking the local train lines known as the Orange County Line and the Pacific Surfliner.
The bus stop at Santa Ana train station has a few different facilities that travelers can take advantage of once their train has arrived, including public restrooms, sitting areas to rest and relax, places to purchase basic snacks and beverages, access to free Wi-Fi for your electronic devices, and outlets that can be used to charge items such as your phone or laptop.
Onboard facilities Fullerton
Both FlixBus and Greyhound have a few different onboard facilities that passengers can take advantage of on their bus to Fullerton. For example, both companies typically have on-site bathrooms in the buses that they use for routes terminating in Fullerton. You are also sure to have access to a large and comfortable seat that provides plenty of legroom.
Many seats have the ability to recline, and quite a few are also equipped with their own outlet to help keep your electronic devices charged throughout the duration of your journey. Almost all of the buses operated by FlixBus and Greyhound offer free unlimited Wi-Fi for all passengers that you can use to stay connected while waiting to reach your final destination. On certain voyages, FlixBus has a FLIXtainment Onboard Entertainment System, which you can access by connecting to your bus' Wi-Fi on any personal electronic device that allows you to connect to the Internet.
This system will provide you with a variety of free movies and television shows to enjoy during your trip, as well as audiobooks, e-books, games, puzzles, and information on your voyage. Greyhound has its own onboard entertainment system that passengers can access through any Wi-Fi-enabled device, such as a tablet, laptop, or smartphone. This entertainment system allows you to enjoy free movies and television shows, as well as play games and read the latest news updates. Both of these companies have some buses that sell light snacks and refreshments during journeys.
Bus tickets to Fullerton: useful to know
When you travel with FlixBus, you can choose to either print out your ticket or present it to the driver in a digital format on your smartphone. If you would like to have your ticket on your smartphone, you will receive an email that contains your booking, which includes a QR code that your driver will scan while boarding.
Keep in mind that in order to board a FlixBus with either a digital or printed copy of your ticket, you will be asked to have a valid identity document, such as a passport, driver's license, national identity card, or residence permit. Greyhound also provides travelers with the option of either printing out their tickets or using a digital format. If you would like to use a digital copy of your booking when purchasing your ticket through Omio, make sure to select the E-Ticket option at the end of your transaction.
You will be able to check in for your journey 2h prior to your departure time, and once you have completed this, your official ticket will be delivered to your email. Simply show the bus driver the barcode that is on your mobile ticket and you will be good to go. Like FlixBus, Greyhound also requires passengers to present a valid form of identification that matches the name on their ticket in order to board the bus. When you buy bus tickets through Omio, the entire experience is sure to be easy and quick. Our platform even allows you to store all of your tickets directly in your Omio account.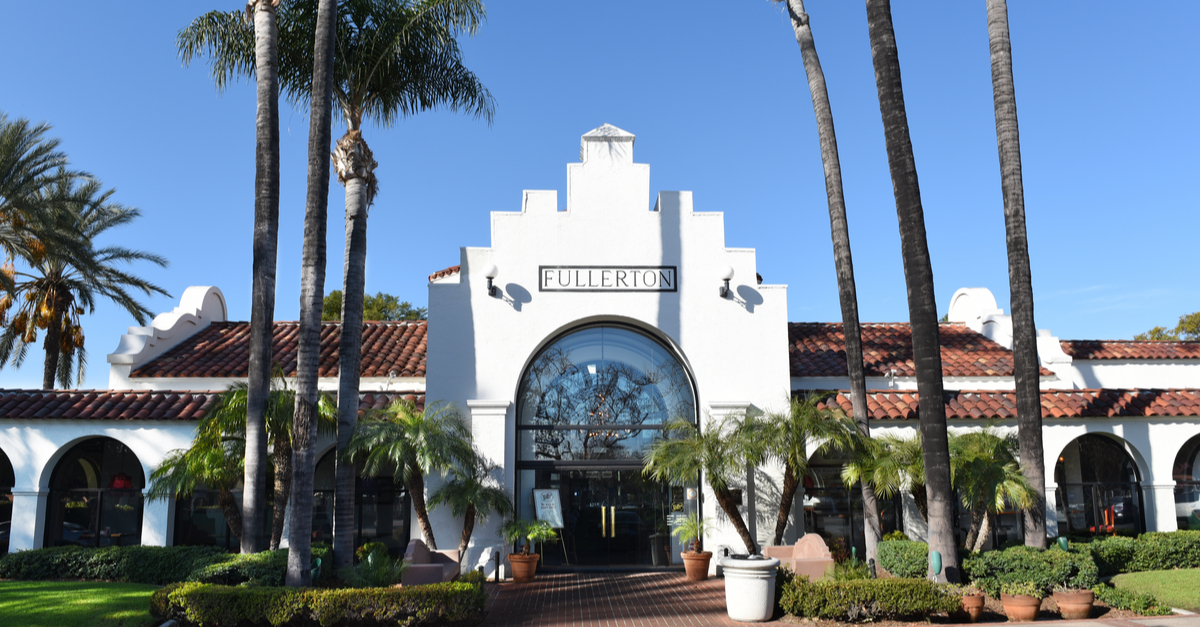 Fullerton Factory : Shutterstock
To Fullerton by bus - travel tips
There are many reasons why travelers choose to visit Fullerton. California State University, Fullerton is found in the city, making it a popular area for students and their families. The town also is known for having a vibrant nightlife, so many individuals choose to go there in order to have some fun.
Fullerton has an extensive public transportation system that you can use in order to travel between its different neighborhoods. If you plan on relying on public transport during your stay in the city, consider staying somewhere that is near the city center, as there are quite a few public bus stops in this area.
When visiting Fullerton, there are many different things for you to see and do. The Fullerton Arboretum is one of the most popular attractions in the city and spans across more than 25 acres, acting as a home to over 4,000 different plants. The Fullerton Museum Center is also a popular place to visit in town, as it has numerous exhibits related to art, history, and science.
p>
Fullerton has become quite known for its beautiful landscapes, so make sure to spend some time outdoors while you're in the city. Craig Regional Park is composed of over 100 acres and has its own lake, while Laguna Lake Park has a variety of hiking and walking trails to choose from. If you want to enjoy the region's sunny weather and have a picnic, you can always do so at the scenic Hillcrest Park.
There are quite a few kid-friendly activities in the area as well, such as Adventure City, which is a large amusement park, as well as the Children's Museum at La Habra, which has more than 10 hands-on exhibits. Rolling Hills Park is a great area to let the little ones burn off some energy, as it has an extensive playground.