Bus from Fort Lauderdale to Naples
Taking a journey by bus can be one of the most exciting and adventurous experiences you can have. You get the opportunity to look throughout the window and see the good that has to offer. Taking a bus from Fort Lauderdale to Naples can be quite exciting. The distance between Naples and Fort Lauderdale is approximately 102 miles (164km) when using a bus. The journey takes 2h 50min on average but can take as short as 1h 25min or as long as 3h. One bus leaves every day at 9:40 a.m.; on Monday and Friday, there is one affiliate bus that leaves after the first bus and two affiliate buses leaving on Saturday.
Fort Lauderdale to Naples bus time: Daily Departures
The RedCoach travels from Fort Lauderdale to Naples daily, and you are assured of getting it as long as you have a ticket. The bus departs at 9:40 a.m. every day and takes about 1h 25min. The FlixBus, an affiliate, departs at 11:10 a.m. on Monday and Saturday and takes around 2h 50min. On Saturday you can get up to a third bus that leaves at around 3:05 p.m. and takes 3h 5min. The journeys by bus through this route are frequent although happening daily.
How long is the journey by bus from Fort Lauderdale to Naples?
Traveling to Naples from Fort Lauderdale on a bus takes around 1h 25min for the shortest journey. When using another bus like the FlixBus, the journey takes 2h 50min and 3h 5min when there is a layover. The bus covers a total distance of 102 miles (164 km) from Fort Lauderdale to Naples. The length of the journey mostly depends on the speed of the bus you use for the journey.
What are the departure and arrival station for the bus from Fort Lauderdale to Naples?
Departure bus station: when traveling from Fort Lauderdale to Naples, you get the bus at the Fort Lauderdale airport terminal 1 bus station. From this station, the bus departs to its destination. The bus station is accessible from the city center, and you can easily get there to board the bus. There is a waiting area at the station and restrooms that are accessible to passengers. There are also eateries where you can buy food before the journey or during the waiting period.
Arrival bus station: after leaving the Fort Lauderdale station on a direct bus, you will arrive at Naples's Naples bezel bus station. When using the FlixBus, the arrival station will be at Naples Dudley drive. Both bus stations are easily accessible and not too far from the city center. There are restrooms at the station that are accessible to all passengers. It takes a few minutes from the bus station to the city center.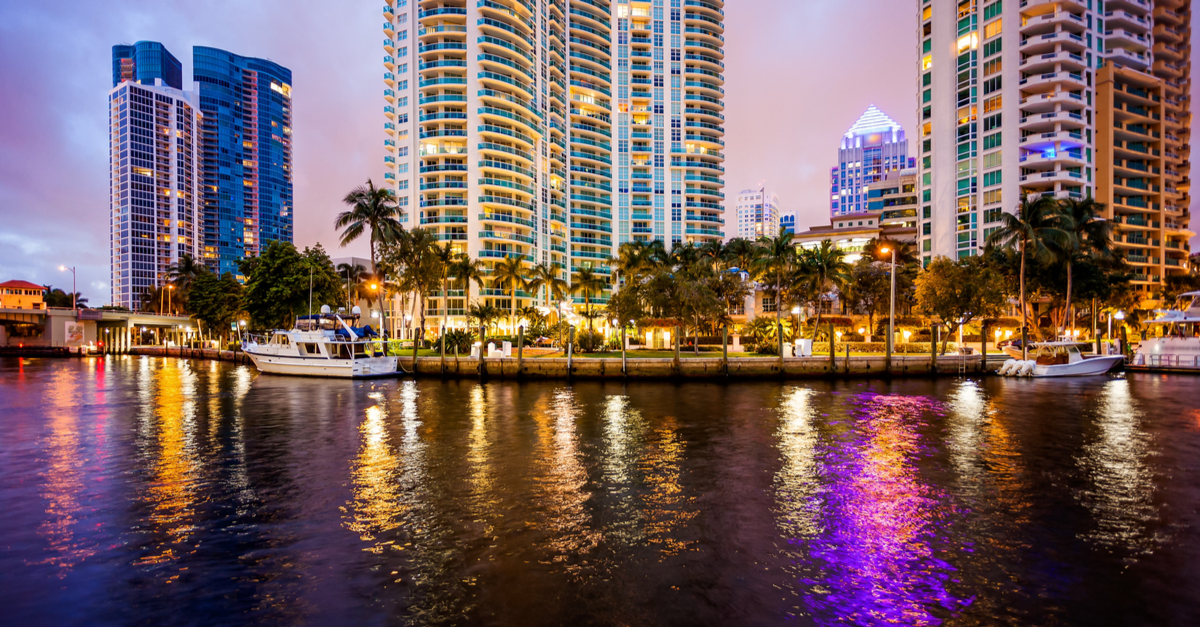 Fort Lauderdale Night River. Source: Shutterstock
Which bus companies travel from Fort Lauderdale to Naples
Two bus companies operate from Fort Lauderdale to Naples. These companies are the RedCoach and FlixBus. The RedCoach operates each day from Monday to Sunday, leaving at around 9:40 a.m. It is the fasted bus, though it is more expensive than the FlixBus but has a guaranteed trip each day.
FlixBus operates on this route only three days a week, making a total of four journeys; one on Monday, one on Friday, and two on Saturday. It is the cheapest bus and the second-fastest in the time it takes for a trip. You can book a ticket with any two bus companies depending on the desired travel day and time. All the buses are high-speed buses and are direct apart from the one bus that travels on Saturday afternoon with one transfer.
RedCoach buses from Fort Lauderdale to Naples
RedCoach buses offer direct travel services from Lauderdale to Naples. The journey on this route is a direct one, they are high speed buses and the journey takes approximately 1h 25min. the buses operate everyday with only one bus traveling each day making a total of 7 buses per week.
Flixbus buses from Fort Lauderdale to Naples
Flixbus buses travel from Fort Lauderdale to Naples and offer both direct journeys and journeys with transfers. The journey takes approximately 2h 50min or 3h 5min. The buses only travel on 3 days of the week. The bus makes 1 trip on Monday, another on Friday and 2 trips on Saturday. All the trips are direct apart from the second trip on Saturday. There is a total of 4 Flixbuses travelling in a week.
Bus from Fort Lauderdale to Naples: Services on Board
RedCoach offers its passengers business class conditions. Each passenger gets a reclined seat that is wide enough and comfortable to provide enough comfort throughout the journey. On this seat, you can easily stretch and even take a nap comfortably in case need be. There is Wi-Fi on the bus that you can use to entertain yourself. You can also use it to continue working as you travel. The power outlets also ensure that your gadgets and devices are charged and online for communication, entertainment, and work. The bus has toilets that you can access at any time when need be. There is an air conditioner that keeps the air cool throughout the journey making all passengers comfortable.
You can also carry your luggage; one carry-on bag and two checked bags. FlixBus provides standard class conditions that are comfortable for the passengers. There is also extra room for luggage but may require an extra fee depending on the size of the luggage. The seats are also comfortable to give you enough comfort. You can also check for other services depending on the bus you choose to travel in.
How to find cheap bus tickets from Fort Lauderdale to Naples?
The first way to acquire cheaper tickets is by making earlier bookings. When you book advance tickets, you have many options to choose from and at a time when tickets are not in demand. Tickets too close to the travel date may turn out expensive depending on the time of the month or year.
Booking a ticket close to a festival date may be expensive because the demand is too high. Therefore, when you book your tickets early, you may get them at a lower price. By being flexible with travel dates and times may also help in securing cheaper tickets. For instance, the FlixBus is cheaper than the RedCoach but only travels three days a week. To get the cheaper tickets, you can adjust to traveling on Monday, Friday, or Saturday during the midmorning when the tickets are cheaper. Taking the slower bus on this journey could also help get cheaper tickets because the slower buses charge a relatively lower cost for the tickets.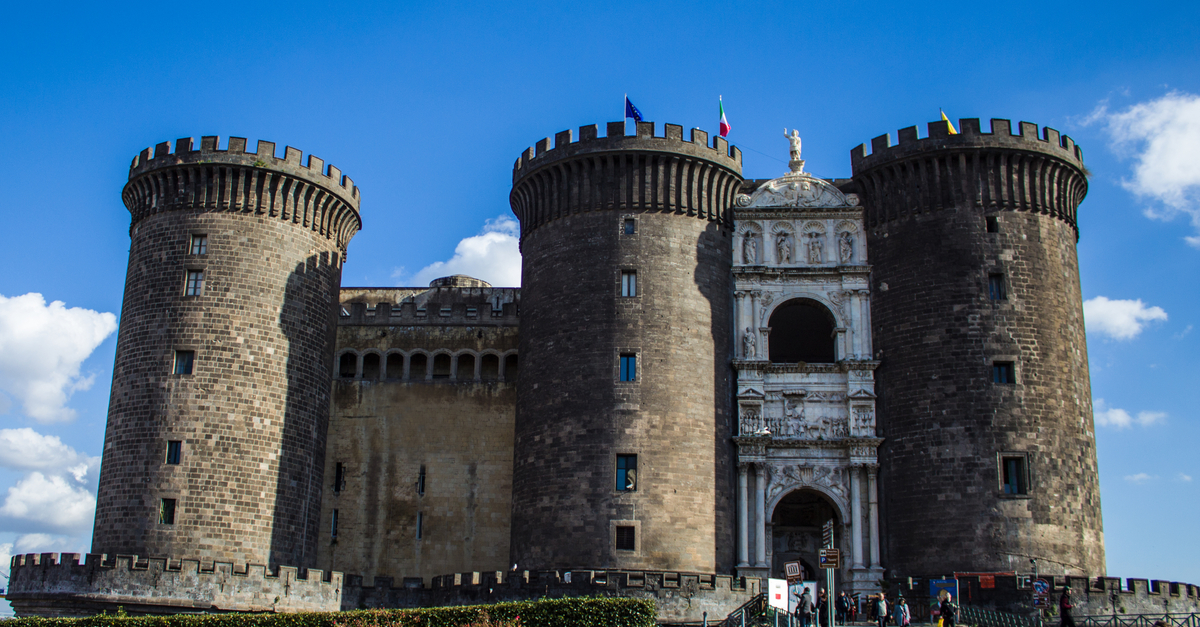 Naples Castle. Source: Shutterstock
To Naples by bus- travel tips
You can easily move around in a car when you get to Naples, preferably a cab or taxi. The city is a beautiful and affordable destination to visit with family. Naples is very famous for its high-end shopping, and you can get do all the shopping you desire in this city. Shopping here gives you a wonderful and lifetime experience of a kind. If you love high-end shopping or would like to try it, then Naples would be a great destination for you to visit.
As a nature lover, Naples will give you the best interaction you would ever want with nature. The beautiful beaches are a good place to start visiting and enjoy the sand and sun on the beach. World-class in the city is calling. Traveling to this city, you interact with culture, learn more about culture, and have a good time.
If you are a lover of culture or want to learn more about culture and find out about new things, traveling to Naples would suit you and quench your desires. Naples is rich in restaurants and diverse dining options. You can get a variety of cuisines from this city and move from one restaurant to the other gives you a different experience from the one you had.
You also get good accommodation that is cheap and comfortable. Taking a bus from Fort Lauderdale should be one of the things to do to enjoy all the goodness Naples has to offer. Traveling by bus gives an exciting and adventurous feeling with a chance to watch and enjoy nature.