Bus to Como
Known for its beautiful natural scenery, which includes Lake Como and the Alps, Como is a popular city that is filled with unique architecture, art museums, and delicious restaurants. There are a few different popular bus stations in this city, including the bus terminal at Piazza Giacomo Matteotti and the bus station at Piazzale San Gottardo, which are the largest stops in the area. As Como is a well-known city both within Italy and Europe, there are many domestic and international buses that arrive in this town. If you want to book a bus to Como, you can do so from several different major European cities, including Rome, Venice, and Zurich.
FlixBus to Como
When looking for buses to Como, you will find that many of the journeys that are offered are serviced by FlixBus. A German company that was created in 2011, FlixBus has since grown to be one of the largest and most popular transport providers in the world. It operates numerous domestic journeys within Italy, as well as international trips all throughout Europe. Hundreds of voyages are offered each day, with over 2,500 destinations to choose from. If you travel to Como with FlixBus, your coach will typically arrive at the Piazza Giacomo Matteotti Bus terminal, which is considered to be the main bus station in the city.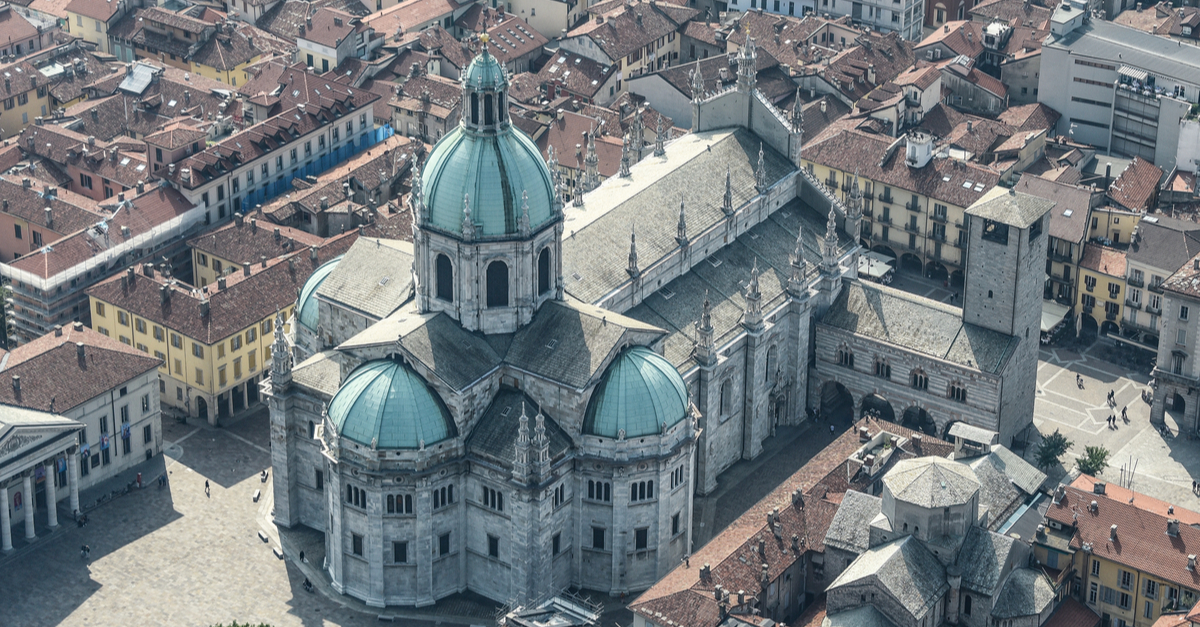 Como Cathedral. Source : Shutterstock
Main bus stations in Como
When you travel to Como with FlixBus, there is one primary bus station that you will arrive at, and it is known as the Piazza Giacomo Matteotti stop. The Piazza Giacomo Matteotti stop is around 0.3 miles (0.5 km) from the city center of Como. If you would like to travel to the city center after your bus has arrived at the station, you can do so by walking, which will typically take you just less than 10min. If you opt to drive instead, the journey will normally be around 5min unless there is any additional traffic.
Once you reach Piazza Giacomo Matteotti, you will find that there are a few different facilities and services available for passengers to take advantage of. For example, there are public toilets, as well as several seating areas for you to relax after a long day of traveling. There is also complimentary Wi-Fi that is available, making it easy for you to stay connected with all of your portable electronic devices. If you want to purchase refreshments such as snacks and drinks, you can do so at one of the many nearby stores.
Onboard facilities Como
When you book a bus to Como through FlixBus, you will be able to access a variety of facilities and amenities during your voyage. For example, almost all of the coaches that are operated by this company have public restrooms on board. With your ticket, you will also be provided with a comfortable and spacious seat that not only provides you with lots of legroom, but that also reclines for your maximum comfort. Depending on what city you depart from and the type of bus that is being used for your trip, you may have the option of purchasing snacks and drinks on board in case you become hungry during your journey.
All coaches that are used by FlixBus are equipped with free and unlimited Wi-Fi that is compatible with most portable electronic devices, including cell phones, tablets, and laptops. FlixBus coaches also have overhead compartments that make it easy to store your personal belongings, as well as storage areas underneath the bus that are convenient for larger objects, such as suitcases, strollers, or bicycles. To help keep you entertained during your trip to Como, FlixBus also has a free entertainment system for passengers, which is called FLIXtainment Onboard Entertainment.
You can connect to this system with any portable electronic device as soon as you have connected to your bus's Wi-Fi. Once you are connected and have accessed the system on your phone, you will be able to choose from many different types of free media, including movies, television shows, news programs, and games. While many FlixBus coaches are equipped with this system, keep in mind that it is not guaranteed that your specific bus will have it.
Bus tickets to Como: useful to know
If you will be traveling to Como with FlixBus, you have a few different options for what to do with your ticket and how to present it to your driver when boarding your bus. You will generally receive your ticket via email, and it is always accessible through your Omio account. You have the option of printing out your ticket and providing your driver with the physical copy. If you would prefer to have your ticket on your phone, you can do this as well, and simply pull up the digital version when you are in the process of boarding.
Both the physical and digital copies will have a unique barcode for your driver to scan. It's important to note that whether you use a physical or digital copy, you will also need to provide a valid piece of identification that matches the name that is on your reservation. There are a few different forms of identification that can be used for this, including passports and government-issued driver's licenses. Booking a bus ticket through Omio is a simple process that will take you just minutes. Plus, Omio makes it easy for you to keep all of your tickets in one place through your online account.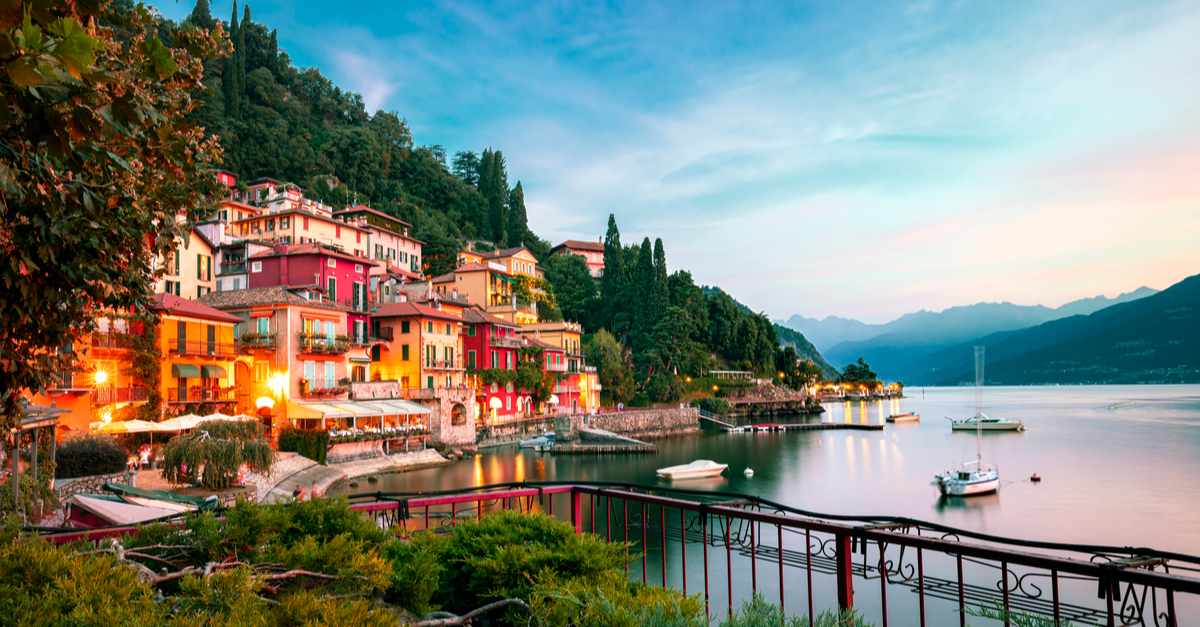 Como Lake Sunset. Source : Shutterstock
To Como by bus - travel tips
There are a variety of reasons why so many travelers choose to go to Como, ranging from general sightseeing to business. With its nice weather and beautiful scenery, it's a great place to spend time outdoors and soak up some sun. During your stay in the city, you can always rely on public transportation to go between different neighborhoods and travel to the main attractions.
The local bus is the primary form of public transportation that is used, and it connects a majority of the city, making it easy to go anywhere that you need to. There is also a cable car that can bring you to a few locations in the mountains, as well as a boat service that will bring you to several areas around Lake Como.
No matter what your interests are or why you're visiting Como, you'll never run out of things to see and do in the city. During your trip to the city, make sure to head to Villa Olmo, a large neoclassical villa that dates back to the late 1700s. If you enjoy architecture, you'll also want to spend some time at the Cattedrale di Santa Maria Assunta-Duomo di Como, which is famous for its Gothic-style design.
Learn about history by exploring the Tempio Voltiano, a museum that is dedicated to the famous scientist Alessandro Volta. If you want access to some beautiful panoramic views of not only the city but the surrounding region, head to the top of the Castello Baradello, which is a large military watchtower. For a unique experience, you can take a tour of the Educational Silk Museum, which is home to a variety of traditional looms and textile pieces.