Bus to Ann Arbor
Famous for its rich culture, impressive art galleries, and theatrical organizations, Ann Arbor is a fun city to visit that has an endless amount of things for you to see and do. There are several different bus stops in the city, including downtown and at the University of Michigan's campus, which are two of the largest stations in Ann Arbor. As Ann Arbor is such a popular city in the United States, there are many domestic buses that travel here. If you're hoping to book a bus to Ann Arbor, you can do so from a few different major towns, including Atlantic City and Los Angeles.
Miller Transportation to Ann Arbor
When you book a bus to Ann Arbor, you'll find that many of the journeys are serviced by Miller Transportation. Founded in the mid-1900s, Miller Transportation is one of the primary transport providers in the United States and services numerous buses, coaches, and shuttles throughout the Indiana, Kentucky, Michigan, and Tennessee regions. There are hundreds of daily voyages for you to choose from. When you book a bus to Ann Arbor with this company, you will typically arrive at 325 Depot St - Amtrak Station.
Greyhound to Ann Arbor
In addition to Miller Transportation, Greyhound services numerous buses to Ann Arbor. Since it was created in 1914, Greyhound has grown to be one of the primary transport providers in the United States and now operates buses to over 3,500 different destinations throughout North America. Like Miller Transportation, when you book a bus to Ann Arbor that is operated by Greyhound, your coach will arrive at 325 Depot St - Amtrak Station.
Main bus stations in Ann Arbor
Whether you're traveling to Ann Arbor with Miller Transportation or Greyhound, your bus will most likely arrive at 325 Depot St - Amtrak Station. This train station is just under a mile north of the city center. If you would like to travel to the city center once your bus has arrived, you always choose to walk, which will take you around 10min. If you drive instead, the trip will take you closer to 2min.
Keep in mind that public transportation is not an option. At the bus station, you will find that there are a few different amenities that are available for travelers, including sitting areas where you can relax after a long day of traveling, public restrooms, access to free Wi-Fi for all of your portable devices, drinking fountains, and places to purchase light refreshments.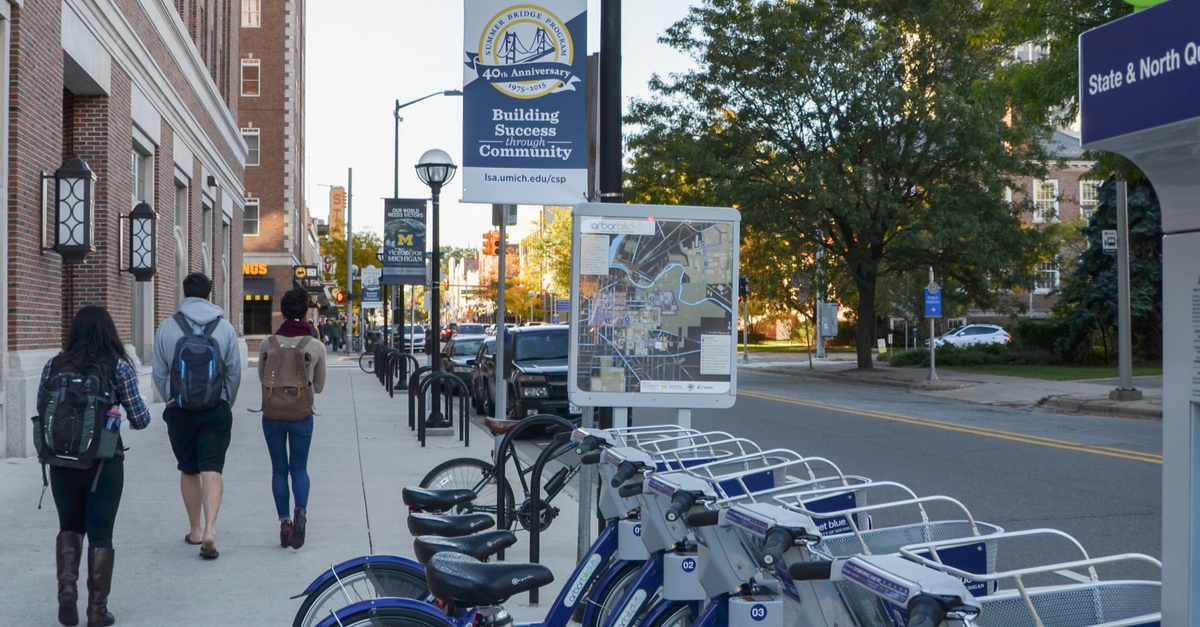 Ann Arbor Bikes. Source : Shutterstock
Onboard facilities Ann Arbor
Those that travel with either Miller Transportation or Greyhound will have access to a few different types of services and amenities while on board. For example, every passenger will have a spacious and comfortable seat that reclines and has plenty of legroom. You will also have your own outlet that you can use to keep your portable devices charged during your trip. A majority of the buses that are serviced have their own toilets for passengers. Some Greyhound buses may sell snacks and drinks during your trip, but Miller Transportation typically does not offer this service.
Both companies usually have unlimited Wi-Fi that customers can access for free for the duration of their trip. Greyhound also has its own entertainment system that passengers can use to access media, such as films, television shows, news programs, and games. To access this system, simply connect your portable electronic device to your bus's Wi-Fi network. Then, you can go to Greyhound's official website where you will find the option to access the entertainment portal. Both companies also have luggage storage facilities that passengers can take advantage of.
There is usually an overhead compartment area inside of the bus where you can store smaller personal items, such as coats and purses. You may also be able to store some of your items underneath the seat in front of you. For larger items, such as suitcases, strollers, or bicycles, you can store these underneath the bus prior to boarding.
Bus tickets to Ann Arbor: useful to know
If you will be booking a bus to Ann Arbor with either Miller Transportation or Greyhound, you have a few different options for how you can present your ticket to the bus driver while boarding. Once you have officially made your reservation, you will normally receive a copy of your ticket via email. With both companies, you have the option of printing out this ticket and presenting the physical copy to your driver prior to your departure. However, you can also opt to use a digital version of the ticket if you find that this is more convenient for you. On both physical and digital tickets, there will be a barcode that your driver will scan while you are boarding the bus.
No matter how you choose to present your ticket to your driver, it's important to keep in mind that you are obligated to show a form of identification along with your ticket that has the same name that was used for your reservation. There are a few different documents that you can use for this, including a passport or a government-issued driver's license. Booking a bus ticket through Omio is a simple process that will take you just minutes. Through our website, you can now store all of your reservations directly in your Omio account.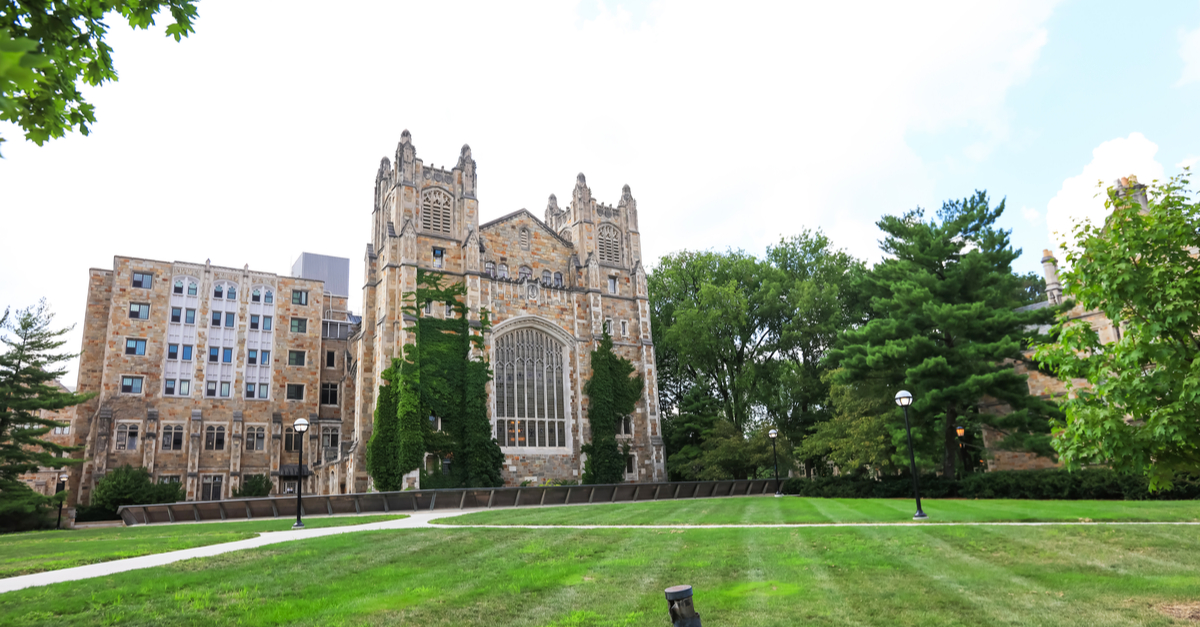 Ann Arbor Uni. Source : Shutterstock
To Ann Arbor by bus - travel tips
There are many reasons why travelers choose to visit Ann Arbor, whether it's for official business, to visit a student at the University of Michigan, or just to experience the cultural sights of the city. While visiting the city, you can depend on public transportation to travel in between neighborhoods and head to major attractions.
There is an extensive bus system that travels to most major parts of the city, as well as a local train that goes to nearby towns. If you want to ensure that you are as close to public transportation as possible, consider booking lodging that is in the city center.
No matter what your interests are, there are many things for you to see and do during your time in Ann Arbor. Those that are art enthusiasts will want to make sure that they spend some time at the University of Michigan Museum of Art and the Ann Arbor Art Center.
If you want to spend some time outdoors and take advantage of the city's beautiful natural scenery, you can go to Gallup Park, an area that is great for both hiking and canoeing. Discover some local produce and regional products by spending a few hours shopping at the Ann Arbor Farmers Market. Here some local musicians play at The Ark, a local non-profit building that is known for hosting small acoustic and folk concerts.
If you'll be traveling to the city with kids, you may want to spend some time at Fuller Park, as this large green space has an extensive play area, as well as a public pool and soccer fields. Those that like to fish can always go to North Bay Park. A fun way to learn about local history and the town's rich heritage is to go to the Kempf House Museum, which is a building that dates back to the late 1800s and now offers both self and guided tours for those that are visiting.