How to travel from Rome to Paris?
Traveling from Rome to Paris is a popular route for all types of travelers. These two major European capitals are known as historic, cultural, and commercial centers, drawing visitors from around the world. Businesspeople as well as sightseers can stick to their schedule with buses, trains, and flights available almost every time of day, every day of the week.
You can take your time enjoying the ancient Colosseum and St. Peter's Basilica in Rome before heading to Parisian sites such as the Louvre and the Eiffel Tower or visiting the many boutiques and businesses along the Champs-Élysées. Travel times can range from a few hours to almost a day, depending on the mode of transportation, on how many stops, and the route taken.
What is the cheapest way to get from Rome to Paris?
The cheapest way to get from Rome to Paris is usually by bus. There are direct routes with one-way or round-trip tickets from Rome to Paris, and they are usually around 20h 25min. You could also opt for cheap tickets from Rome to Paris that stop. These trains typically stop only once, for about an hour or two at Lyon or Milan. Flixbus is the bus provider, offering daily departures from Anagnina or Autostazione Tiburtina in Rome to arrive at Quai de Bercy in Paris.
To ensure that you get the best Rome to Paris price, try to book your tickets as early as possible. If you are flexible to with your schedule and travel times, you can look at fares around the time you prefer and check whether slower or multiple-stop trips are cheaper. Also, don't forget to look for discounts that you may qualify for, such as student or senior fares and special pass promotions. With Flixbus, sometimes they offer deep discounts for new routes as well.
What is the fastest way to travel from Rome to Paris?
The fastest travel time to Paris from Rome is by plane. It can be a 2h travel time, although it could take longer depending on the number and length of stops. Many flights depart from Rome Fiumicino Leonardo da Vinci International Airport to Paris Charles DeGaulle Airport, but you can also find options that depart from Rome Ciampino Airport and land in Paris Orly or Beauvais Tille Airports. When deciding which airports, you should consider how long it will take you to get to the departing airport and to get to Rome from the arrival airport.
Also, don't forget to include check-in times and security checks as well. Alitalia, Air France, EasyJet, Ryanair, and Transavia are just a few of the airlines that offer flights between Paris and Rome, with departures every day of the week, usually from morning and well into the evening, so you can very likely pick the departure time that best suits your schedule.
Find the best tickets from Rome to Paris and book with Omio
You can travel from Rome to Paris with ease when you book with Omio. Omio is a booking platform that allows you to conveniently compare different schedules to find the best way to travel to Paris from Rome cheap. Omio aggregates updated information for many companies in one place so that you can review your every option quickly. Then you can continue on Omio to book your travel, with our excellent customer service representatives ready to help you in your language. We offer mobile tickets for even greater convenience, and our Omio magazine provides useful advice and tips for you to make the most out of your travels.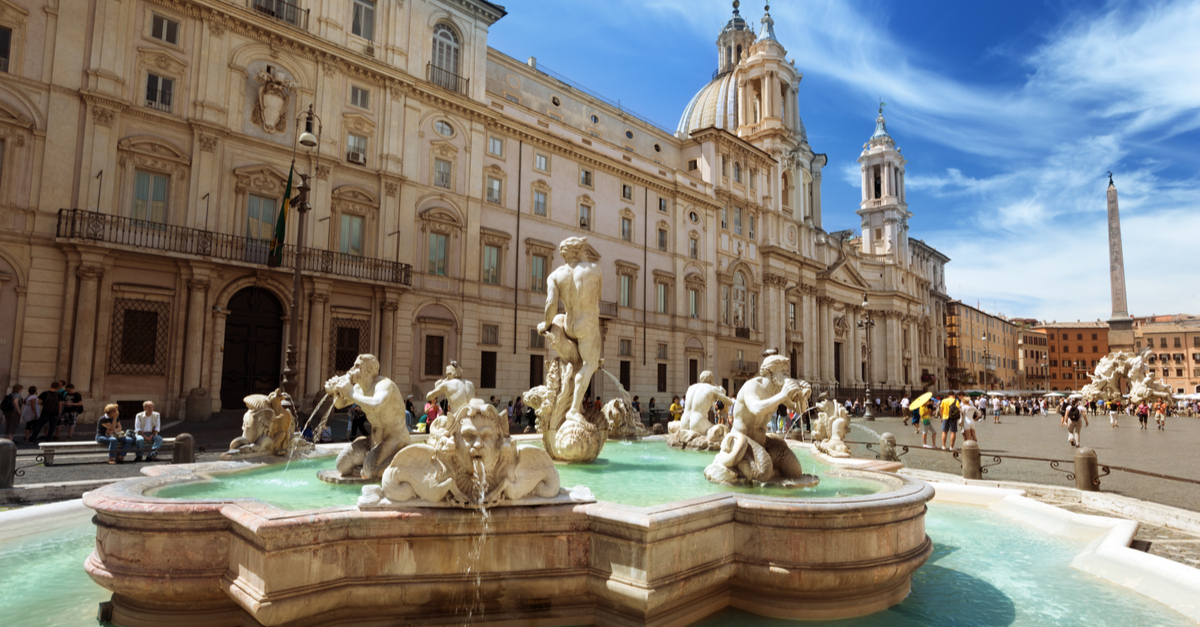 Rome Navonna Fountain. Source: Shutterstock
Trains from Rome to Paris
Trains may be slower than flying, but it is faster than the bus. Travelers who want to hit the ground running by arriving in central locations in Paris may prefer trains as arrival station Gare de Lyons is about a 30min walk or 15min bus ride to the center of Paris. The departure station, Rome Termini, is also conveniently located from central Rome – just about 5min by subway and 10min by foot. These routes all have one stop, with Italian train companies Italo or Trenitalia servicing the first portion with their high-speed trains, and French SNCF servicing the second leg with their high-speed Inoui trains. Journeys can take from about 11h to just over 16h, depending on the time between trains.
Train travel from Rome to Paris with Italo
Italo and Trenitalia both provide high-speed trains for the routes to Paris. The departures are about even between them throughout the day. They are very similar in offerings, departing from the same stations and providing almost the same services, wi-fi, food services, different classes, and so on, although some may prefer the leather seating found on Italo trains.
Buses from Rome to Paris
Flixbus is the main provider for bus routes to Paris from Rome. They offer around six departures on Saturdays and Sundays, and during the week, departures can range from three to five, depending on the day. These daily departures are spread-out throughout the day from about 9:00 a.m. to around 10:45 p.m. Departures are either from Anagnina or Autostazione Tiburtina in Rome and arrive in Paris at Quai de Bercy, where you can reach central Paris by subway in around 30min.
Traveling by bus from Rome to Paris with Flixbus
Providing the main bus services to Paris is Flixbus. While bus journeys may be longer than train or plane, Flixbus offers several amenities onboard to help pass the time. Their buses have large comfortable seats with plenty of legroom, free wi-fi, some snack services, and electrical outlets to keep your devices charged.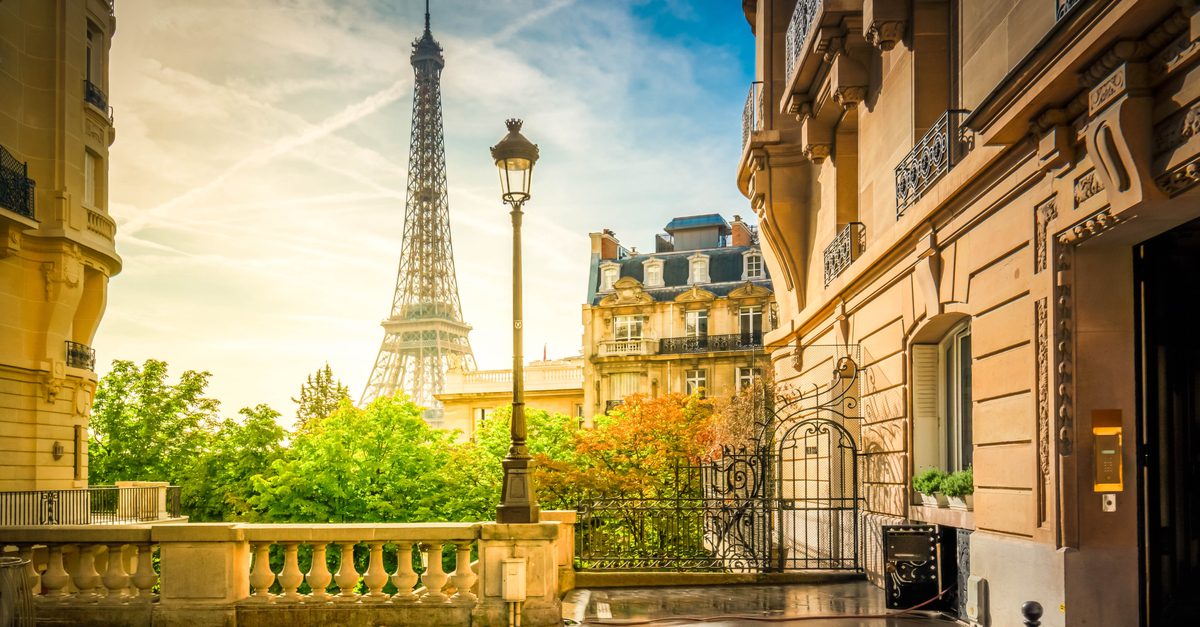 Paris Cobble Street View. Source: Shutterstock
Flights from Rome to Paris
There are a wide range of airlines that offer flights to Paris from Rome. Every day of the week, you can find flights departing from around 6:00 a.m. to about 10:00 p.m., with one plane often leaving about every hour. Air France, Alitalia, Ryanair, Vueling, Transavia, and Easy Jet are among the airlines that offer non-stop flights to Paris, with Transavia getting there fastest, at about 1h 45min. Flights depart from Rome at either Fiumicino Leonardo da Vinci International Airport Ciampino Airport and arrive at Charles De Gaulle, Orly, or Beauvais Tille airports. There is a train connecting Charles De Gaulle to central Paris that leaves around every 12min and takes about 30min. From Orly, it is about a 45min train journey, and about 1h 15min from Beauvais Tille to the city center.
Flying from Rome to Paris with Alitalia
Alitalia and Ryanair are the main traditional and budget airlines flying between Rome and Paris. Alitalia, like the other major airlines, fly to Charles De Gaulle Airport, while Ryanair, and the other budget airlines, tend to fly to Orly or Beauvais Tille Airport. Charles De Gaulle is closer to Paris, but the difference may not matter if you prefer the discounts available with airlines that fly into the other airports.
To Paris by train/ bus/ flight—travel tips
Paris is known as the City of Light for good reason. From the iconic buttresses of Notre Dame Cathedral to the magnificent artworks and cultural exhibitions in its many museums, walking through this center of fashion, art, and design is a wonder.
Almost every corner you can find a quaint café to enjoy a beverage or two as you watch the people bustle by or indulge in a gourmet meal of traditional French cuisine that has set the standard for gourmets around the world. Then you can window shop along broad boulevards where the fashion elite call home or marvel over local boutiques and markets that bring artisans from near and far to show off their wares.