Travel to Miami
The quickest way to travel to Miami from Fort Myer is via bus. Typically, a bus trip from Fort Myer to Miami takes about 5h 26min, which the fastest taking 2h 30min. Various bus companies service frequent bus trips from Fort Myers to Miami, with the earliest departing at 3.00 a.m. and the last leaving Fort Myers at 3.00 p.m. You can also opt for the Amtrack train service to travel from Fort Myers to Miami. This commuter train service provider operates two trips to Miami from Fort Myers, including a bus pick-up service from 6050 Plaza Drive and a changeover at Orlando Station to 97 Silver Star train.
About Miami
Miami is one of the world's most iconic tourist destinations, featuring everything you wish for in a vacation getaway, from picturesque tropical weather, lovely beaches, and popular attractions to opulent hotels, diverse cuisines, and vibrant arts and culture scene. The best time to visit Miami is between March to May, when the temperatures are warmest.
The official currency accepted in Miami is the American dollar. However, you can also use credit cards, debit cards, and personal checks for transactions. Restaurants open late in Miami; therefore, you will find it hard to grab your breakfast around 6.00 a.m. since people in Miami enjoy staying up late partying and getting up late.
Public transportation in Miami
The public transportation system in Miami is among the largest in the country. You can get about Miami via train, taxi, bus, or Metro, depending on your preferred destination. Buses are the most comprehensive system in Miami; however, they operate on congested routes, and their schedule can be unreliable.
The frequency of operation varies from every 10-15min to 45min depending on the route, time, and day. The Miami metro has three lines, including Metromover, Metrorail and Tri-Rail serving various routes in Miami.
If you seek to stay around downtown Miami or Brickel, the Metromover will be the most efficient and convenient for you. Also, you can opt for taxi rides, although they are not popular among Miami locals. Taxis can be relatively expensive, with the meter varying depending on the cab provider.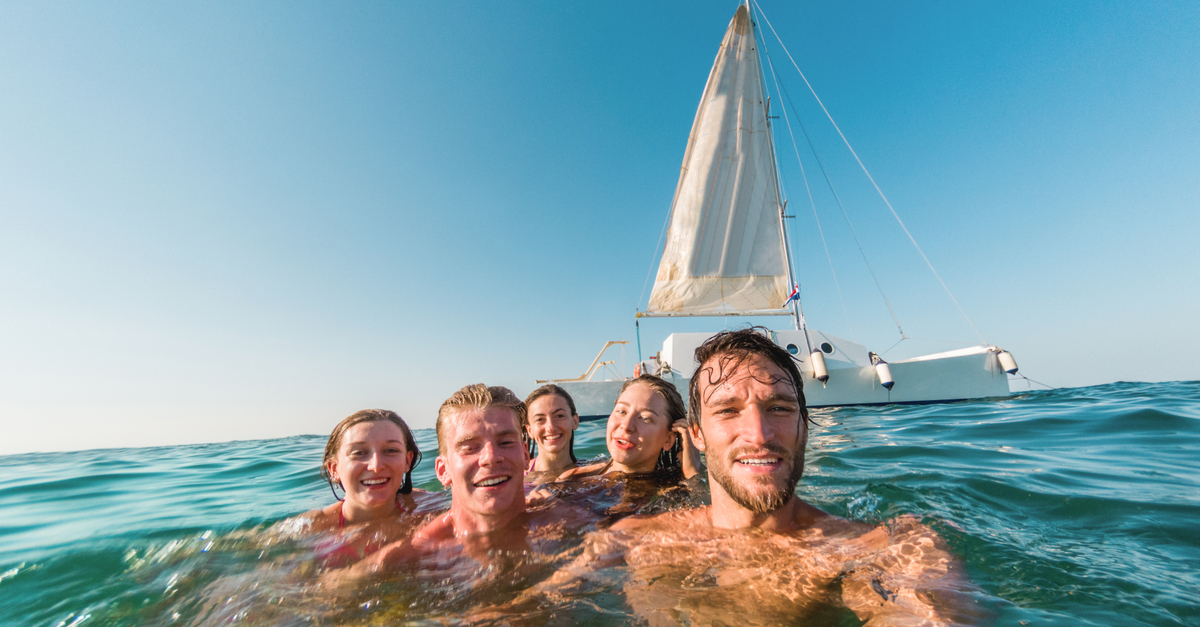 Miami Sailing Swimming. Source: Shutterstock
Important bus and train stations to Miami?
Arrival bus, train, flight station, airport: Miami International Airport Bus Station is an important bus station serving Greyhound and RedCoach buses from Fort Myer.
The bus station is about 6 miles (9.6 km) from the city center, offering you convenient access to your preferred destination. Miami Amtrak Station on 8303 NW 37th Avenue will be your gateway point if you travel from Fort Myers to Miami via Amtrak train commuter service. This station sits around 9 miles (14.4 km) from downtown, only 20min ride away.
This station features various amenities, including restrooms, ATMs, vending machines, and payphones. Also, Miami Amtrak Station is fully accessible, great for travelers with limited mobility.
Which companies travel to Miami?
If you prefer a bus trip, you can choose from the various bus operators that offer services from fort Myers to Miami, including FlixBus, RedCoach, and Greyhound. Among the three bus providers, FlixBus operates the quickest bus trip from Fort Myers to Miami, taking only 2h 14min. However, this time might change depending on the departure time, traffic and weather conditions. For train commuter services, Amtrak is the only company operating this route. However, Amtrak does not offer direct trips from Fort Myers to Miami.
Part of your journey from Fort Myers to Miami will be serviced by either their pick-up 6909 bus service or you can consider a car rental or taxi to Orlando Station.
FlixBus to Miami
FlixBus operates around 3-4 direct trips from Fort Myers to Miami daily. You can catch your ride from Parking Lot Five 33965 Fort Myer to 401 Biscayne Blvd Miami. The trip takes from 2h 15min to 2h 35min depending on the departure time.
RedCoach bus to Miami
RedCoach operates one bus trip from Fort Myers to Miami daily. The bus departs from Fort Myers at Gulf Coast University Cohen Center, right off I 75 and arrives in Miami at Miami International Airport Bus Station in around 2h 30min. Besides the convenience of quick access, RedCoach offers you uttermost comfort and safety regardless of the class you will travel in.
Greyhound bus to Miami
Greyhound operates 1-2 bus trips from Fort Myers to Miami; however, their schedule is not consistent. Check out our Omio platform to know the days that this company operates bus services to Miami from Fort Myers. You can catch your bus ride from 250 Widman Way, Fort Myers, to Miami International Airport Bus Station. The journey takes around 2h 30min to reach Miami.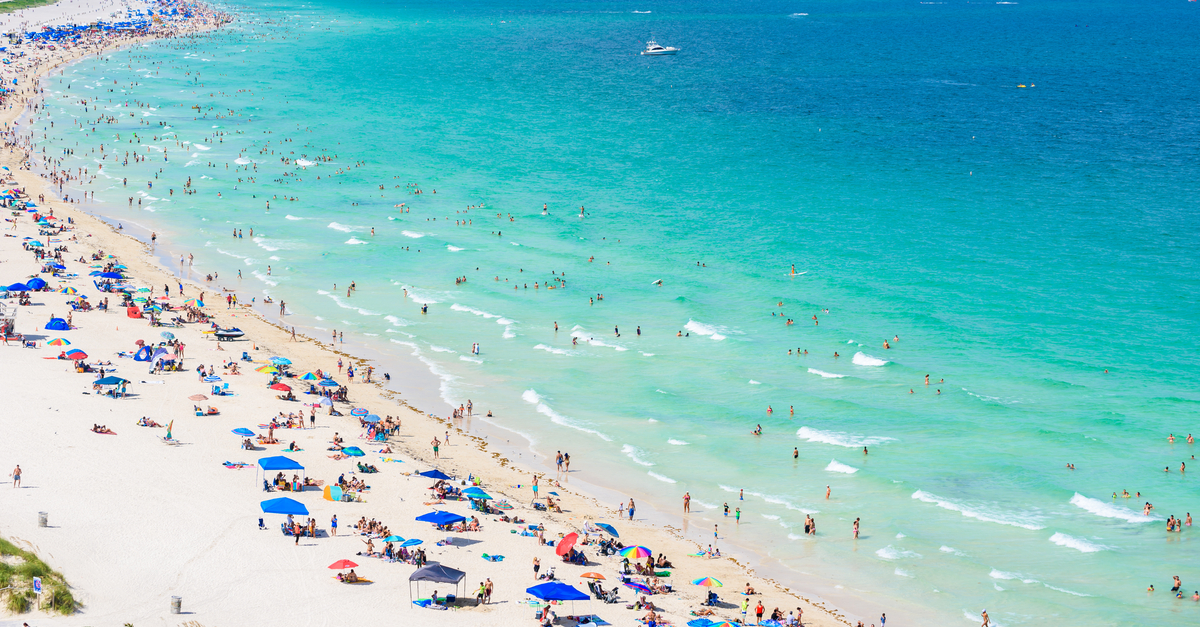 Miami South Beach. Source: Shutterstock
Amtrak train to Miami
Amtrak company operates on a constrained train schedule on this route, with only two trains servicing the journey from Fort Myers to Miami per day. The earliest Amtrak departs at 7.00 a.m., and the last train leaves at 7.00 p.m. The Amtrack train journey from Fort Myers to Miami takes around 11h 39min.
However, this trip is not direct; therefore, remember to carry your luggage during the changeover at the Orlando station. Their bus pick-up station is at 6050 Plaza Drive, Pilot Travel Center, and their train leaves you at Miami Amtrak Station.
How to find cheap tickets to Miami?
You can find a ticket to Miami that fits your pocket needs on Omio, even if you are operating on a fixed budget. Our Omio platform presents you with various ways to cut travel costs for your trip to Miami. Among the ways is booking your ride in advance, which allows you to analyze the deals available and capitalize on the cheapest one.
You should also be flexible with travel dates and consider the availability of any discount deals, such as student travel passes or deals of senior travelers, to save significant amounts by traveling only when the cheapest deal avails. In addition, choose a slower or connecting journey since inconveniencing yourself will save you money.
Travel to Miami – travel tips
Miami is a cultural melting pot where cuisine, art, and entertainment blend to highlight the city's uniqueness. Although it's only a single city, Miami depicts features from all global destinations. The combination of languages may draw notice, but it's the city's luxurious elegance that stands out.
You can avoid the inconvenience of overseas flights and skip the currency exchange hassles by visiting this gem of a city just within the US. Few beaches on the planet can match Miami's white sands. The city's stretches of serene coastline beckon with various activities, including surfing, fishing, beach volleyball, and, inevitably, some of the loveliest sunbathing locations in the world. Moreover, you will be able to sample some of Cuba's finest cuisines as well as Cuban cocktails.
Traditional Latin American and Caribbean cuisines are also available; even the recipes you think you know are given a unique twist to bring out exceptional tastes. Finally, the party scene in Miami is as buzzing as everything else in the city. With the thrilling nightlife part of the city's culture, you may not need sleep during your visit. Notably, South Beach is hosts some of the world's famous nightclubs, with renowned DJs playing sets that will have you moving. Furthermore, you can enjoy traditional Cuban music in bars throughout the city.