Trains from Tuscaloosa to Birmingham
The train route from Tuscaloosa to Birmingham is a quick and easy one. There is usually one departure per day every day of the week except for Mondays. The journey takes about 2h and there are no changes, so you can sit back, relax, and enjoy the trip. There are 6 departures a week and each daily departure is at the same time, so it is impossible to get the journeys mixed up. This makes trains from Tuscaloosa to Birmingham the most convenient way to travel.
Tuscaloosa to Birmingham Train Time: Daily Departures
Trains to Birmingham from Tuscaloosa leave almost daily. There is one departure each day of the week except for on Mondays, which makes about 6 departures from Tuscaloosa to Birmingham per week. The train leaves at about 3:15 p.m. each day, which makes it easy to remember. This train gets you into Birmingham within about 2h, so you'll arrive around 5:15 p.m. Just keep in mind that Monday is usually the only day when you can't travel to Birmingham from Tuscaloosa by train when you are booking your tickets.
How long is the journey by train from Tuscaloosa to Birmingham?
The duration of the trip by train from Tuscaloosa to Birmingham usually takes about 2h, give or take depending on travel conditions. The trains to Birmingham from Tuscaloosa are always direct routes and don't require any changes, so you will not have to worry about stopovers. This train route is quick, easy, and convenient.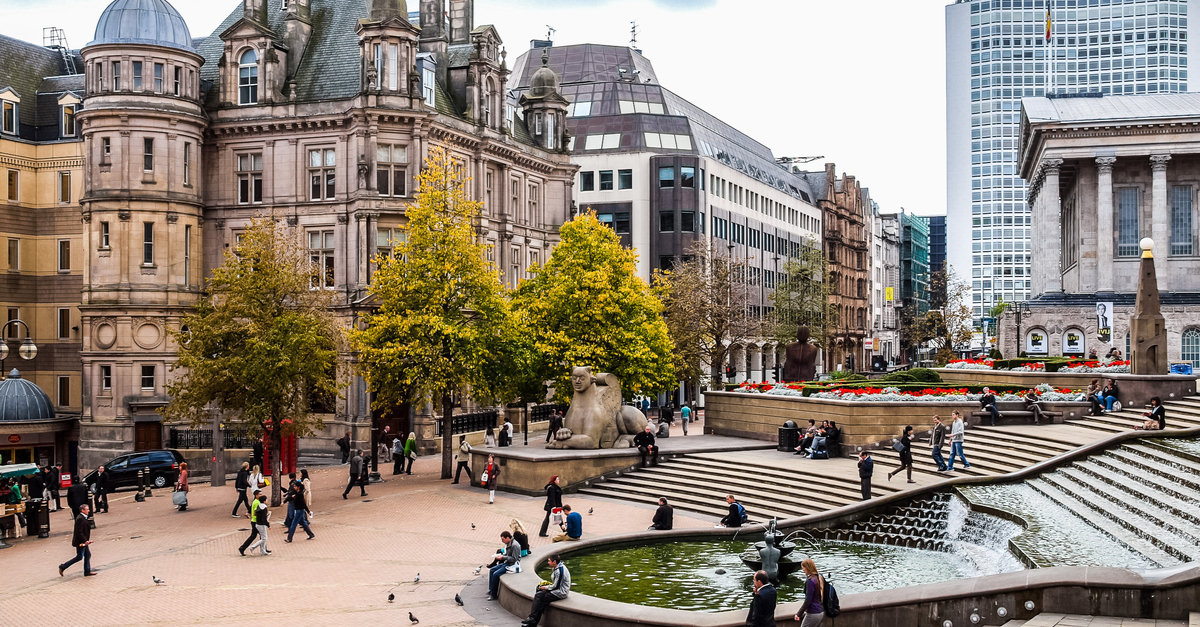 Birmingham Tourists. Source: Shutterstock
What are the departure and arrival stations for trains from Tuscaloosa to Birmingham?
Departure train station: The train from Tuscaloosa to Birmingham always departs from Tuscaloosa Station in Tuscaloosa, Alabama. The train station is located on Greensboro Avenue, just outside of the heart of the downtown area of the city. If you are traveling from downtown Tuscaloosa, it takes about 5min to reach the Tuscaloosa train station via car or taxi. There is no public transport available to the Tuscaloosa train station. If you would like to walk, it will take about 25min to reach the station from downtown. There are a few amenities available to travelers at the Tuscaloosa train station, such as accessible restrooms, baggage assistance, water fountains, and vending machines for you to buy refreshments and snacks.
Arrival train station: Trains from Tuscaloosa to Birmingham will all arrive at the Birmingham Train Station. This train station is located in the downtown area of Birmingham adjacent to Railroad Park on Morris Avenue. The University of Alabama Birmingham is also close by. To get into the heart of downtown Birmingham from the train station, you can take several bus routes depending on where you need to go. These buses will have you at your final destination in under 10min if you're going downtown. If you would prefer to walk, it'll take you about 10min. There are many amenities available for travelers at the Birmingham train station. There are ATMs available, accessible restrooms, an accessible ticket counter, and vending machines. The train station also offers checked luggage storage for a small fee, bike boxes for sale, and shipping boxes for sale.
Which train companies travel from Tuscaloosa to Birmingham?
The only railway provider offering train departures from Tuscaloosa to Birmingham at this time is Amtrak. Amtrak offers 6 departures to Birmingham from Tuscaloosa per week.
Amtrak trains from Tuscaloosa to Birmingham
Amtrak trains from Tuscaloosa to Birmingham operate almost on a daily basis. The only day when there are not any departures between these two destinations is Monday, so plan your travel accordingly. The trip takes about 2h and always leaves around 3:15 p.m. The route is also direct so you will not have to worry about any changes during your journey. The train is always an Amtrak Crescent train, which is a long-distance train.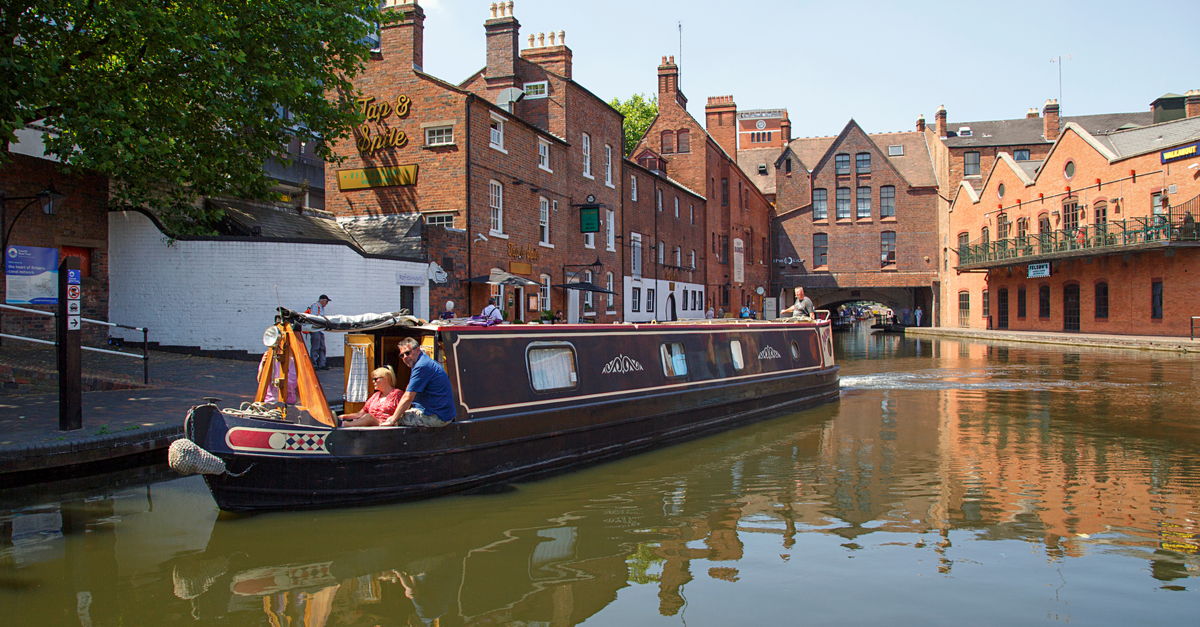 Birmingham Canal. Source: Shutterstock
Train Tuscaloosa to Birmingham: Services on Board
There are plenty of services on board Amtrak trains from Tuscaloosa to Birmingham for passengers. First, all passengers have access to a free Wi-Fi connection to enjoy during your trip. There are also several travel classes available, so you'll be able to find something that fits both your budget and your travel style. You can choose from Coach Class and Business Class onboard trains from Tuscaloosa to Birmingham.
In Coach Class, you will have access to ample legroom, reclining seats, a power outlet for you to charge your devices, a foldout tray, and an individual reading light. In Business Class, you will have even more legroom and receive complimentary non-alcoholic drinks on board. On Amtrak trains from Tuscaloosa to Birmingham, all passengers may bring 2 personal items and 2 carry-on items. The personal items each must be under 25 pounds (11 kg) in weight, and the carry-on items must be less than 50 pounds (23 kg).
If you have more than this allowance of luggage, or if your luggage is overweight or exceeds the size requirements, it will be an extra fee for you to bring your bags onboard the train. You can also check 2 bags for free. If you have more than 2 checked bags, you will pay a small fee for each extra bag. You may check your bicycle trainside along this route for a small fee. Dogs and cats under 20 pounds (9 kg) are also able to travel with you along this route for an extra fee.
However, they must be in approved pet carriers and need to be checked into the journey beforehand. Amtrak also offers services for passengers with limited mobility, such as wheelchair access, travel assistance, and more. When you book your Amtrak ticket, you will need to reserve an accessible space aboard the train and let them know before the journey if you will need any extra assistance.
How to find cheap train tickets from Tuscaloosa to Birmingham
There are tons of ways for you to save money when booking train tickets to Birmingham from Tuscaloosa. First off, try to book as far in advance as you possibly can. This will give you more flexibility to choose the travel class you want so you can find something to fit your budget.
You also have the option to choose an unreserved seat. It's also a good idea to be flexible with your travel dates, as weekends tend to be more expensive than weekday travel dates. Lastly, if you are traveling with a group, contact Amtrak beforehand to see if there are any group rates or discounts available for your journey.
To Birmingham by train - travel tips
Birmingham, Alabama, is a bustling southern metropolis that is best known for its southern comfort food. You will definitely want to take a food tour of the city as soon as you arrive. There are also plenty of other attractions in Birmingham, as it is rich in history and southern culture. There are plenty of museums to check out, such as the Birmingham Civil Rights Institute, the McWane Science Center, the Birmingham Museum of Art, and the Vulcan Park and Museum.
If you are looking for outdoor activities, check out the Birmingham Zoo or the Birmingham Botanical Gardens. Oak Mountain State Park is also a great place to go hiking and camping. There are plenty of other nature reserves and historical landmarks to check out while you are in town, so get busy.