Convoys from Portland, Maine to Boston, Massachusetts
If you have been planning on commuting from Portland Maine to Boston, then expect to use Amtrak. Amtrak is a major convoy station, and since it reaches over 499 destinations within the United States and some areas in Canada, its easy to see why. Notably, it is the only convoy that offers trips from Portland Maine to Boston, taking an average of 2h and 30 min. The convoys for this particular company depart five times a day. The distance between Portland Maine and Boston is 107 miles or 158 km.
Portland Maine to Boston, Massachusetts Convoy Time: Daily Departures
Amtrak convoys are open as early as 4:15 a.m, with the last convoy leaving the terminal at 10:15 p.m. If you want to catch your booked trip, you want to arrive at least 30 min early. If you were planning on getting your tickets at the terminal, agents are open as early as 7:30 p.m during the weekdays, and close at 5:00 p.m. On the weekends they open as early as 6:00 a.m, but close as early as 3:00 p.m. The Amtrak convoys operate throughout the week, including the weekends.
How long is the journey by convoy from Portland Maine to Boston, Massachusetts?
The Amtrak convoys take an average duration of 2h and 30 min to go from Portland Maine to Boston. The distance between the two cities is approximately 107 miles, which means the convoy makes good enough time. The trip can take longer, however; if you opt to go with an indirect or slower convoy for your trip. You can expect such trips to be as long as 3h, but should cost cheaper. The convoy usually has eight stops, which, if you'd rather not experience that, check with the station first.
What are the departure and arrival stations for convoys from Portland Maine to Boston, Massachusetts?
Portland Station Portland Maine to Boston, Massachusetts convoys depart from the Portland Station, also referred to as Portland Transportation Centre. Located on 100 Thompson's Point Road. The city centre is not located far from the transportation centre, and should take under 10 min to get there. The distance between the two is only 2.3 miles. They have restrooms, a self- service kiosk for passes and visitor information.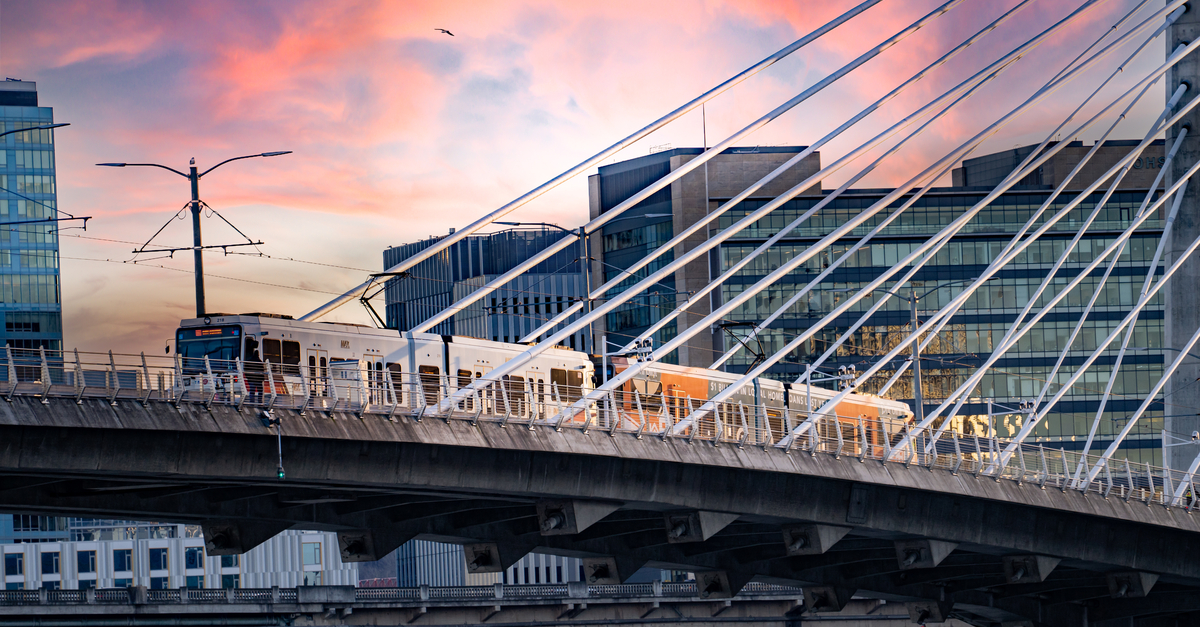 Portland Train. Source: Shutterstock
Boston North Station Portland Maine to Boston, Massachusetts convoys that depart from Portland Transportation Centre arrive at Boston North Station. The terminal offers places that you can eat and enjoy a long talk over a hot or cold drink. It also offers free Wi-Fi and has available restrooms, which are also accessible to the disabled. They have over a thousand parking areas, which you can book for early, as well as BlueBike kiosks.
Which convoy companies commute from Portland Maine to Boston, Massachusetts?
Currently, there is only one convoy that commutes from Portland Maine to Boston, Massachusetts and that is Amtrak. Amtrak will offer high quality pre- board and post- board services, offering superb amenities to their customers, despite the lack of competition. The offer both medium and long-distance convoys to suit each passengers needs, so always check before booking to find what you need. Five Amtrak convoys depart daily on this specific route, but operate throughout the week from a few minutes past 4:00 a.m to a few minutes past 10:00 p.m.
Amtrak convoys from Portland Maine to Boston, Massachusetts?
As mentioned earlier, Amtrak is the only company servicing the Portland Maine to Boston route. But despite the lack of competition, the company maintains a high standard to help keep their customers happy. They offer direct trains, as well as both high speed and long-distance trains for those craving a more scenic trip. The trip should take at least 2h 30 min, depending on whether the trip is direct or not direct. If it is not, expect the journey to last at least 3h, which is still fine since longer trips can help you save money. The stops are usually eight in total, which include Haverhill, Saco and Old Orchard Beach, etc.
Convoys from Portland Maine to Boston, Massachusetts: Services onboard
Amtrak has been to be on the pricier side when compared to other convoy services, but with good reason. They offer super services such as on-board Wi-Fi for entertainment and connection purposes. Of course, you will want to check if your pass comes with this amenity.
Also, they usually allow carry- on baggage, bicycles and even pets on board; something that is not common among many convoy companies. Of course, to check how many carry-on bags you are allowed, consult the Baggage Information and Services. They also offer on board dining, including beverages and snacks during the trip.
Notably, Amtrak has handicap accommodations, allowing people to even use wheelchairs provided by them. You may need to indicate the need for such a service while your booking, to ensure the availability of a wheelchair. The Amtrak workers- who are usually in uniform- are also required to help the handicapped get on the train, should they need any assistance. Essentially, your Portland Maine to Boston trip with Amtrak should be worth every penny you spend, regardless of which travel class you book for.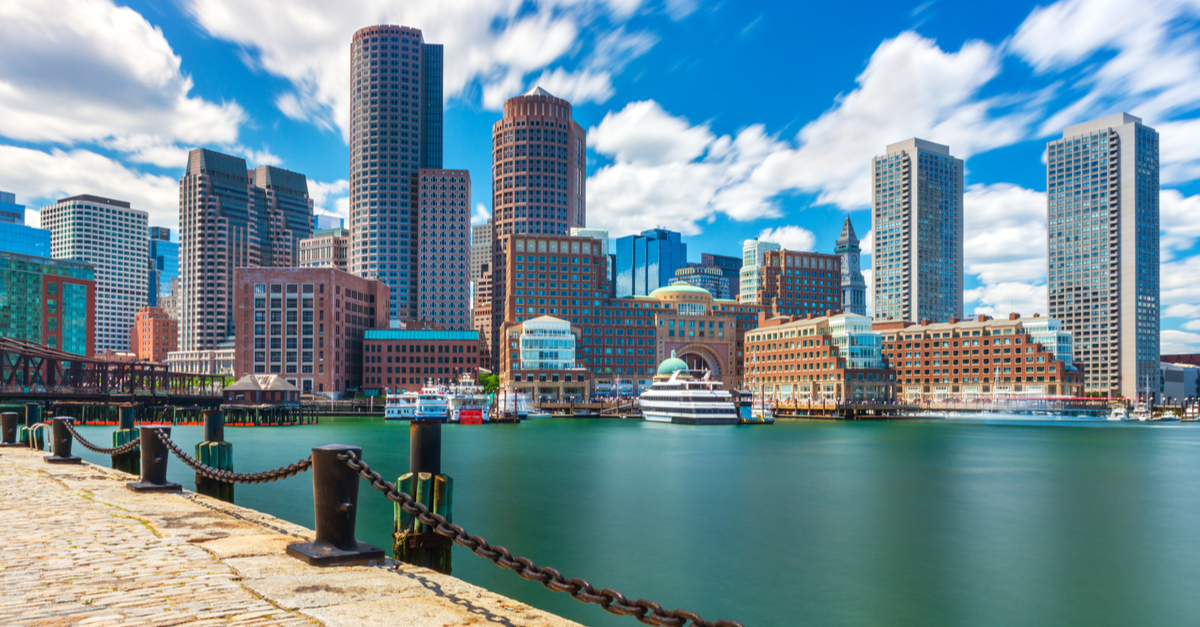 Boston Port View. Source: Shutterstock
How to find cheap tickets from Portland Maine to Boston, Massachusetts?
The best way to get cheap tickets to commute from Portland Maine to Boston, Massachusetts is by booking early. That's right: booking your pass early enough allows you to find discount opportunities and offers. Another way is by booking a convoy that only offers connecting trips instead of direct ones. It might take longer, but at least you get to save money and enjoy a more relaxed and scenic journey. People are also advised to remain flexible when it comes to their traveling dates; that is, be willing to change your traveling dates to when the discounts are on offer.
To Boston, Massachusetts by train/ coach/flight – travel tips
After you commute from Portland Maine to Boston, Massachusetts, you will have a lot of places to see. Boston is a city drenched in rich history, making it perfect for any history lover. The historical gems are almost everywhere, with many museums that teach you about Boston.
Head on to one of their breathtaking parks while taking in the gorgeous and unique architecture. You will want to have your camera with you to capture these timeless Victorian Homes and cobblestone sidewalks. The parks are great for picnics or short strolls. While you are there, make sure you sample some seafood. There's a wide range of uniquely cooked and prepared seafood available in Boston.
Once your energy levels are up again, you can go and take a ride in the Duck Boat to tour the streets of Boston, right from the water. Doing so is the perfect way to get a 360 view of Boston, while relaxing on a boat. Don't worry about renting a car while in Boston. It is a lot easier to walk around the town, allowing you to discover hidden gems. Of course, it also gives you more accessibility to hidden gems, and allows you to sneak in some exercise while on vacation.