Trains from Orlando to Tampa
Trains from Orlando to Tampa only offer direct connections. The distance from Orlando to Tampa is 77 miles (124km). On average trains take 2h 3 min to get between the two cities. Each day, one train departs Orlando headed for Tampa. Trains are an efficient and fast way of getting between the two cities. A train ride gets you in the middle of Tampa so that you won't have to get commuting services from the station to the city center.
Orlando to Tampa Train Time: Daily Departures.
One train travels the Orlando-Tampa route daily. This means that there are over five options weekly for travelers that require train services between Orlando and Tampa. The train usually departs Orlando at 2:20 p.m. and arrives at Tampa at 4:23 p.m. Schedules may vary depending on the day of the week. Omio platform provides all schedules for train rides between Orlando and Tampa, for travelers to choose the most convenient schedule.
How long is the journey by train from Orlando to Tampa
On average, trains take 2h 3min to get from Orlando to Tampa. Since this route only provides direct services, the fastest train can get you to Tampa in 2h 3 min. However, schedules and journey times may vary depending on the day of the week or holiday. Trains may arrive slightly earlier or later than the average journey time.
What are the departure and arrival train stations for trains from Orlando to Tampa?
Departure train station: Trains from Orlando to Tampa depart from Orlando Health/Amtrak Station. It lies at 1400 Sligh Blvd, Orlando, Fl, 32806. It operates from 8:45 a.m. to 8:00 p.m. Travelers can get on Bus lines 07, 11, 40 to get to Orlando Station. Travelers from other parts of the city can get on the SUN RAIL trains, which stop at the station. Travelers can also opt to drive to the station from their respective destinations. Orlando Health Station provides ATMs, payphones, sales ticket offices, and vending machines. The station is wheelchair enabled for reduced mobility travelers. Travelers with luggage will find storage and checked baggage services at the station. There are shipping and bike boxes for sale at the station. Drivers can access same-day and overnight free parking at the station.
Arrival train station: Trains from Orlando to Tampa arrive at the Tampa Union Station. The station's address is 601 N Nebraska Ave, Tampa, FL 33602. Travelers who require bus services from the station to other city areas will find bus lines 12, 400,8, and 9 at the station. The station provides various amenities like vending machines, sales ticket offices, restrooms, and ATMs. If you require luggage services, Tampa Union Station provides checked baggage services and storage services. There are shipping boxes for sale as well as bike boxes. There are free luggage carts all over the facility for travelers that need them. Station staff also provide baggage assistance.
Tampa Union Station operates daily from 9:45 a.m. to 6:15 a.m. Drivers can find same-day and overnight free parking options. At the parking lot, there is a designated spot for reduced mobility passengers. The station is accessible, providing courtesy wheelchairs throughout the facility, accessible washrooms, ticket office, waiting room, and wheelchair lifts.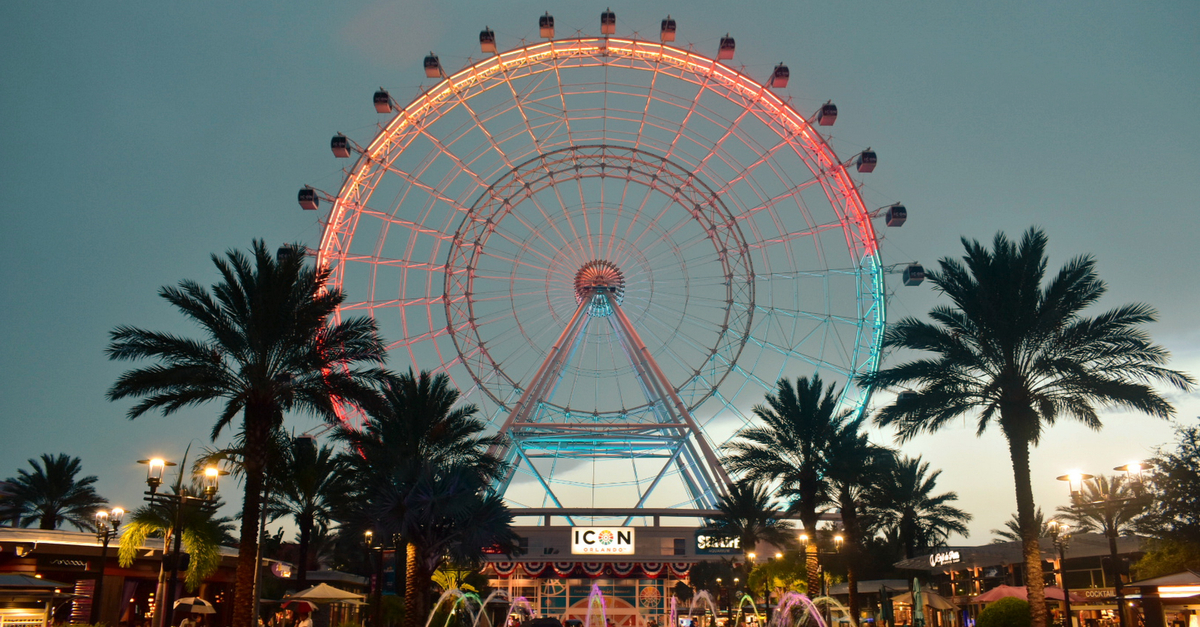 Orlando Night Wheel. Source: Shutterstock
Which train companies travel from Orlando to Tampa
Amtrak is the main provider for trains from Orlando to Tampa. They only provide direct train services from Orlando to Tampa. Amtrak provides one train daily from Orlando to Tampa.
Amtrak Trains from Orlando to Tampa.
Amtrak provides Silver service trains from Orlando to Tampa. Silver service trains provide services between New York and Miami. Amtrak Silver Service connects most cities in the Mid-Atlantic region. Silver service provides the Silver Meteor trains which provide private seating and roomettes at night. These roomettes often come with private bathrooms and dedicated sleeping car attendants. Silver Meteor trains travel at a maximum speed of 79 mph (127km/h).
Trains from Orlando to Tampa: Services on Board
Silver Meteor Amtrak trains provide three types of travel classes. They include first class, business class, and regular seating. The difference between first-class and business types of seating is that first-class provides seat meal services served by attendants. First and business class travelers get wider comfortable seats with individual reading lamps and fold-down trains. Travelers that require privacy can get on the View Liner Roomette or Bedroom. Roomettes are designed for a maximum of two passengers. They provide two reclining seats facing each other by a large picture window. During nights, these seats can convert into beds.
All passengers get ample legroom and designated luggage storage compartments. Trains also provide overhead luggage racks for passengers to store luggage. Passengers are not allowed to store luggage on seats. Passengers can bring two carry-on items of luggage. These items should not exceed 50 lbs. (23kg) and should measure less than 28*22*14 inches. Amtrak trains have an open door policy for small instruments that fit on passengers' luggage. They also provide free Wi-Fi onboard for passenger's entertainment.
Café service available onboard provides a variety of beverages, snacks, and meals for sale. Small dogs and cats are allowed on board, provided they weigh under 20 pounds, combined with the carrier's weight. If they exceed these limits, their owners have to purchase tickets for them
How to Find Cheap Train tickets from Orlando to Tampa?
When it comes to scoring cheaper ticket deals, consider buying the ticket in advance. Train companies release tickets a few months before their scheduled dates. The earlier you purchase the ticket, the cheaper it costs. Flexibility also helps when purchasing a train ticket. Travelers may land a cheaper deal a few days before or after scheduled dates. When you are flexible, you are likely to land cheaper deals than fixed dates. Keep an eye on websites and sources that provide discounts, promotions, and offers for train tickets. You might land a good discount and get a cheap train ticket deal.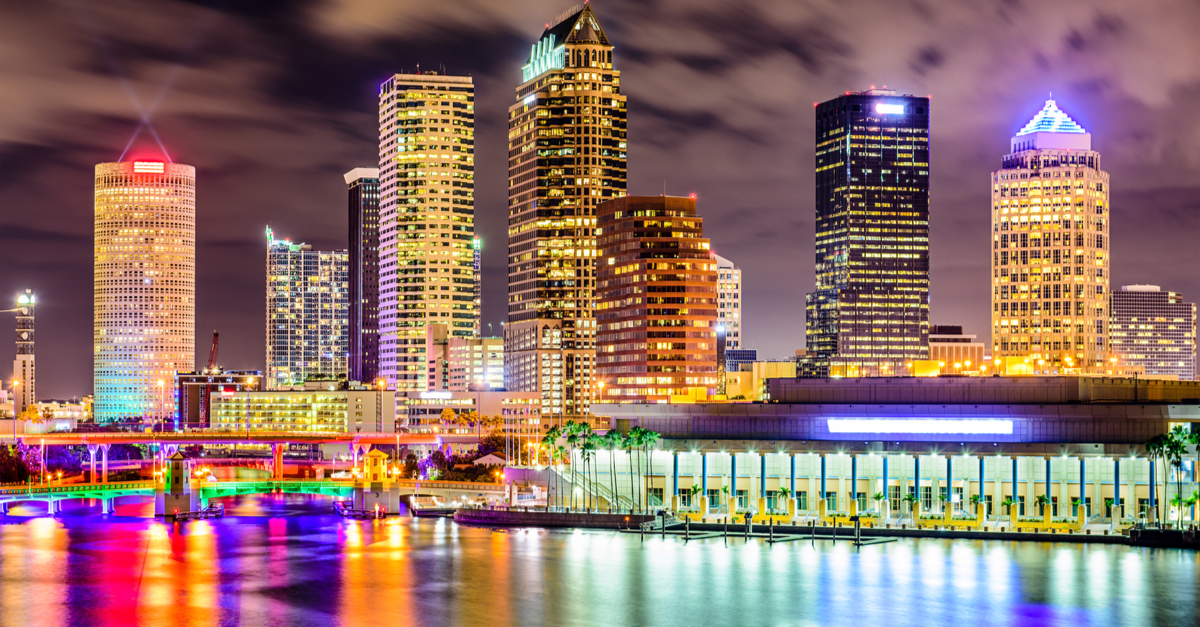 Tampa Florida Night. Source: Shutterstock
To Tampa- by Train Travel tips
Train rides are an efficient way of getting to Tampa. Tampa lies on the west coast of Florida, and it is popular for its tourist attractions. The city is ideal for families, lovers, and all types of travelers. Nature and outdoor lovers will love visiting the Busch Gardens. It provides several entertainment options for travelers. Activities here include live music performances, adventure park rides, safari rides, camping kiddie riding ad water riding.
Thrill-seekers will enjoy rides at Busch Garden's roller coasters. Lowery Park houses the Tampa Zoo, which features over 2000 animal exhibits ideal for nature lovers. The zoo houses several events throughout the year. Tampa's Florida Aquarium showcases a variety of aquatic animals and ocean life. Nature lovers will love a chance to get hands-on with invertebrates like anemones or visit land species like lemurs.
If you are into art and charm, visit the Tampa Theatre, a luxurious movie palace with a unique mix of architectural designs from Greece and Italy. The theatre also shows new and old films. The Museum of Science and industry is ideal for science lovers as it provides exhibits of physics, math, and other scientific principles. The museum also provides an exciting ropes adventure course, a model of NASA's vision of alien life, and a model of Mercury spacecraft.
Families will love a visit to the Glaziers Children's Museum that provides interactive exhibits. Adventure Island is a popular water park with various waterslides. It is located across the road from Busch Gardens, and it is ideal for families, especially during summer. Visitors will love a stroll on the Tampa River Walk, which provides a great public art collection, including murals and sculptures.
You can catch awesome views of the Hillsborough River while children play at the playgrounds that feature splash pads. Restaurants in Tampa are popular for their exquisite cuisine. Treat your taste buds to Bern's Steakhouse prime steaks and wine varieties. Columbia Restaurant provides traditional Spanish fare, while Oystercatchers provides fresh seafood meals.