Train to Ljubljana
Ljubljana is the capital of Slovenia and the most populated city in the country, with nearly 300,000 residents. Its primary train station is Ljubljana railway station, open since 1848 and serving as one of the principal stops on the Spielfeld-Trieste railway. This line connects Austria, Slovenia, and Italy with a double-track rail system that makes up part of the Austrian Southern Railway.
Trains to Ljubljana frequently arrive from other Slovenian cities like Celje and Trbovlje, as Slovenian Railways operates several other smaller lines with Ljubljana railway station as a fixture. You can also find international trains to Ljubljana departing from notable cities such as Venice, Italy, and Geneva, Switzerland. Regardless of your departure location, you will feel the history of Ljubljana when you arrive at the station, as this historic city was established around the 12th Century.
Slovenian Railways to Ljubljana
Since 1991, Slovenian Railways has been providing service via train to Ljubljana and throughout Slovenia. The company operates a variety of standard gauge tracks and double tracks that span from border to border and utilizes electric trains. As a reflection of its previous role in the Austro-Hungarian Empire and Yugoslavia, Slovenia and Slovenian Railways has plentiful train tracks connecting it with neighboring countries such as Austria and Croatia.
Ljubljana railway station serves as one of the primary stations for Slovenian Railways, as it falls in the crossroads of several domestic lines that stretch from Maribor to Kopor and Jesenice to Dobova. Slovenian Railways also supports the Pan-European corridors, specifically Corridor V and Corridor X.
Corridor V runs from Venice, Italy to Kiev, Ukraine with stops in Trieste, Italy, and Koper, Slovenia before arriving at Ljubljana railway station and continuing on to Maribor, Slovenia, and Budapest, Hungary. Corridor X runs from Salzburg, Austria through Ljubljana before stopping at Zagreb, Croatia, and Belgrade, Serbia. It finishes the journey in Thessalonica, Greece after a stop in Skopje, Macedonia. Altogether, Slovenian Railways operates about 760 miles (1,230 km) of standard gauge tracks, over 200 miles (330 km) of double tracks, and 380 miles (610 km) of electrified tracks.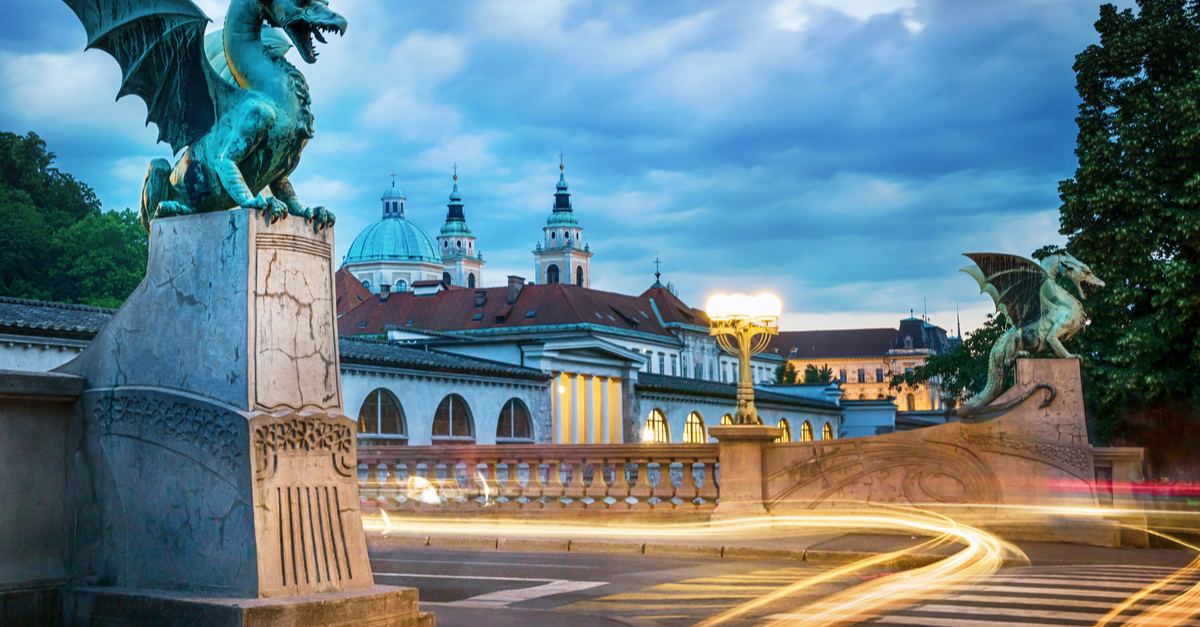 Ljubljana Dragon. Source: Shutterstock
Main train stations in Ljubljana
The main Ljubljana train station is Ljubljana railway station, built in 1848 and serving as a major stop on a variety of domestic and international lines. The primary company operating trains out of Ljubljana railway station is state-owned Slovenian Railways. There are fifteen other smaller stations in the city of Ljubljana, including Ljubljana Zalog (Salloch) railway station, Ljubljana Polje railway station, and Ljubljana Tivoli railway station. A majority of the lines departing or arriving in these minor stations include an additional stop at Ljubljana railway station along their journey. Ljubljana railway station is part of the Spielfeld-Trieste railway that provides transportation from Austria to Italy with stops in Slovenia.
This station also falls in the intersection of major international lines and Pan-European corridors. It offers connections to bus transportation, taxi rides, and Ljubljana Passenger Transport that can take you throughout the city. You can find Ljubljana railway station in the heart of the Ljubljana city center, just a few steps from the Rudolf Maister monument.
Onboard facilities Ljubljana
During your travels with Slovenian Railways on trains to Ljubljana, you can expect a comfortable and convenient ride with amenities to support your needs. On InterCity Slovenia trains, you can enjoy a modern design with air-conditioning, restrooms, electrical sockets, and food or drinks available for purchase. On long-distance travel such as EuroCity, International, and InterCity trains, you can expect these amenities and more.
Sit down for a meal in the dining car or relax in larger open lounges. Overnight travel on EuroNight includes all of these features, plus available couchette cars and sleeper cars to ensure you arrive at your destination feeling rested and comfortable.
Train tickets to Ljubljana: useful to know
While traveling by train to Ljubljana, you will need to have a physical copy of your ticket as provided by Slovenian Railways. This company does not utilize e-tickets or mobile tickets, although it offers a wide variety of ticket types and passes. You can purchase single and return tickets, which offer passage on a designated coach with a reserved seat for a certain journey. Another option is the City Pass, which offers unrestricted travel on all trains throughout the stations of the Ljubljana rail hub zone.
The sixteen stations available for unlimited travel with this pass are Ljubljana, Ljubljana Zalog, Ljubljana Vodmat, Ljubljana Tivoli, Ljubljana Brinje Medno, Ljubljana Vižmarje, Ljubljana Stegne, Ljubljana Polje, Ljubljana Rakovnik, Litostroj, Ljubljana Črnuče, Ljubljana Ježica, Škofljica Ljubljana Dolgi most, and Brezovica.
You can also choose a Season Pass, which offers unlimited travel across the entire Slovenian Railways network for a designated period of time. These tickets can be annual, semi-annual, monthly, or weekly. The IZLETka flat-rate ticket is available for unlimited travel on weekends and public holidays throughout the Slovenian Railways network. Regardless of your ticket selection, the simplest way to confidently and conveniently purchase train tickets to Ljubljana is through Omio. You can also have peace of mind knowing that your tickets will be stored in your Omio account, in case you lose the physical copy.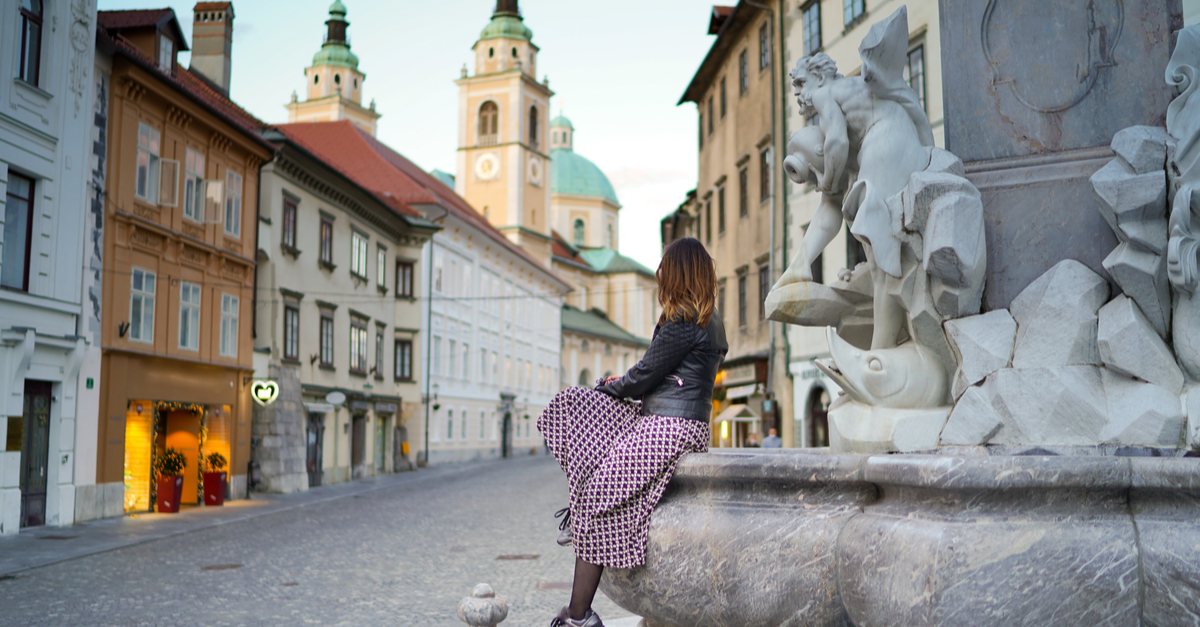 Ljubljana Fountain. Source: Shutterstock
To Ljubljana by train—travel tips
Since the days of the Roman Empire, the area known as Ljubljana has played a pivotal role in the history of its region. As the capital of Slovenia, it has become a melting pot for cultural, political, and economic ideals. However, you can still feel the legacy of this storied city as you walk through the streets and past the historic buildings and landmarks. Upon your arrival at Ljubljana railway station, you can board a Ljubljana Passenger Transport bus to get around the city.
With over 200 buses and more than thirty available routes, you have plenty of options to get you where you need to go. For a unique experience outside the typical landmarks, make a visit to Central Market and shop from local vendors. From fruits and vegetables to crafts and goods, you can interact with residents and get the true feel of what it means to live in Ljubljana. You can even pick up a full meal and get a taste of Ljubljana cuisine. Bring your food to Tivoli Park and enjoy a picnic before hopping back onto the bus for your next adventure.
If you want to fully immerse yourself in the history and legacy of Ljubljana, make a visit to Ljubljana Old Town as soon as you arrive at Ljubljana railway station. This neighborhood is also known as the historical centre, with the Ljubljana River Canal running directly through the middle. Whether you take a boat ride along the canal or enjoy a drink at one of the many cafes and restaurants, this will take you back in time and give you a full appreciation of the city.
Cross over Triple Bridge, which offers a stunning view of Ljubljana River and the historic buildings of Preseren Square. Here you can watch live entertainment, festivals, performances, and sports with a crowd of locals and visitors alike. Be sure to stop by the Dragon Bridge, which has two massive statues of dragons guarding either side, just next to the historic centre. If you are looking for another historic landmark to visit, save time for Ljubljana Castle, which you can see from Preseren Square. This was constructed in the 11th Century and previously served as a medieval fortress.