Trains in Dallas to Houston
When contemplating a journey between the two Texas cities, you might wonder how far is Dallas from Houston. The two locations are about 239 miles apart (384.6 km), and a train ride can be quite an adventure as you'll get to explore the stunning landscape en route. Train Dallas Houston will likely be on board Amtrak Acela. The company operates the Texas Eagle trains between Dallas and San Antonio, where you'll have to switch trains. Amtrak Acela will transfer you to one of its Sunset Limited fleet of trains from San Antonio to Houston. Note that there's no direct train connection from Dallas to Houston, and there's only a single trip that serves the route on any day. The only days you can catch a train between these two locations are Mondays, Thursdays, and Saturdays.
Booking your Dallas to Houston train ticket with Omio
When you reserve your train ticket from Dallas to Houston with Omio, you'll accrue multiple benefits. The most obvious advantage is that the Omio application lets you plan your trip wherever you are. All there is to do is keying in your travel information, i.e., your departure and arrival train stations and the travel date. The platform will then release the options present, from which you can compare and select the most favorable or affordable train trip. With Omio, you'll get mobile tickets for your trip to Houston from Dallas; hence you'll not have to print your ticket (all you need is your charged electronic device).
Train companies in Dallas
Amtrak Acela is the primary provider of trains from Dallas Union Station to Houston Station. It dispatches two train types for this journey: the Texas Eagle from Dallas to San Antonio and the Sunset Limited traveling between San Antonio and Houston. There's only a single trip for trains on Mondays, Thursdays, and Saturdays, with the other days lacking train services for the route.
We recommend that you get to the train station about 30-40min before the train departure time to avoid missing out on the only ride available for the day. Keep in mind that there's no direct train connection from Dallas to Houston, so you should expect to switch trains at San Antonio.
Popular train routes from Dallas
Amtrak Acela offers one popular route from Dallas Union Station to other cities in the country, the Texas Eagle. The Texas Eagle runs through multiple Texas cities as it journeys between Chicago and San Antonio, with some common stops including St. Louis, Dallas, and Austin. From San Antonio, Amtrak Acela offers the connecting train service Sunset Limited that journeys to Los Angeles, CA, or Houston, TX, depending on your travel requirements. The Texas Eagle also offers a route from Dallas to Fort Worth, from where you can catch the Heartland Flyer train service that travels to Oklahoma City.
Arriving by train in Houston
Train Dallas to Houston will drop you at Houston Station, which sits 1.4 miles (2.3 km) from downtown Houston. You can board a METRO bus or a Greyhound bus to get from the train station to the city center in about 20min. Food lovers will appreciate Houston as it's home to globally renowned chefs and James Beard Award winners.
The exquisite dining scene is something you wouldn't want to miss out on—try it out and find out why residents dine out more than any other city in the United States. If you love the food, you'll love the Houston Culinary Tours even more. When in town, head over to downtown to explore the thriving art world and the nearby Museum District to discover Houston's culture.
Amtrak Acela
Amtrak Acela is the national passenger railroad company serving 46 U.S. states and three Canadian provinces, releasing more than 300 daily trains that ferry travelers to over 500 destinations. Its trains typically originate from and arrive at convenient downtown train stations. Amtrak Acela trains have comfort features such as air conditioning, reclining seats, power outlets, and dining options to enhance your traveling experience. You can also access sleeping accommodations and sightseer lounges, and your small cat or dog can tag along your train ride.
The popular Amtrak Acela routes in the U.S. include the Northeast Corridor running from Boston to Washington D.C., the Keystone Service from New York to Harrisburg, and the Empire Corridor comprising tracks from New York to Niagara Falls. Omio partners with Amtrak Acela to enable you to conveniently purchase train tickets.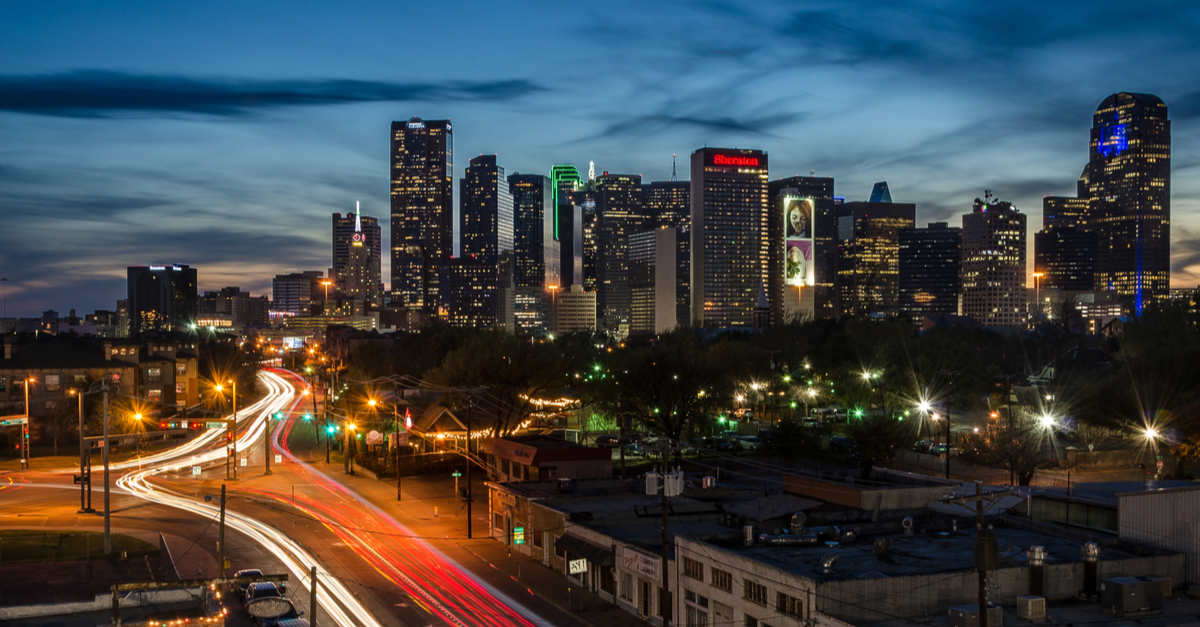 Dallas Lights. Source: Shutterstock
Main train stations in Dallas
Dallas Union Station is the central train station in Dallas. It lies on 400 S Houston Street, about 0.8 miles (1.3 km) and a 4min drive or a 15min walk from downtown Dallas. Public transit connections that can link you to the city center within 20min include Dart Light Rail, Dallas Streetcar, and local bus 60, 11, or 21. Some facilities at the train station include a waiting room, elevator, restrooms, a ticket sales office, overnight and daily parking, and a checked baggage service and storage. Disabled travelers can access wheelchairs and request baggage assistance from station staff.
Popular train journeys from Dallas to Houston
According to our data, the route to take if you're looking to travel from Dallas to Houston is the Texas Eagle that travels between Chicago and San Antonio with stops in Dallas. From San Antonio, you'll board a connecting Sunset Limited train to Houston. This journey lasts close to a day, involving one transfer which significantly contributes to the overall travel time.
A train ride from Dallas to Houston can take approximately 23h 20min total, whereby you'll experience a layover time of about 8h 30min. The first part of the trip between Dallas and San Antonio lasts around 10h 05min, while the last part after switching trains will be about 4h 45min. The train tickets start from approximately $84 on Omio.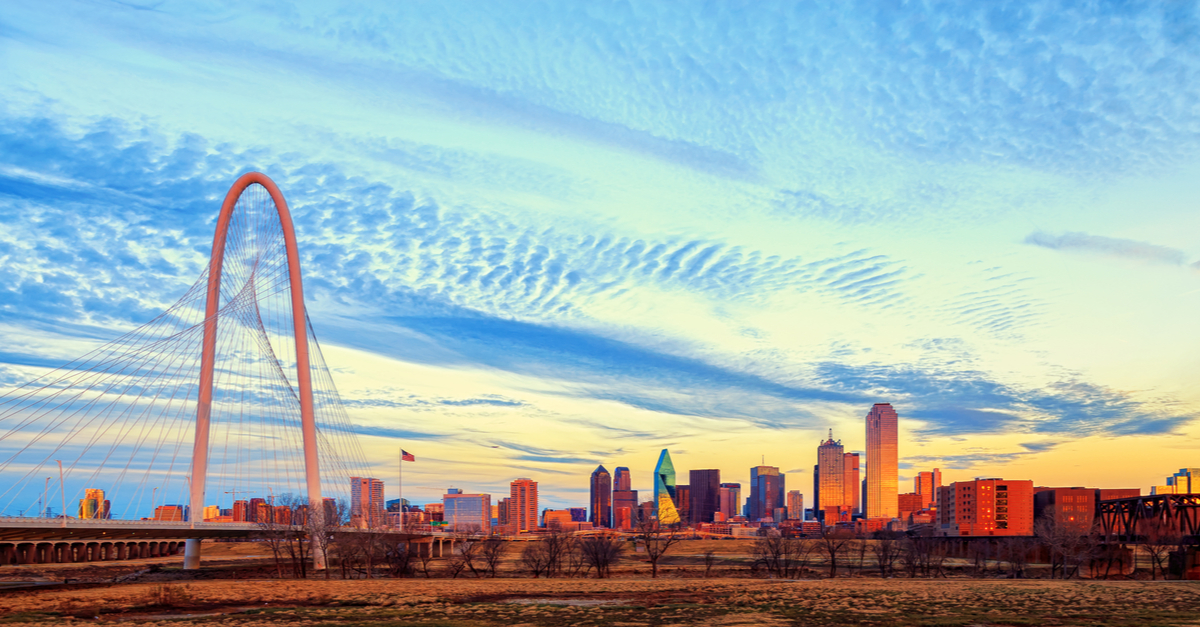 Dallas Sunrise. Source: Shutterstock
Popular train routes from Dallas
There are several popular train journeys from Dallas to other parts of the country, with common destination cities being Chicago, Los Angeles, Oklahoma City, New Orleans, and Phoenix. The train ride from Dallas to Chicago lasts around 22h 12min, and you can purchase your train ticket for about $135 on Omio. The average journey time for trains from Dallas to Los Angeles is 43h 45min, and tickets go for around $161.
The trip to Oklahoma City from Dallas can last and cost about 9h 37min and $42. For a Dallas to New Orleans train voyage, the trip lasts approximately 33h 50min and costs around $129. Train tickets from Dallas to Phoenix cost about $180 on Omio, while the ride lasts just over 36h.
Good to Know
While Dallas Trains offer reliable service, there's only one trip during certain days of the week, namely, Mondays, Thursdays, and Saturdays. Therefore, we recommend that you get to the train station about 40min before 11.50 a.m. when the only ride of the day departs. Your destination train station, Houston Station, has large parking lots and is close to the I-45, hence is pedestrian-friendly. Book your train ticket in advance and stand a chance to get the cheapest fares on Omio.
To Houston by train—travel tips
As the largest city and heart of Texas, Houston is a vibrant city whose culture and spirited residents charm many people. One great reason that makes Houston a must-visit city is its mouth-watering culinary scene. Visit Houston and taste the finest food in the country—from American dishes such as barbecue delicacies, cheeseburgers, ribs, and waffles to Mexican foods like tacos and fajitas. Don't forget to discover what all the hype is about the city's dim sum and pho.
A culture fanatic will love Houston's museums and art scene. Some places bound to impress include Houston City Hall, Brochstein Pavilion, and the Houston Cotton Exchange. You can also explore the theater district that's full of events. If you've heard about the famous phrase, "Houston, we have a problem," you'll find Space Center Houston a delight. It's Nasa Johnson Space Center's official visitor center, displaying over 400 space artifacts. Here, you'll get to see what moon rocks look like and even dine with an astronaut. Houston is an exciting place for kids.
Your little ones can have a good time at fun locations such as the Children's Museum of Houston, which accommodates kids aged 12 and above, and Splashtown, the largest water park in town. Don't miss out on the city's scenic nature and bird views at the Great Texas Coastal Birding Trail, and if you love horses, pass by Cypress Trails and enjoy horseback riding. You may ask, "how far is Dallas from Houston," but with the above adventures in wait, you'll probably want to visit Houston regardless of the answer, which btw is 239 miles (384.6 km).