Trains from Coimbra to Porto
Passengers who are researching options for traveling in Portugal via train from Coimbra to Porta can rely on a broad availability of services. Each week there are over 450 rail journeys that make the 75.5 mile (122 km) trip. With anywhere from 45 to 80 trains operating the route each day, travelers will find that at least one train departs every hour during operating hours. Depending upon whether the train operates directly or with transfers, the trip can be as quick as about 1h 17min or as long as around 4h 9min.
Coimbra to Porto train time: daily departures
Coimbra to Porto train routes operate all seven days of the week, providing journeyers with more than 450 weekly trip options. Most weekdays there will be about 80 daily services, giving travelers at least two options each hour starting around 5:38 a.m. The final departure typically leaves Coimbra around 11:59 p.m. On weekends and Wednesdays the scheduled is reduced to between 45 and 48 services, with the first train departing around either 6:38 a.m. or 6:54 a.m. and the final trip leaving at about 11:59 p.m.; there is at least one journey per hour on these days.
How long is the journey by train from Coimbra to Porto?
The duration of the trains from Coimbra to Porto can vary significantly based on the number of transfers included on the route. Direct routes can run as quickly as about 1h 17min; however, the trains that will include one or two transfers will be lengthier. Transfer options can run as long as about 4h 9min and will stop at Averio, Coimbra-B or both stations.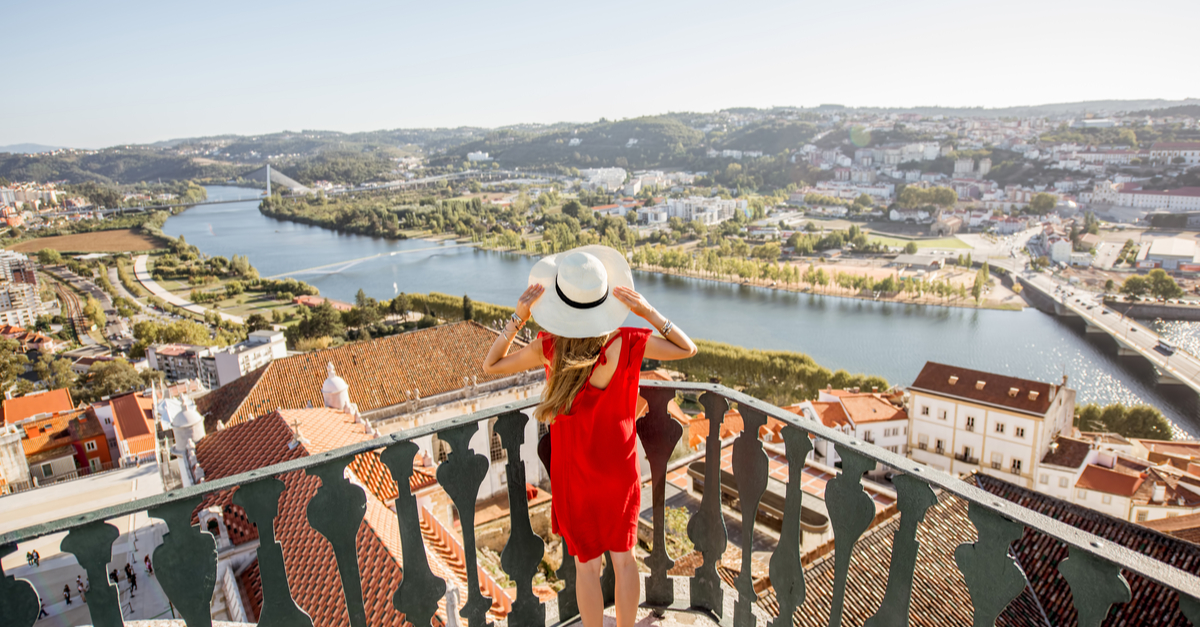 Coimbra Woman Balcony. Source: Shutterstock
What are the departure and arrival stations for trains from Coimbra to Porto?
Departure train station: A train to Porto from Coimbra will depart from one of three stations: Coimbra, Coimbra-B or Bencanto. To Coimbra from the city's center is about 1.7 miles (2.8 km), which is walkable in just under 40min. Alternatively, taxis and ride shares take about 4min and a bus, like the 14T operated by Transportes Urbanos de Coimbra can take about 2min. From the city center to Coimbra-B is about 3.3 miles (5.3 km), which is roughly 4min via taxi or ride share, 3min via intra-city train operated by Comboios De Portugal, or 9min on the Line 5 bus. From the city center to Bencanto is approximately 2.8 miles (4.5 km): 7min via ride share or taxi, 12min via train and 5min via the 14T bus. At each station there are ticket counters, vending machines and waiting areas.
Arrival train station: All trains departing from Coimbra for Porto will arrive at Campanha. From the train station to the center of the city is about 2.5 miles (4.2 km). Travelers looking to make that trip can opt for a taxi or ride share, which will take about 4min. However, there are also public transportation options; via subway, operated by Metro do Porto, the A, B, C or F lines can be as quick as about 4min, while STCP's line 207 bus can take about 5min, and the intra-city train, such as line 852 operated by Comboios De Portugal can take around 4min. At Campanha station there are ticketing areas, eateries and newsagents.
Which train companies travel from Coimbra to Porto?
There is only one train company that provides passengers with options for a train from Coimbra to Porto: Comboios De Portugal. That said, the company has a wide variety of routes scheduled every day of the week; with between 45 and 80 daily options, there is journey coverage in the mornings, afternoons and well into the evening. What's more, there are also options for direct travel. However, a majority of the trips that offer service from Porto from Coimbra will include either one or two transfers. Those transfer stations are either Coimbra-B or Aveiro; in some instances, trains departing from Coimbra station may stop at both prior to arriving at the final destination.
Night trains from Coimbra?
Because the distance is relatively short, there are not any overnight options for trains from Coimbra to Porto. However, there are some services that operate late into the evening, with the final journey each day departing as late as about 11:59 p.m. Service typically halts after this until sometime during the 5:00 a.m. or 6:00 a.m. hours.
Comboios De Portugal trains from Coimbra to Porto
To train Coimbra to Porto, travelers will find that Comboios De Portugal runs more than 450 services each week, with around 80 daily options most weekdays and between 45 and 48 on weekends and Wednesdays. Service each day begins anywhere between about 5:38 a.m. and 6:54 a.m., with the final daily departure leaving Coimbra around 11:59 p.m. About a third of the options operate directly. The other two-thirds will include one-to-two transfers, which means trips can take between about 1h 17min and 4h 9min. A number of train types also operate the trip, including the IC, R and AP; this, too, dictates the journey duration.
Trains from Coimbra to Porto: Sustainability travel
Travelers who are looking to make the northwesterly journey from Coimbra to Porto in Portugal in an environmentally conscious way will find that the train routes offered are a great way to make the trip without putting additional cars on the road. Passengers opting for direct service will discover, too, that the journey duration can be comparable with independent automotive travel. What's more, accommodations on the trains allow passengers to bring a bicycle onboard, further lowering emissions per person.
Trains from Coimbra to Porto: Services on board
The availability of different ticket classes depends on the train route chosen. On some of the trains operated by Comboios De Portugal, such as the AP, there are both First Class / Comfort and Second Class / Tourist options. Alternatively, trains like the IR offer only Second Class / Tourist tickets. Regardless of which ticket class a passenger holds, travelers can bring along one carry-on and one personal bag. Additional luggage will incur a surcharge. Bicycles may be brought on board for free and, in most instances, must be disassembled and stowed by the owner.
Likewise, pets may travel for free so long as they are kept in an appropriate container. In the event that an animal is traveling in a guide dog capacity, then they do not need to be crated. Additional accommodations for travelers with limited mobility are also provided to Comboios De Portugal passengers, such as, in some instances, reduced ticket prices for the disabled individual as well as a travel companion, and use of the Integrated Mobility Service, abbreviated SIM. SIM supports with access at train stations and travel equipment.
How to find cheap train tickets from Coimbra to Porto
There are a number of options available to travelers who are looking to secure reduced ticket prices for a journey from Coimbra to Porto. First and foremost, passengers are encouraged to book train tickets well in advance of the date of travel to avoid any last minute price surges that may be charged in the hours or even days before. Additionally, travelers who have flexibility in their schedule will want to identify a travel time that is less popular, such as mid-week. Or, if the day of the week is fixed, opting for travel during mid-day hours or late at night can result in lower costs. For those who have selected a Coimbra to Porto train that runs on an AP train, the Second Class / Tourist tickets will be more cost effective. Those who are traveling with children should note that some young travelers can travel for free.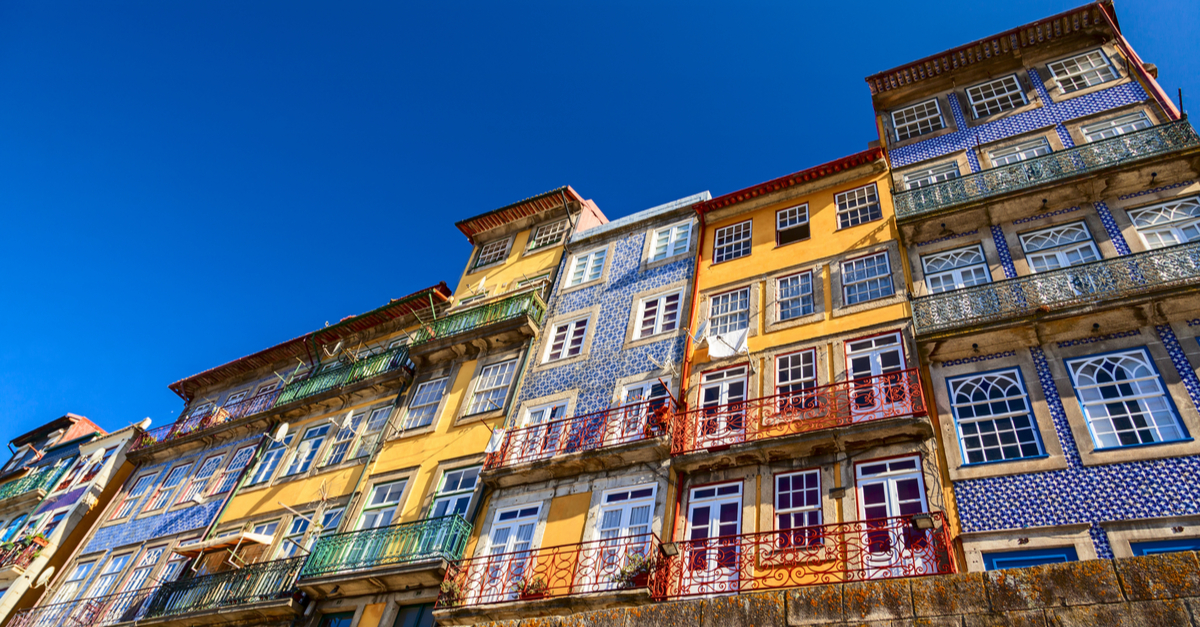 Porto Colorful Facades. Source: Shutterstock
To Porto by train—travel tips
The beautiful sea-side city of Porto, Portugal is ripe with opportunities for exciting tourist experiences. The city is chockful of great museums, such as Soares dos Reis National Museum, which has extensive art galleries, or A Vida Portuguesa. What's more, the city boasts impressive gardens worthy of lengthy visits, such as Parque de Cidade do Porto and Serralves, which operates as both garden and art gallery. Those who appreciate architecture will enjoy strolling the city streets and checking out such sites as Torre dos Clerigos, a historic bell tower which opened its doors in the mid-18th century. Travelers looking for more travel inspiration will want to take a peek at the Omio digital travel magazine, Window Seat. Travelers of appropriate age will want to saddle up to one of the city's many great port houses. Five of which that are worth placing on the radar include:
Kopke Port House
Croft Port
Graham's Port Lodge
Ramos Pinto
Taylor's Port Winery