Trains from Charlotte to Atlanta
Trains from Charlotte to Atlanta offer direct connections. Trains take 5h 48min to travel from Charlotte to Atlanta, covering about 226 miles (364km). Train rides are efficient for traveling the Charlotte- Atlanta route as travelers do not worry about parking and traffic hassles. Plus, a train ride gets you in the heart of Atlanta so that you won't have to worry about commuting from the station to the city center. You get breathtaking views of the passing scenery between the two cities when you ride the train, unlike flights. Amtrak is the sole provider for train journeys from Charlotte to Atlanta.
Charlotte to Atlanta Train Time: Daily Departures
Daily, one train departs Charlotte headed to Atlanta. This means that there are over five options to choose from weekly. The train leaves Charlotte at 6:55 a.m. arriving in Atlanta at 12:43 p.m. The departure and arrival times may vary depending on the date of the week. Travelers can opt for the most convenient ride with the Omio platform.
How long is the journey by train from Charlotte to Atlanta?
The average journey time for trains from Charlotte to Atlanta takes 5h 48min. The journey route does not have a layover, so the fastest train takes 5h 48min. Trains on this route are intercity trains and they travel at 80 mph (127km/h). At the time of writing, there are no high-speed trains on this route.
What are the departure and arrival train stations for trains from Charlotte to Atlanta?
Departure train station: trains leave Charlotte from Charlotte Station which lies at 1914 North Tyron Street northeast of downtown. Travelers can walk to the station for the downtown area. Alternatively, travelers can get a taxi or a bus to the station. There is an ATM available, Quik-Trak kiosks, payphones, restrooms, and a tickets sale office. The station provides checked bag storage and services and well as shipping boxes for sale. The station operates 24h daily. Drivers can find same-day parking and overnight parking options. Low mobility passengers will find an accessible waiting room, ticket office, wheelchair lifts, and a courtesy wheelchair.
Arrival train station: trains from Charlotte to Atlanta arrive at Peachtree Station. It lies at 216 Peachtree St NE Atlanta in the downtown area. The facility has limited facilities, including payphones, restrooms, and vending machines. It provides checked baggage storage and services for passengers with disabilities. There are also baggage carts and shipping boxes for sale. Ticket agents can provide further luggage assistance, but travelers have to make arrangements 90min before departure. The station provides same-day and overnight parking options. Atlanta Peachtree station operates daily from 7:30 a.m. to 2:30 p.m. and 6:00 p.m. to 11:59 p.m.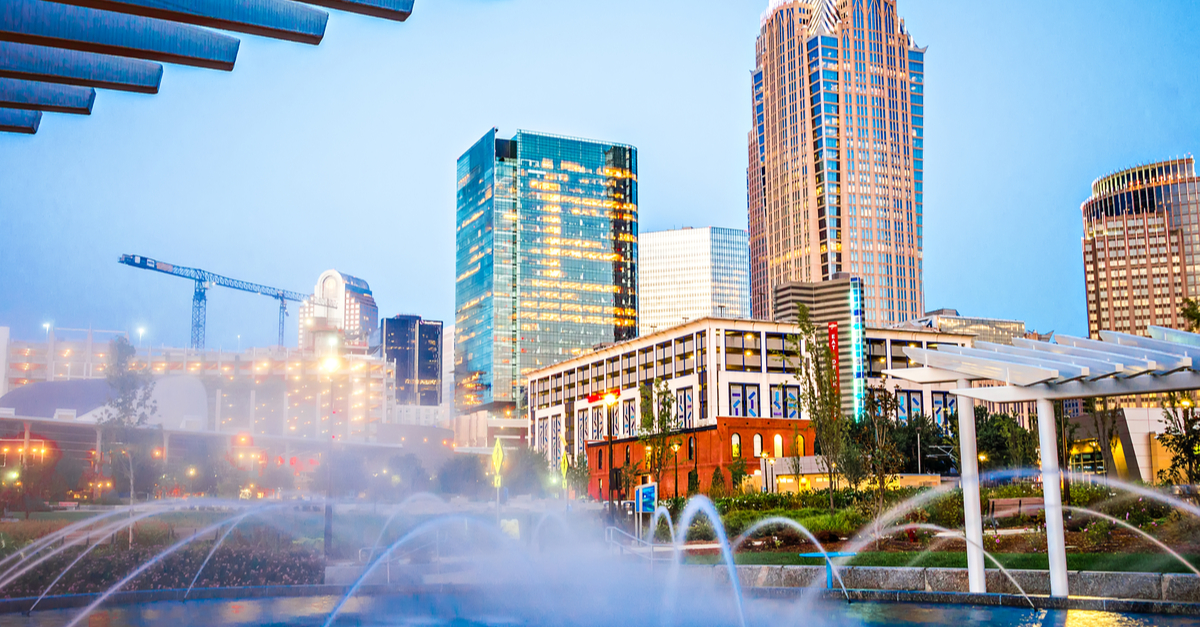 Charlotte Fountain. Source: Shutterstock
Which train companies travel from Charlotte to Atlanta
Amtrak is the sole provider of trains from Charlotte to Atlanta. It only provides intercity trains which are slower than high-speed trains. Amtrak only provides one train ride on the Charlotte-Atlanta route. Intercity trains operate at a speed of 80 mph (127km/h).
Amtrak from Charlotte to Atlanta
Amtrak is the national provider for train services in the U.S it has about 500 destinations in 47 states of the U.S. Amtrak provides the Intercity Trains from Charlotte to Atlanta. These Amtrak trains come with long-distance facilities like window curtains and power-charging sockets. Sometimes trains may come with roomettes for travelers that want privacy. These roomettes have complimentary lounge access, fresh towels and linens, and private restrooms. Superliner cars offer two private accommodations per car, while view liners have a single level.
Trains from Charlotte to Atlanta: Services on Board
Trains from Charlotte to Atlanta have three types of seating. They include Coach, business as sleeper class trains. Business-class passengers pay extra, and they get refundable tickets alongside reclining wider seats. They also get complimentary beverages, larger luggage storage compartments, and extra legroom. Coach class passengers get two-by-three seating arrangements. If you board early, you can get seats with windows for a chance to view the passing scenery. Most sleeper car trains from Charlotte to Atlanta feature view liners roomettes.
First-class passengers typically get an extra luggage allowance. Passengers in coach class have a luggage limit whereby checked luggage must be less than 50 lbs. (23kg). Each passenger can bring two carry-on pieces of luggage, and two checked pieces of luggage. Bags that weigh more than 50 lbs (23kg) and measure more than 15*17*22 inches have to be repacked in standard size luggage. Most stations provide repackaging boxes for sale. All luggage must be stored in overhead racks, under the passenger's seats, or in designated luggage compartments. Avoid placing luggage in empty seats. Pets are allowed on board, provided they are above eight weeks old and under 20 pounds.
Pets have to be confined in carriers to be fit under the passenger's seats. Small bikes are allowed on board at a certain fee. Trains are wheelchair enabled with wider entrances and provide wheelchair-enabled washrooms onboard. Trains come with onboard cafes for passengers to grab meals or snacks. Reduced mobility passengers can get further assistance if they contact the train service earlier.
How to Find Cheap Train tickets from Charlotte to Atlanta?
When it comes to finding cheaper train tickets, consider getting tickets in advance. Train tickets are often released a few months earlier, and the earlier you buy them, the cheaper they cost. Travelers can also consider being flexible with their dates. This is because a train ticket may cost cheaper a few days earlier or after a fixed date. If you wish to score cheaper tickets, be flexible with your travel dates. Also, consider purchasing tickets during off-peak hours as tickets tend to be more expensive during peak hours. The peak hours for buying tickets are from 5:00 a.m. to 9:00 a.m. Remember to keep an eye out for deals and offers when purchasing train tickets, as these offers have cheaper train tickets.
Atlantic Sign. Source: Shutterstock
To Atlanta by Train - Travel tips
A train to Atlanta is an amazing way of exploring the area's rich scenery. Atlanta is a hub for southern traditions and sleek modernism making it an ideal destination for all travelers. Nature and outdoor lovers will love a tour of the Georgia Aquarium. It features over 100,000 aquatic species exhibits and a diving program.
Nature lovers can also explore the Atlanta Botanical Garden, a lovely green space with well-manicured gardens. It also features an Orchid Display House, a Japanese garden, a winter garden, and a Desert House. Piedmont Park lies in the downtown area of Atlanta, and it features hiking trails for trekkers.
Families can enjoy fishing at the lake, playing at the playgrounds, or swimming at the Piedmont Park Aquatic Center. Art and culture lovers can soak in the history at Atlanta History Center; It features a history museum, the Centennial Olympic Games Museum, a swan house, and six historic gardens.
High Museum of Art features outstanding architecture and artworks from the 19th and 20th centuries. It also displays photography, African art, and European paintings. Visitors can tour the World of Coca-Cola, which illustrates the history and progress of Coca-Cola in entertaining ways.
Travelers will also love visiting the Fountain of Rings, a choreographed program of water spouts and colored lights. It also functions as a splash pad for children making it an ideal destination for families. Visitors can also enjoy hiking and mountain climbing at Stone Mountain Park, which houses a petting farm for younger visitors. Treat your taste buds to Spring Restaurant's grilled wagyu flatiron steak and whole fish courses. Virgil's Gullah Kitchen and Bar is famous for its she-crab soup and eggrolls.