Sustainable travel with Omio
Sustainability is currently on everyone's lips. And when it comes to travel, being sustainable seems like a no brainer.

But what does Europe think about sustainable travel, and how can we travel in a more environmentally friendly way without sacrificing fun? We've done some research in Great Britain, Italy, Spain and Germany to discover exactly what these European destinations think about sustainable travel. Check out our findings below!
Does Europe travel sustainably?
How sustainable do Europeans consider themselves to be?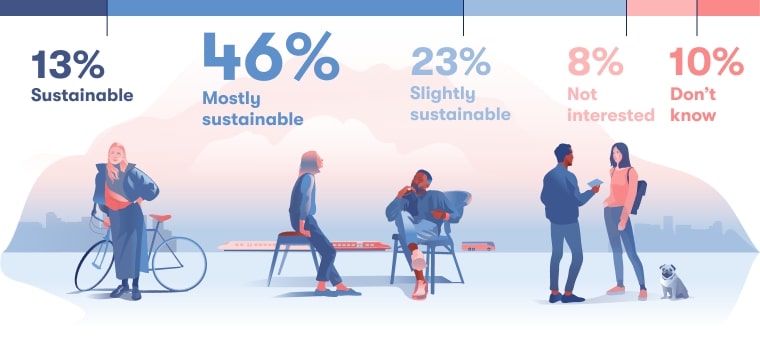 How sustainable do people from Europe (Great Britain, Germany, Italy and Spain) consider themselves to be? To find out, Omio commissioned a survey with YouGov and asked a representative sample of Brits, Germans, Italians and Spaniards their thoughts on the subject. Here's what we found:
Most of those surveyed consider themselves to be fairly environmentally conscious
Slightly more than the half of the participants rate their daily behavior as fairly sustainable but see the potential to improve
Gen Z is the most self-critical with around a third saying their lifestyle isn't very sustainable. They also said they'd like to be more sustainable but find it difficult
What do Europeans consider sustainable travel?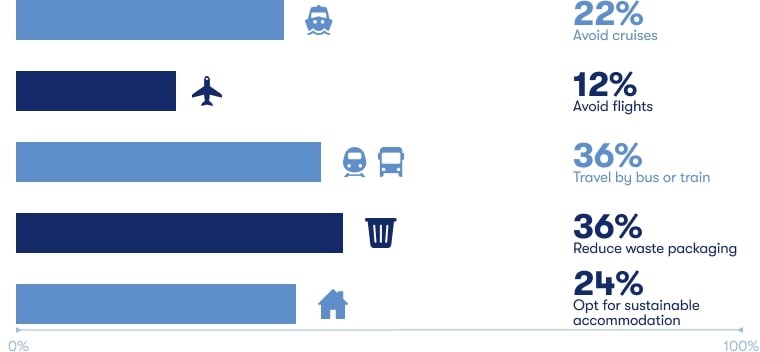 Sustainable travel is a broad topic, so we asked respondents what they consider to be sustainable travel.
For many, traveling sustainably means avoiding cruises (24 percent) and they are on the right track. Powered by heavy oil consumption, a week-long cruise produces around 1.9 tons of CO2*, which is the same as driving more than 5,500 miles by car! In addition, cruise ships consume vast amounts of energy for electricity, catering, entertainment, etc. It's clear that cruises aren't good for the environment or sustainable travel.
Twenty-two percent consider air travel to be the least sustainable travel choice. You can see why when a flight from Northern Europe to the Canary Islands causes more emissions than taking trains, buses and cars combined per person per year*! Fortunately, 38 percent of Europeans surveyed know that the most sustainable travel options are train and bus—which we're thrilled to hear!
Many people are aware that reducing plastic waste while traveling can help make their trip more sustainable. We've all been guilty of buying bottled water rather than refilling our own bottle from home. All that packaging can add up in the landfill. Reducing our own waste is an easy way to reduce our carbon footprint. For environmentally friendly travel, 19 percent of respondents also consider booking sustainable accommodation. With myriad options available, such as apartment sharing and glamping, staying in more sustainable places is becoming easier to organize.
(*Source: German Federal Environment Agency)
Wish list for sustainable travel
European interest in sustainable travel is undeniably high, but why aren't more people already doing it? We asked respondents in Great Britain, Germany, Spain and Italy what's stopping them from making more sustainable travel choices today.
Trains vs. flights: When the train is faster than the plane
The need for sustainable travel options has increased significantly in recent years. However, the prospect of a long journey to reach a destination is still the main reason‌ Europeans choose flights over trains. Shockingly, many domestic and international train routes take less or only little longer than flights, especially when you factor in the time it takes to get to the airport, check-in, security checks and other issues that are part and parcel of air travel.
A good example of this is the Eurostar from London to Paris. Taking this train means you can get to the City of Love one and a half hours faster than flying. Without being stuck at an airport, you can admire the impressive landscapes from the train window, plan your Parisian tour, all while saving over 132 pounds of CO2.
.
Also from Rome to Naples you are faster by train than by plane. In just 70 minutes, you can travel by train from the historic capital to the metropolis in the south of Italy to stroll through the UNESCO-protected old town in the shadow of mighty Mount Vesuvius. You'll save 87 minutes of your time and 64 pounds of carbon dioxide. Not bad, is it?
It's also faster to get from Paris to Amsterdam (and vice versa) by train than by plane. You save about half an hour, which you can invest in a boat trip through the canals in Amsterdam. You also reduce your carbon dioxide emissions by an incredible 141 pounds. If you hop on a Dutch bike to explore the city, it's even more!
Find many more connections where trains are faster than (or just as fast as) flights on our train page.
Green travel with Omio: Sustainable travel tips
Sustainable travel is a broad topic and not just limited to whether you travel by train, bus or plane. Instead, soft tourism (aka sustainable travel) is a concept that encompasses many aspects of travel. You can make sustainable choices when planning your trip and set the course for a greener, more environmentally friendly travel experience. During your trip and at the destination, there are plenty of opportunities to be mindful and sustainable with nature, culture and locals. We've put together a few tips to help you stay sustainable on your travels.
For the eco-beginners
We know it's hard to get started—but it doesn't have to be! With our travel tips for beginners, you can travel fairly and sustainably without having to attend a webinar or read a stack of books.
For the eco-beginners
We know it's hard to get started, but it doesn't have to be! With our travel tips for beginners, you can travel fairly and sustainably without having to attend a webinar or read a stack of books.


Retrain your brain
Avoiding environmentally damaging cruises is easy for most of us, but it's harder to avoid air travel. Luckily, Omio is here to help! In one search, you can see the travel time and prices for trains, buses and flights at a glance and can easily compare them. It's surprising how many trains are much faster than flying and how buses are always cheaper than you think.


Stay close
Simple and yet so effective, traveling short distances naturally reduces your carbon footprint. Best of all, you don't have to worry about enduring long distances by train or bus. Europe offers a variety of destinations so you can enjoy somewhere new without traveling too far.


Travel digital
The days of lugging around stacks of maps, booking confirmations and paper tickets are over. With the Omio app, you can access your bookings and tickets offline‌. Manage your accommodation via our partner, Booking.com. Free navigation apps store your itineraries on your phone, too. Going digital means you won't get bogged down with all that paper, saving loads of trees‌ from getting the chop.


Say no to plastic
During a holiday, a person normally increases their waste consumption, but this is avoidable. For example, try to eat at restaurants instead of getting takeout. Take a refillable water bottle so you can avoid buying disposable plastic water and pack a soap bar to avoid using miniature toiletries you find in many hotels. Yes, it's often really that simple. Not bad, huh?


Keep the car parked
When you get to your destination, ‌use public transport or explore by bike. Not only is it more environmentally friendly, but it's cheaper, too. Also, you'll get to know your destination and the local better—the latter might even give you some insider tips.


Break the chains
Sometimes, we fall into old patterns and use familiar fast food, coffee or hotel chains while on holiday. But we travel to discover new things, so, it's better to book a boutique, family-run hotel, taste regional dishes in authentic eateries and take home local products.


Leave no trace
If you're out in nature, ‌remember to take a garbage bag with you. Trash cans are not always available and you don't want to resort to littering. Smokers should also bring a pocket ashtray to protect local animals and vegetation from harmful cigarette butts.


Sea shells stay on the seashore
Many countries don't allow people to take shells, corals, stones and sand from their beaches and if you do, it can lead to five-figure fines—eek! These small treasures should remain where they're found. Although it's nice to take home a small memento, it can have huge effects on the local ecosystem—especially as it's so widespread.


Don't be an animal
Even today, selfies with endangered animals are way too popular. No matter if it's a tiger, monkey or dolphin, animal shows ‌harm the animals who are forced to take part. To stick to the ethos of green travel, we suggest avoiding these types of activities.


Keep the home fires burning?
Before you set off on your holiday, make sure everything is in order at home. Have you turned off all your power sources such as lights, heating and fridge? If your house is empty, ‌turn off your Wi-Fi while you're away—it's better for the environment and your electricity bills!
For the eco-pros
Do you already take eco-friendly behavior as standard? With these tips, you can travel even more sustainably.
Go bespoke
It's tempting to book a fully planned all-inclusive holiday. But when you put together your own trip, you can choose sustainable options. It also allows you to support small authentic local eateries, stores and businesses. With travel platforms such as Omio, custom booking is a breeze!


Hop on hop off
If you've ever explored a region or country by train or bus, you'll know that it takes longer but you get to experience and discover more at the same time. Long journeys are a bit like hop-on hop-off tours for seasoned travelers. So, instead of planning many small tours, just do one with different stops along the way.


Pack like a pro
Only take what you really need because larger bags cause higher emissions! Let's be honest, who hasn't gone on holiday and only used half the things they packed? Once you've spent four weeks on holiday with only hand luggage, the light packing craze will quickly take hold of you!


Under the radar
The best and most sustainable trips—and the ones you'll remember—are the ones that take you off-the-beaten path. This not only minimizes the risk of falling into classic tourist traps, but it'll also support locals who rarely benefit from tourism.


Travel plastic-free
Few people travel completely plastic-free, but there are more sustainable alternatives. For example, take your own travel cutlery or always carry a tote bag with you. You can also go greener with your gear, by buying holiday clothes made from recycled materials or slow fashion websites. For hygiene, get ahold of reusable cotton pads and Q-Tips.


Wear (eco) sunscreen
Conventional sunscreen contains substances that are harmful to the environment, affecting fragile coral reefs and the DNA of ocean animals. So, especially at the beach, go for a combo of eco-friendly sunscreen and protective clothing to protect these precious species.


Keep the AC off
Not for the faint-hearted, but if you can handle it, we recommend not using air conditioning as much as possible, even in warm destinations. Of course, in places that are 40°, this can quickly become uncomfortable, so make sure you wear breathable clothes, drink plenty of water and stay out of the sun. It's not as refreshing as AC, but it saves energy and is better for the planet!
Don't be rubbish
Many holiday destinations have to deal with the garbage tourists leave behind. Whether on the beach or in the woods, try to pick up at least three pieces of garbage (even if it isn't yours) and make it a regular habit. If you have time, join an organised clean up. Not only do they make you feel good, but you get to meet the locals, too.


Clean living
Currently, it's ‌difficult to find truly sustainable accommodation. Luckily, more platforms are introducing labels that identify environmentally conscious places to stay. Groups on social media can also help you find more sustainable accommodation options, such as house swaps.


Support the people
Sustainable travel also means supporting the people at the destination, especially if it's a less-developed destination. Always tip, choose local travel guides, and find out which organisations are involved in social support projects.
The most sustainable cities in Europe
Bustling cities, stunning beaches or perfectly preserved national parks: European holiday destinations are more varied than you might think. But how sustainable are Europe's metropolises? Omio has analyzed Great Britain's, Italy's, Spain's and Germany's major cities to find out. Our ranking examine which cities offer the cleanest air, the best vegetarian and vegan food, as well as more eco-friendly transport options.
To create the ranking, we analyzed the top 30 urban areas in England with over 200,000 inhabitants (ranked by ONS population data). For the traffic category, the prices of an adult's single ticket on local public transport were analysed (source: various local and regional bus operators) as well as the number of charging stations for electric cars (source: Zap-Map) and the number of carsharing vehicles within five miles of centre (source: CoMoUK) per 10,000 inhabitants. The number of cycle routes is based on data from Bikemap and the data for air quality comes from the National Atmospheric Emissions Inventory. Happy Cow provided data on the restaurants that offer vegan or vegetarian options. The deadline for all variables to be analyzed was July 12, 2022.
So which city came on top? Drum roll, please! England's most sustainable city is Brighton! Sometimes known as "London by the sea," Brighton scores the highest for vegetarian and vegan eats and is among the top places for electric car charging stations, car sharing, affordable public transport and low-pollution levels.
"Following Brighton is the northern city of Newcastle, ranking within the top five cities for low-pollution levels and the number of bike routes.
Milton Keynes and Hull make it affordable for people to get around by public transport, with both offering a single bus ticket for £1 compared to £2.40 in Nottingham, Wolverhampton and Walsall.
London, Nottingham and Coventry ranked top for the best set-up for electric cars, with the most charging points across the cities. After London, Bristol has the highest number of cycle routes within five miles of the city center.
For air pollution, Coventry, Plymouth and Bolton came out as the cleanest, while Liverpool pipped London to the post as the most air-polluted city.
For those looking for planet-conscious eats, Brighton and Newcastle top the charts with the largest number of vegetarian and vegan restaurants, but Wigan, Bradford and Rotherham are lackluster for plant-based eaters. "
Explore the most sustainable cities in Europe
Greener Travel with Omio: Three Sustainable Ways
Green travel means using sustainable means of transport, and the most sustainable options are long-distance buses and trains. Discover three different, environmentally conscious ways to go on holiday that are easy on your wallet and comfort.
Inspiration for sustainable travel
Finding the right destination for a sustainable trip can be confusing at first. Our travel magazine The Window Seat offers you a wide range of travel inspiration and city guides, as well as first-hand stories about sustainable travel. Check out our top five stories for sustainable travel!