Fort Worth lies about 84 miles (135km) from Waco, Texas. Daily, about two trains operate this route, but the number of trips may vary depending on the season and day of the week. This means that weekly, travelers can choose from over 15 different rides to suit their convenience. A bus ride to Fort Worth puts you in the middle of the city center, and you won't have to worry about commuting from the station to the city. Buses take about 2h 36 min to get from Waco to Fort Worth.
Two buses depart Waco to Fort Worth daily, and about 15 bus rides are available for travelers weekly. The earliest bus leaves Waco at around 2:20 p.m. and arrives in Fort Worth at around 1:40 p.m. The last bus departs Waco at around 5:05 p.m. and arrives in Fort Worth at around 7:45 p.m. Departure times and schedules vary depending on the route. Each bus has a different schedule; some have stops along the way while others have direct transfers. Omio's website offers travelers all available bus rides to choose the most convenient time for them.
On average the journey time between the two cities takes about 2h 36min. However, these times may vary depending on the schedule of the bus. Since some buses have numerous stops along the journey, they may take up to 4h 35 min.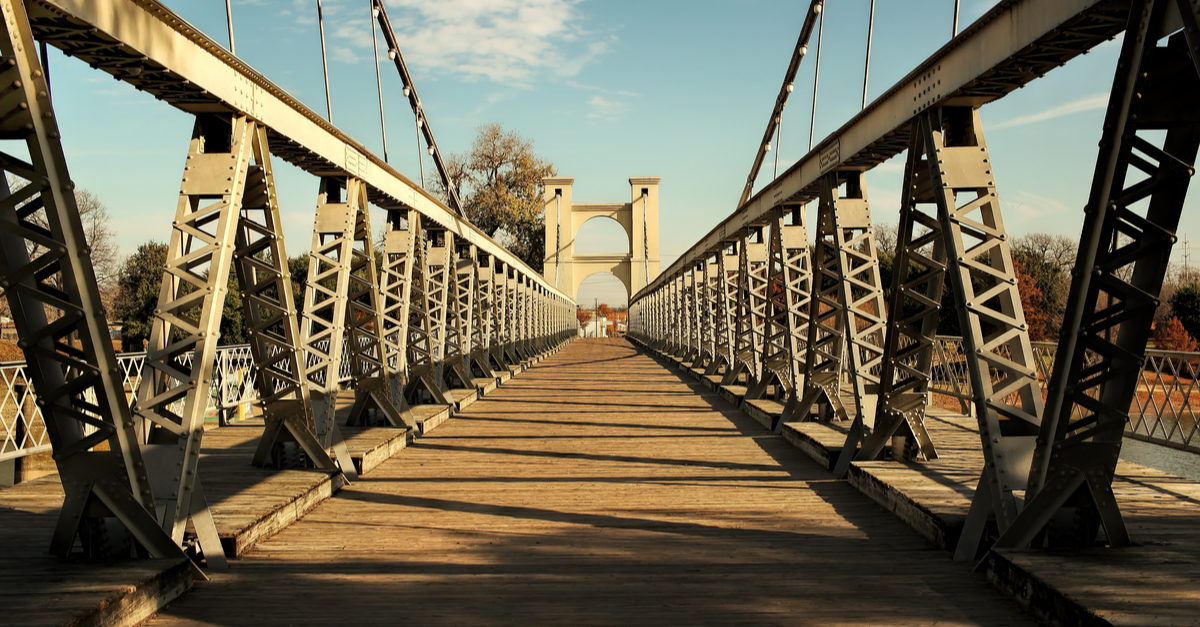 Waco Suspension Bridge. Source: Shutterstock
Which bus companies operate from Waco to Fort Worth?
Buses that operate rides from Waco to Fort Worth are provided by Flixbus or Greyhound. Each company has different routes, but passengers can expect direct and layover routes from both companies. Omio provides rides from both providers and information about the schedule to select the most convenient ride.
Greyhound buses from Waco to Fort Worth
Greyhound provides at least one bus ride from Waco to Fort Worth. The earliest Greyhound bus leaves Waco at around 10:55 a.m and arrives in Fort Worth at around 12:25 p.m. The last Greyhound bus departs Waco at around 12:10 p.m. and arrives in Fort Worth at around 1:40 p.m.
Flixbus buses from Waco to Fort Worth
Flixbus provides one bus ride daily from Waco to Fort Forth. The first bus departs Waco at around 2:25 p.m. or 2:20 p.m. The arrival time varies depending on the day of the week or the route taken.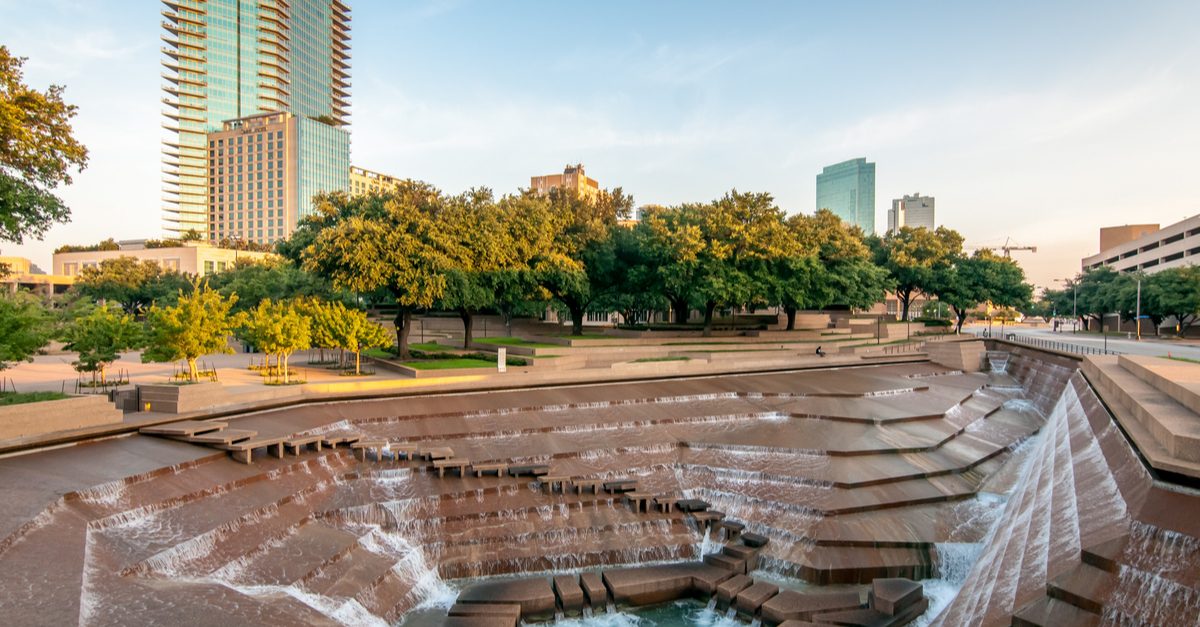 Fortworth Downtown. Source: Shutterstock
Buses from Waco to Fort Worth: Services on Board
Greyhound buses feature two types of fare classes, including Economy and Economy Extra. Passengers on Economy are limited to one checked bag and a free carry-on bag. Economy Extra passengers can bring more luggage on board. They are also entitled to priority boarding and complimentary drinks on board. Greyhound buses feature a two-by-two seating arrangement without middle seats offering passengers utmost comfort and armrests. These seats feature an inclination for the passengers' comfort. The buses provide ample legroom and overhead storage racks for passengers to place luggage. Travelers will find washrooms on board, at-seat AC power charging outlets and tray tables. Some buses come with on-board cafes where travelers can get meals. Greyhound only let luggage on board that weighs less than 50lb (22.5kg) and under 62 inches (157cm).
Pets are not allowed on board. There is free Wi-Fi on board for passengers' entertainment. Flixbus buses only have coach class seating. They offer wide seats on three by two seating arrangements. Each seat is reclined for maximum comfort and relaxation. Passengers can only bring one piece of luggage on board for free. Luggage has to be less than 62 inches (157 cm) or fit in the overhead racks. Pets are not allowed, but service animals in the company of a disabled person are exempted from this restriction.
How to find cheap bus tickets from Waco to Fort Worth
There are many ways of scoring cheaper ticket deals from Waco to Fort Worth. Omio platform generates a list of all riders on the Waco-Fort Worth route with different fares and schedules. Travelers can choose the cheapest options provided. If you need cheaper tickets, it might be in your best interest to book in advance. This is because bus ride providers usually release tickets a few months in advance. They cost relatively cheaper when you book in advance.
When it comes to cheap bus tickets from Waco to Fort Worth, consider flexibility. When you are flexible with your travel dates and schedule, you may land cheaper deals. In the Waco- Fort Worth route, direct buses are cheaper than layovers, so consider booking direct bus journeys. Several online platforms offer discounts and promotions for train tickets. Keep an eye out on these offers to get the cheapest option.
To Fort Worth by bus-travel tips
buses are a convenient and fast way of getting to Fort Worth. Fort Worth blends cowboy-related charm and an urban environment offering something to do for any traveler. It lies west of Dallas, and it boasts a rich cultural history. Art and charm lovers will love a tour of Fort Worth Stockyards. It features cattle roundups, live music shows, western-themed shopping options, and museums.
Amon Carter Museum of Art boasts a rich collection of artwork, including photos, paintings, and sculptures. Kimberly Art Museum also features a creative use of light and worldwide art pieces exhibits. Nature and outdoor lovers can visit the Fort Worth Botanical Garden. It features a fragrance garden, a rain forest conservatory, and a rose garden. It also houses an idyllic Japanese Garden with vibrant traditional flora, cherry trees, and magnolias alongside lovely pathways.
Explore the Fort Worth Zoo, which houses hundreds of species worldwide. Night birds will love a visit to Sundance Square, which features plenty of entertainment buildings and retail stores. Visitors will find numerous eateries, high-end boutiques, a bass performance hall, and the Circle Theatre. You might catch music, a play, or a dance in the Circle Theater. Families will love to visit the Flight Deck Trampoline Park, where kids can play and have fun.
Treat your taste buds to Black Cat Pizza which offers an outstanding pizza collection. If you do not fancy pizza, consider its meatballs and dessert options. Dayne's Craft Barbecue is a family-friendly restaurant that allows pets. It is famous for its prime brisket, pulled pork, and potato salad. It also provides a seating area, family games, and live music performances.