Bus to Canterbury
Placed in the county of Kent, Canterbury is a lively city that is known for its medieval architecture and bustling markets. You will find that there are several different bus stops in this town, including Canterbury Bus Station, which is one of the primary stops in the city, as well as the station that is at the University of Kent. Canterbury is considered to be one of the main cities in the United Kingdom, so there are many domestic buses that arrive in this city. If you're interested in booking a bus to Canterbury, there are many different departure cities for you to choose from, including major towns such as London and Paris.
National Express to Canterbury
Known for being one of the largest travel providers in the United Kingdom, National Express services numerous domestic buses to Canterbury. Ever since it was founded in the 90s, this company has been offering journeys all across the country. Its services are not just limited to buses, but also include trams and trains. When you book a bus to Canterbury that is operated by National Express, you can expect your coach to typically arrive at Canterbury Bus Station.
FlixBus to Canterbury
Those that book a bus to Canterbury that departs from outside of the United Kingdom can expect for their journey to most likely be serviced by FlixBus. Originally a German brand that was founded in 2011, FlixBus has become one of the largest transport companies in all of Europe. It works in conjunction with regional bus companies and offers hundreds of daily voyages to over 2,500 different travel destinations. Similar to trips that are serviced by National Express, buses to Canterbury that are operated by FlixBus will normally arrive at Canterbury Bus Station.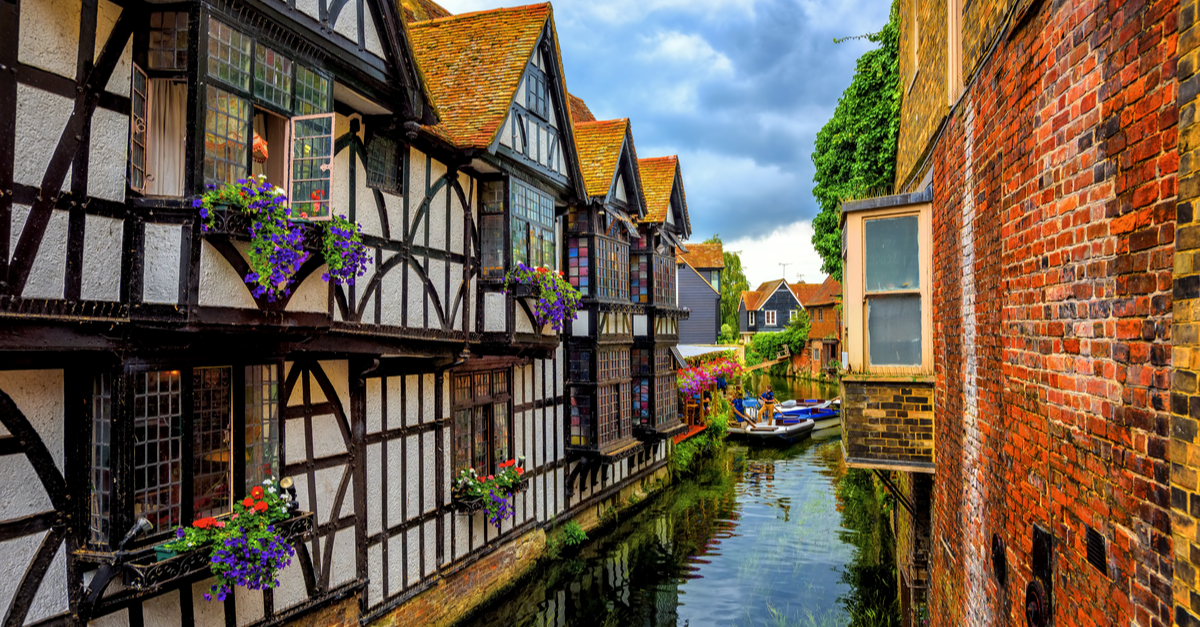 Canterburry River Housese. Source : Shutterstock
Main bus stations in Canterbury
Buses to Canterbury, including those operated by National Express and FlixBus, normally arrive at one of the two major bus stations in the city, which are known as Canterbury Bus Station and the University of Kent. Canterbury Bus Station is the largest bus stop in the city and is placed around 0.5 miles (0.8 km) north of the city center. If you need to travel to the city center from this bus station, it is usually best to walk, as the journey will take you less than 10min in total.
The bus station at the University of Kent is located approximately 1.5 miles (2.4 km) north of Canterbury's city center. To travel between these two destinations, you can walk, which will normally take you around 25 to 30min. Public transportation is also an option, such as bus line 5, and this will take you approximately 10 to 15min in total.
There are a few different services and facilities that passengers are welcome to take advantage of at each of these stations. For example, both stations have designated seating areas that travelers can rest at, as well as outlets to charge their portable electronic devices. Public restrooms are also available, as well as drinking fountains. At Canterbury Bus Station, there are places to purchase light snacks and refreshments in case you find that you are hungry after your bus to the city.
Onboard facilities London
Whether you're traveling with National Express or FlixBus, there are certain perks and facilities that you will be provided with during your journey. The buses that are operated by both of these companies usually have public toilets on board. Depending on the specific bus that will be used for your journey, you may even be able to purchase snacks and drinks during the trip.
You will be provided with a comfortable seat that reclines and includes plenty of legroom, and many of the buses that are used will even have an outlet next to each seat. Almost every bus is equipped with free and unlimited Wi-Fi, making it easy for you to stay entertained and connected during your journey.
When you travel on a bus to Canterbury that is operated by National Express, you will also have access to the company's personal entertainment system, which is known as VUER. It's possible to connect to VUER with any personal electronic device, including laptops, smartphones, and tablets. Once you have successfully connected to the system, you will have access to a selection of free media, ranging from television shows to news programs and films.
FlixBus also has its own personal entertainment system, which is known as FLIXtainment Onboard Entertainment. Once you have connected to your bus' Wi-Fi, you can access the entertainment portal through the FlixBus website. In this portal, you will find films, television shows, news programs, and some radio stations.
Bus tickets to Canterbury: useful to know
When you book a bus to Canterbury that is offered through National Express, you have the choice of either printing a physical copy of your ticket and providing it to the driver, or having a digital version instead. If you decide that you would prefer to have a digital version on your phone, you will receive it via email, and it will contain a barcode that will be scanned by your driver.
FlixBus also allows customers to provide electronic versions of their tickets, rather than being obligated to print out their reservation. Keep in mind that when you travel with each of these companies, you will be required to present an official form of identification that has the same name that is included on your bus ticket. Booking your reservation through Omio is a simple and straightforward process, and you can even conveniently store all of your tickets in your Omio account.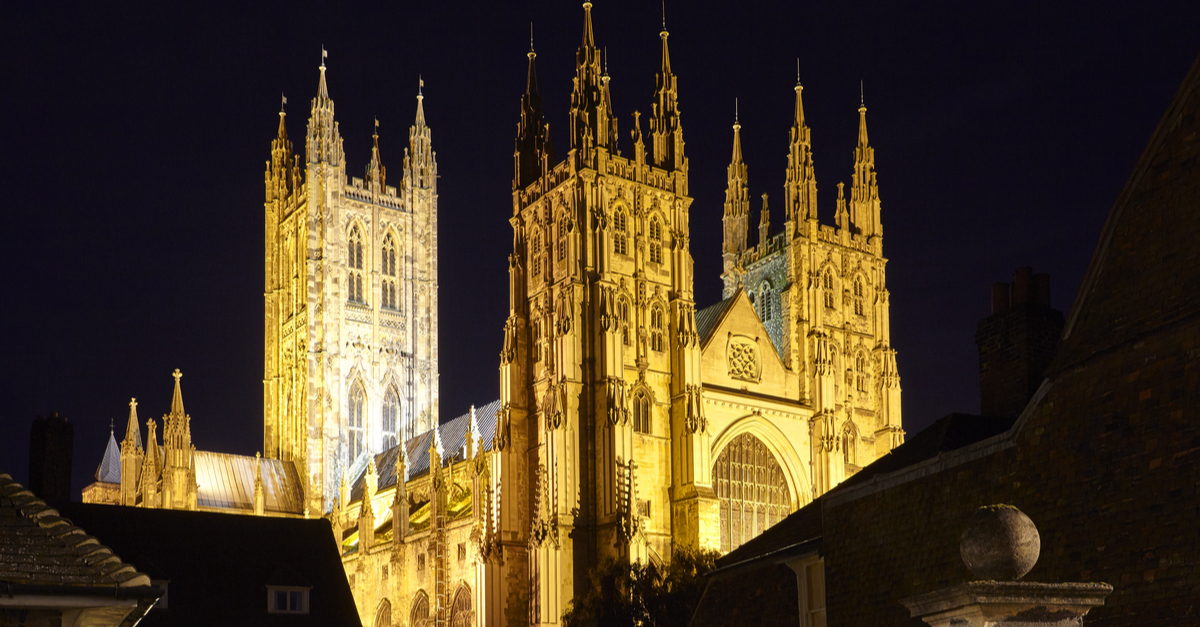 Canterburry Cathedral Night. Source : Shutterstock
To Canterbury by bus - travel tips
Visitors travel to Canterbury for a variety of different reasons, including to visit its famous attractions and for work-related purposes. It also has several major universities, making it a popular place for students. When spending time in Canterbury, you can travel throughout the city with its extensive public transportation system. Each neighborhood is well connected to the local bus system, making it easy to travel to any destination.
Canterbury is filled with interesting things to see and do, and it has something for every type of traveler. A trip to the city wouldn't be complete without paying a visit to the famous Canterbury Cathedral. Avid readers will want to make sure that they go to the Beaney House of Art & Knowledge, a library and art gallery that can be found in the city center.
If you enjoy history, pay a visit to the Canterbury Roman Museum, which is located in the remains of a Roman courtyard house. Don't forget to spend some time outdoors in the city's lush greenery, either at the Westgate Gardens or the Dane John Gardens. Every year, there is the Canterbury Festival that lasts for two weeks and has a variety of performances, concerts, lectures, and family-friendly activities that visitors of all ages are sure to enjoy.
If you're an art enthusiast, there is the popular Stark Gallery, which is located in downtown Canterbury and features a variety of paintings and sculptures. A unique way to learn about the region and its history is by going to the Westgate Towers Museum & Viewpoint, which dates back to the 1300s and now has its own escape room.