Bus to Aberdeen
With its lush greenery, impressive architecture, and rich local history, it comes as no surprise that Aberdeen is such a popular destination amongst travelers. There is one primary bus stop that can be found in the city, and it is known as the Aberdeen Bus Station. Because Aberdeen is one of the largest cities in Scotland, you'll find that there are a variety of domestic buses to choose from, as well as international journeys. If you're interested in booking a bus to Aberdeen, you can do so from several cities, including Edinburgh, London, and Manchester.
National Express to Aberdeen
When you decide to book a bus to Aberdeen, your journey will oftentimes be serviced by National Express. Known for being one of the largest transport providers in the United Kingdom, National Express offers a variety of bus, coach, train, and tram services all throughout Europe. Buses to Aberdeen that are offered by National Express will normally arrive at the Aberdeen Bus Station.
Scottish Citylink to Aberdeen
In addition to National Express, Scottish Citylink also services many buses to Aberdeen. Since it was created in the mid-1980s, Scottish Citylink has grown to be one of the largest transport providers in Scotland. It specializes in domestic and long-distance coaches throughout Scotland, as well as to Ireland and England. Like National Express, journeys to Aberdeen that are serviced by Scottish Citylink will normally arrive at the Aberdeen Bus Station.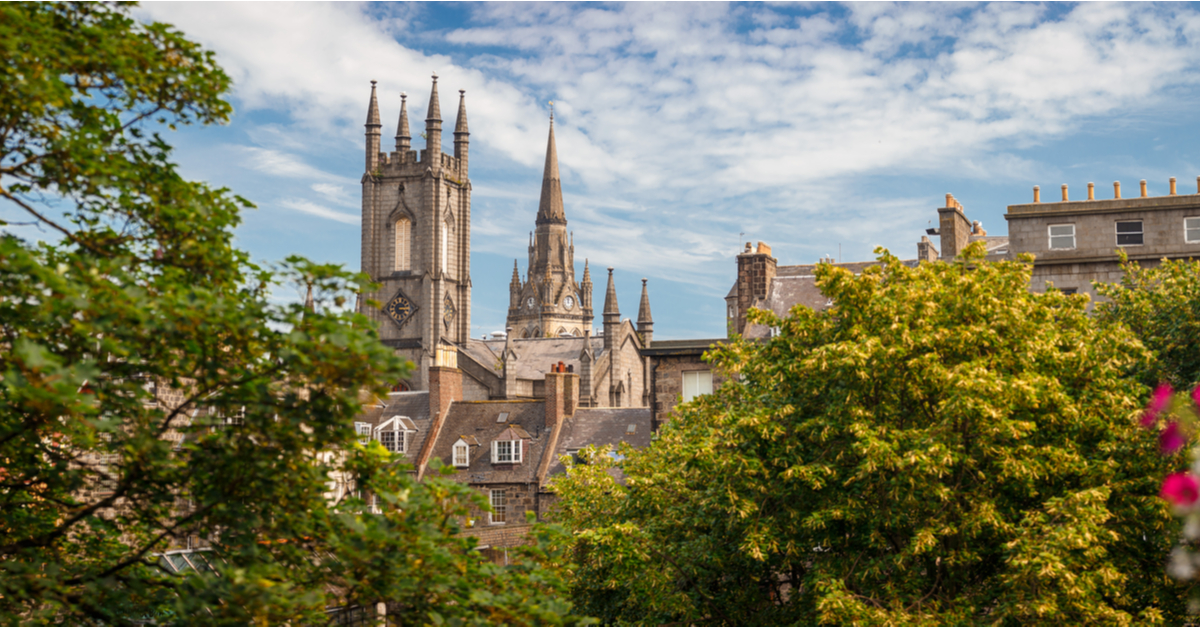 Aberdeen Cathedral. Source : Shutterstock
Main bus stations in Aberdeen
There is one primary bus station in Aberdeen and it is known as the Aberdeen Bus Station. Aberdeen bus station can be found approximately 0.5 miles (0.8 km) south of the city center. If you need to travel to the city center after your bus has arrived in Aberdeen, you can do so by walking, which will normally take you just under 10min. Public transportation is also an option for traveling between these two locations, with the local bus line 727 being a choice. If you opt for the bus, you can expect the journey to last you between 10 and 15min depending on what traffic conditions are like at the time.
At this bus station, you'll find that there are a few different amenities for travelers to take advantage of, including public restrooms, sitting areas for you to rest after a long day of traveling, and small shops to purchase light snacks and refreshments. There are also outlets and access to free Wi-Fi, making it easy for you to charge your portable electronic devices and stay connected.
Onboard facilities Aberdeen
Depending on which company you travel with and the specific bus that is being used for your journey, you may have access to a few different facilities on your bus to Aberdeen. For example, you will usually be provided with a comfortable seat that has an ample amount of legroom and reclines. Most buses will also give you access to an outlet that can be used to charge your electronic devices for the duration of your trip.
Depending on the length of your journey, you may have the option of purchasing some drinks and snacks in case you are hungry during your voyage. Most coaches have overhead storage areas where you can put smaller personal items and carry-on bags. Larger suitcases and items such as bicycles and strollers can be stored in the luggage area underneath the bus. Both companies typically have free and unlimited Wi-Fi on all of their buses for passengers.
National Express also has an entertainment system that passengers can access, which is known as VUER. It offers a variety of content, including movies, television shows, news programs, and games. To connect to this system, simply connect to your bus's Wi-Fi and go to the official National Express website.
Bus tickets to Aberdeen: useful to know
Both National Express and Scottish Citylink offer a few different ways for customers to present their tickets to their bus driver while boarding. When you book a bus ticket with either company, you will normally receive your ticket via email. You always have the choice of printing out a physical copy of your ticket and having your bus driver scan the barcode or QR code that can be found on the document.
If you would rather have a digital version of your ticket, you can opt for this choice as well. Simply show the digital version of your ticket on your smartphone to your driver, and they will be able to scan the barcode or QR code that is included. Whether you decide to use a physical version of your ticket or a digital version, keep in mind that you must have an official form of identification that has the same name that you used for your reservation. There are a few different types of documents that are accepted as a form of identification, including government-issued driver's licenses and passports.
With Omio, booking a bus ticket is a simple and straightforward task that will take you just a few minutes. Our online platform makes it easy for you to store all of your tickets and reservations directly in your customer account.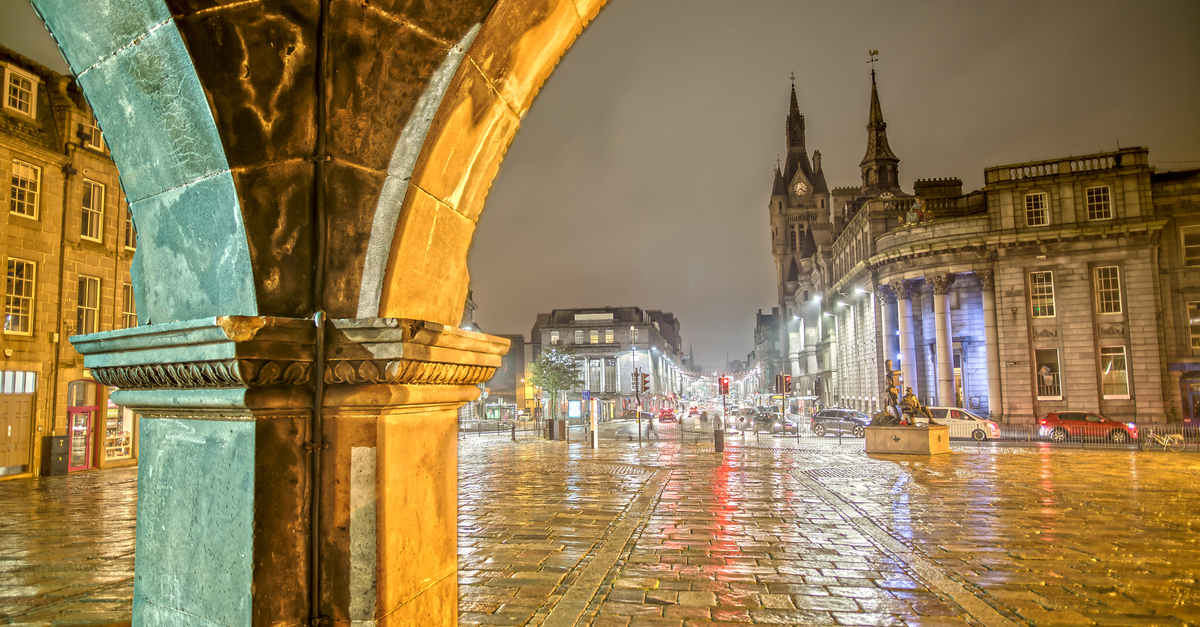 Aberddeen Square. Source : Shutterstock
To Aberdeen by bus - travel tips
There are many reasons why so many travelers frequently go to Aberdeen, including for work and just general tourism. Between the interesting museums, vibrant nightlife, and beautiful scenery, the city truly has something for every type of traveler. Aberdeen has an extensive public transportation system, making it easy to travel in between attractions and neighborhoods.
There are many local trains that connect the city to neighboring towns, as well as local buses that can be used to travel within the city limits. You can choose to either purchase individual bus tickets or a day or week pass depending on your personal preferences. To be in an area that is particularly well connected to public transportation, it's best to opt for lodging that is in the city center.
No matter what you're interested in seeing or doing in Aberdeen, the city has something for you. Learn more about local history by taking a tour of the Aberdeen Maritime Museum, which is placed right near the city's harbor. If you're an art enthusiast, you may also want to spend some time at the Aberdeen Art Gallery, which was founded in the 1800s and contains a variety of modern and international art.
Those that want to spend some time outdoors and see some of the city's impressive scenery can go to Duthie Park, which is made up of over 40 acres and is a great place to enjoy a picnic. If you'll be visiting Aberdeen with your family and you want to make sure that the little ones have a great time on your trip, bring them to Codona's Amusement Park, as it has a diverse variety of indoor arcade games and old-school rides that guests of all ages are sure to love.
If you want to go hiking and get up close and personal with some of the region's wildlife, you can spend some time at the Donmouth Local Nature Reserve, as it has a selection of trails to choose from. Avid golfers won't want to miss out on playing a game or two at the Murcar Links Golf Club, an 18-hole course that was created in the early 1900s.