Flight to Montpellier
Having enjoyed a relaxed flight to Montpellier from a US city, your destination will usually be in Montpellier–Méditerranée Airport. The flight station is the primary airport in Montpellier city and receives both domestic and international flights. On the terminal's proximity to Montpellier, you will have to cover a road distance stretching 4.9 miles (7 km) from the airport to central Montpellier. Montpellier–Méditerranée Airport receives US flights from almost all major cities.
As such, flights from East Coast metropolitan areas like New York and Washington DC are welcome here. Also, you can take Montpellier flight deals originating from Chicago, Atalanta, Los Angeles, and Seattle. Generally, you will not travel via nonstop flights from the US to Montpellier as direct trips remain unavailable at the moment. The route calls for a maximum of two layovers, usually in established cities in Europe like Amsterdam, London, and Paris. Between approximately 11h 04min and a day is necessary for the US-Montpellier trip to be complete.
Air France to Montpellier
Among the prominent airlines that can fly from the US to Montpellier is Air France. It is the flag carrier of France and got its foothold in the European air transit market as early as 1933. Air France allows you to complete the US-Montpellier voyage via a single carrier. However, it offers no direct trips are the moment. After leaving the US, expect your trip to briefly stop in France at Charles de Gaulle Airport, the global hub of Air France.
The usual departure US flight stations used by the airline are Los Angeles International Airport, Chicago O'Hare International Airport, Midway International Airport, Hartsfield–Jackson Atlanta International Airport, and JFK International Airport. Additionally, Air France can depart from Paris airports like at Charles de Gaulle Airport if there is a stop in the city. As with any other international flight to Montpellier, Air France arrives at Montpellier–Méditerranée Airport.
KLM Airlines to Montpellier
You may also leave the US aboard a KLM flight. The airline, which is the flag carrier of the Netherlands, has been providing air travel services to and from different cities worldwide since 1919. For the US-Montpellier route, KLM offers flight deals that include one or two layovers. If you start your trip on a KLM plane, you can expect layovers in cities like Amsterdam or Paris or both. The respective flight stations where the changeovers occur are Amsterdam Airport Schiphol and Charles de Gaulle Airport.
Like Air France, KLM can depart from various terminals in the US, including Los Angeles International Airport, Midway International Airport, Chicago O'Hare International Airport, and John F. Kennedy International Airport. If your flight allows stops in Amsterdam, KLM will be the airline completing the remaining part of your journey to Montpellier. On arrival, KLM halts at Montpellier–Méditerranée Airport.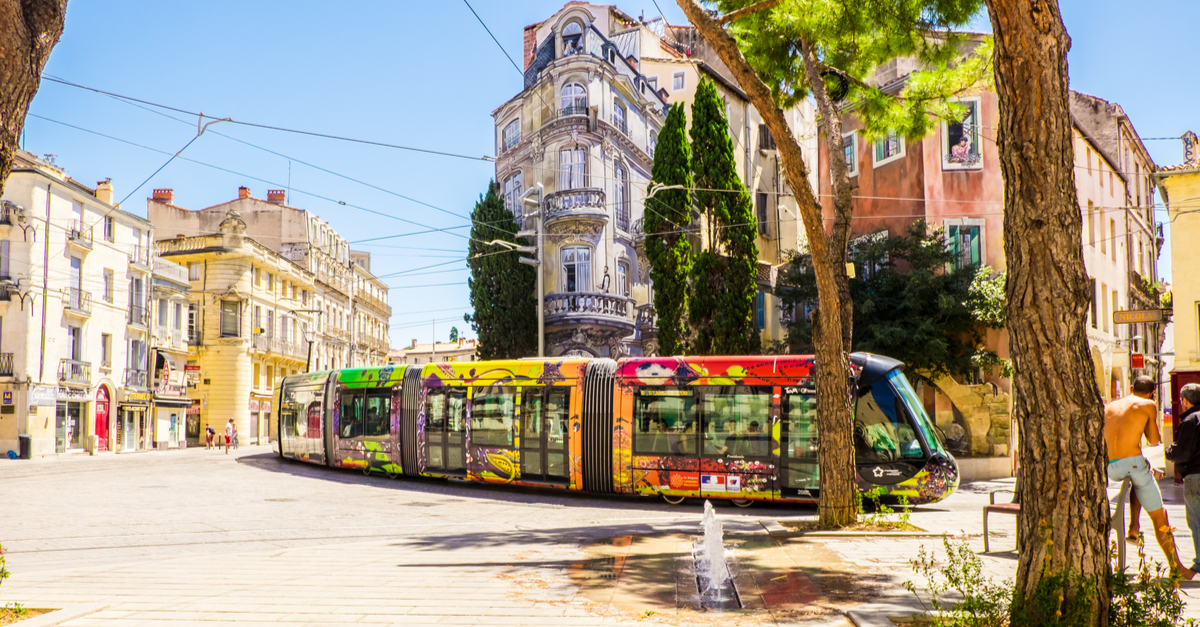 Montperllier Tram System. Source : Shutterstock
Main flight stations in Montpellier
The sole airport acting as a recipient of a typical flight to Montpellier is Montpellier–Méditerranée Airport. The terminal is also the main flight station serving Montpellier city. From downtown Montpellier, Montpellier–Méditerranée Airport operates about 4.9 miles (7 km) away. However, the number of transfer options from the airport to the city center remains limited.
Consequently, you can only ride a cab when connecting the flight station and central Montpellier. The taxis, which are a tad expensive, take between approximately 12min to 18min during their trip. If you are keen on cutting the travel budgets to a minimum level, you can first board the line 620 bus to Montpellier St. Roch Station.
The buses charge a fraction of the taxi travel expenses and arrive at the station in about 41min. You can then proceed to board a taxi to the city center and arrive within nearly 9min. Montpellier–Méditerranée Airport is synonymous with facilities like shops, an information desk, car park, food service points, and a business lounge.
Onboard facilities Montpellier
The cozy seats offered aboard Air France are the start of the quality service to expect on flights to Montpellier from the US. You can locate a power outlet near your seat such that your electronic gadgets remain powered as your journey. There is also a backseat screen that serves you classic movies as well as the latest shows. As the flight advances, you can adjust your chair's position for added legroom and rest. There is also in-flight internet access on the plane, but it requires users to meet an affordable subscription. On the other hand, drinks and beverages are available at no extra charges to you. You can even enjoy some complimentary meals on Air France.
If you need to be near your pet in the cabin for peace of mind, the airline allows it. Enhanced comfort for disabled passengers is also available if Air France receives an alert about a disability 48h before flights. KLM Airlines welcomes you to their planes with well-designed chairs and complimentary bedding. Consequently, you can enjoy flights to Montpellier sitting comfortably or sleeping restfully. If not asleep, you can view various movies in the backseat screens available in front of each seat.
Also, you can browse the internet via devices like phones, tablets, or laptops as KLM provides Wi-Fi free of cost. Furthermore, the presence of electrical sockets ensures that you can charge devices while surfing. If traveling to Montpellier by flight using KLM, you have the right to bring a small, carriage-protect pet with you. If you expect to have any problems due to a disability, be sure to call KLM Cares, a group of staff members that offers help to passengers with reduced mobility.
Flight tickets to Montpellier: Useful to know
When you plan to travel by flight to Montpellier, you can buy your tickets early and save on travel expenditures. For most airlines operating Montpellier flight deals from the US, it is not mandatory to present printed tickets. Instead, you can show your mobile ticket, and it would suffice for a boarding pass. However, airlines like Air France recommend travelers to maintain printed tickets alongside electronic ones. When boarding, you will need to provide a government-issued ID.
You can avoid the inconveniences caused by missing or misplaced tickets by booking a flight through Omio. On Omio, buying flight tickets to Montpellier is fast and easy, and it's possible to store all your tickets in your Omio account.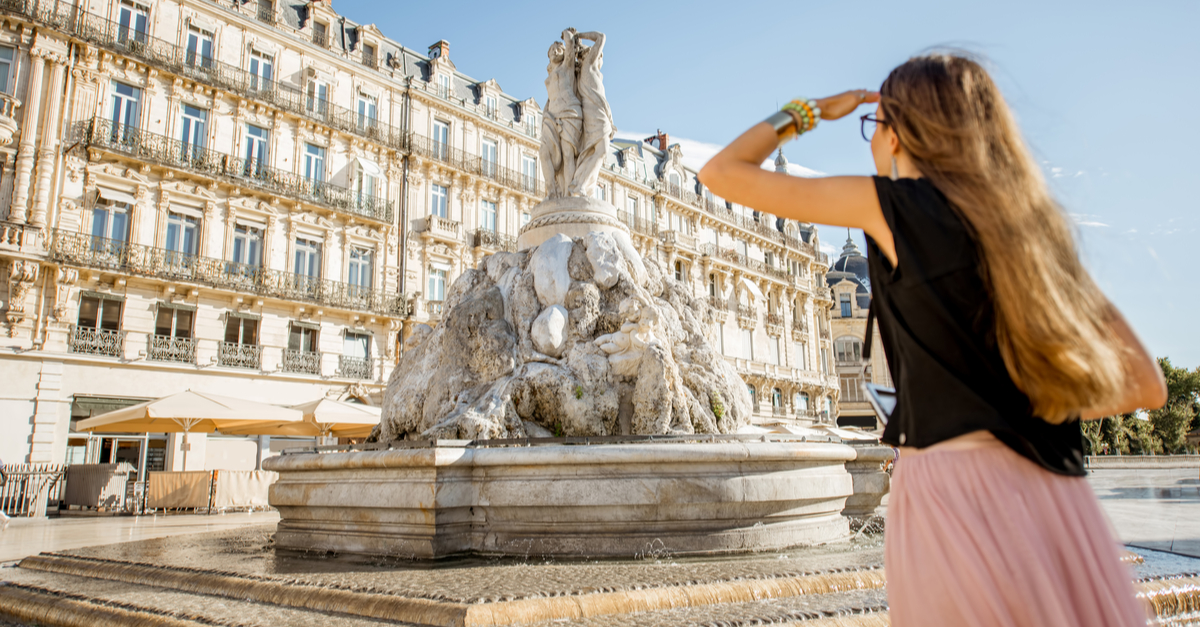 Montpellier Square. Source : Shutterstock
To Montpellier by flight – travel tips
Montpellier remains among the unique cities in France due to its lack of influence by the Romans. Thus, touring the city entails learning the undiluted French culture. One of the must-visit sites of the city is the Fabre Museum. The exhibition features among the richest of French art that dates back to the 14th century. Accessing the museum, which sits in the city center, is quick via the convenient public transport that services the city. It encompasses a collection of buses, taxis, trains, and trams.
If you are touring attractions close to downtown Montpellier, you can grab tickets for the bus or TaM trams. The tramway receives praise for being the world's most beautiful. If traveling in Montpellier neighborhoods, you may use high-speed TGV trains.
Montpellier will provide you with ancient and modern attractions that can keep you glued to the city. On top of the list is Montpellier Cathedral, a seven-centuries-old structure that flawlessly displays ancient Gothic architecture. For a taste of what life was in prehistoric Montpellier, let a tour guide walk you through Château de la Mogère.
If you wish to include hiking in your trip, be sure to visit the virgin lands of Pic Saint-Loup that present numerous hills. In Antigone, you can view modern constructions like Place du Nombre d'Or that mark the city's growth. Sequentially, you can enjoy some local dishes and beverages in the sunlit squares of modern Montpellier, such as Place de la Comédie.