How to Travel from Miami to Naples?
Making a trip from Miami to Naples entails boarding a bus as alternative transit means, such as air and rail, are unavailable. Regarding how far is Naples from Miami, there is 102 miles (165 km) worth of road distance to cover between the two cities. Therefore, before arriving in Naples from Miami, there is a possibility of spending nearly 2h 05min aboard one of the comfy buses that service the route.
Since Naples's beaches rank among the most glamorous coastlines in Florida, many passengers set foot in the city for splendid vacations. You may also consider touring Naples to enjoy valuable time in the city's shopping centers, golf courses, and outdoor sceneries like the Naples Pier and Naples Zoo. On a given weekday, there is one bus leaving Miami for Naples. But since the trip is primarily vocational, the number of buses making the trip over the weekend increases to three buses.
What is the Cheapest Way to get from Miami to Naples?
If you seek low Miami to Naples prices, you will find buses to be the cheapest way to get from Miami to Naples. Buses remain Miami to Naples cheapest way to travel despite there being no alternative transfer options. During weekdays, you can readily access cheap direct trips from Miami to Naples provided via a single departure. However, the weekend buses may include single transfers in cities like Orlando. For direct trips, the travel duration stands at approximately 2h 05min. However, single-stop journeys have a remarkably long duration, which amounts to an estimated 16h 59min. The usual earliest time you can catch a bus is around 9:00 a.m., while late-night buses have a departure time of about 12:01 a.m. Over the weekend, you can travel board the evening bus at 5:35 p.m.
In Miami, buses may either depart from Miami International Airport or Miami Airport Intermodal Bus Station. The bus terminals are roughly 5.8 miles (9.3 km) from downtown Miami. If in the city center, you can hop on a cab and access the stations in approximately 13min. At the end of your bus trip, you may find an arrival bus terminal at either Bedzel Circle or Davis Blvd. Similarly, these terminals sit approximately 8 miles (12 km) from central Naples. After alighting, feel free to hail a cab and arrive in downtown Naples in roughly 16min. Remember, you can lower the cash spent on fares slightly through relatively simple techniques such as traveling aboard the indirect buses that take longer.
If you prefer a quicker arrival, you may consider booking a bus seat a few weeks before the travel date and secure cheap tickets from Miami to Naples. Since there are several ticket types available during booking, it would be ideal to buy a flexible ticket. With flexibility in your hands, you can decide to take your trip when travel discounts are available and save some money.
What is the Fastest Way to Travel from Miami to Naples?
You can avoid extended journey durations as you travel from Miami to Naples by boarding a bus. As you may not find other travel means, buses may be your only reliable, affordable and quick way to access various destinations in Naples. On average, a bus requires approximately 2h 05min to traverse the Miami-Naples route completely. Note that this duration applies to direct trips. Should a trip include one or two transfers, the travel time increases to nearly 23h 25min. Two companies are the main servicers of the Miami-Naples route. These are Greyhound and RedCoach buses. Usually, Greyhound Miami to Naples buses don't offer non-stop trips. The departure and arrival terminals are the Miami Airport Intermodal Station and Davis Blvd at Marathon Gas Station. The transfer that Greyhound buses allow may be in Orlando, specifically N John Young Parkway. Greyhound buses offer four trips every week over the weekend. If you are a passenger on the RedCoach bus, you will likely depart from Miami International Airport and arrive at the bus station at Bedzel Circle in Naples. Every day, RedCoach offers a single trip from Miami to Naples.
Miami Swimmers. Source: Shutterstock
Find the best tickets from Miami to Naples and book with Omio
You can buy affordable round-trip tickets for your Miami-Naples trip via Omio, an easy-to-use travel platform that compares travel means. In one go, Omio enables checking whether the better way to travel is by bus, train, or flights. Among the benefits you stand to reap when booking through Omio include selecting tickets from numerous travel companies that Omio partners with. Further, you can configure our platform to provide content in your language. At Omio, you can be sure to talk to a friendly customer service that understands and replies in your language as well. Furthermore, Omio provides mobile tickets for added convenience, which avoids the need and cost of printing hard copies. Finally, in our dedication to help you enjoy your travel, Omio provides a travel magazine that features valuable tips that every traveler can use and benefit from.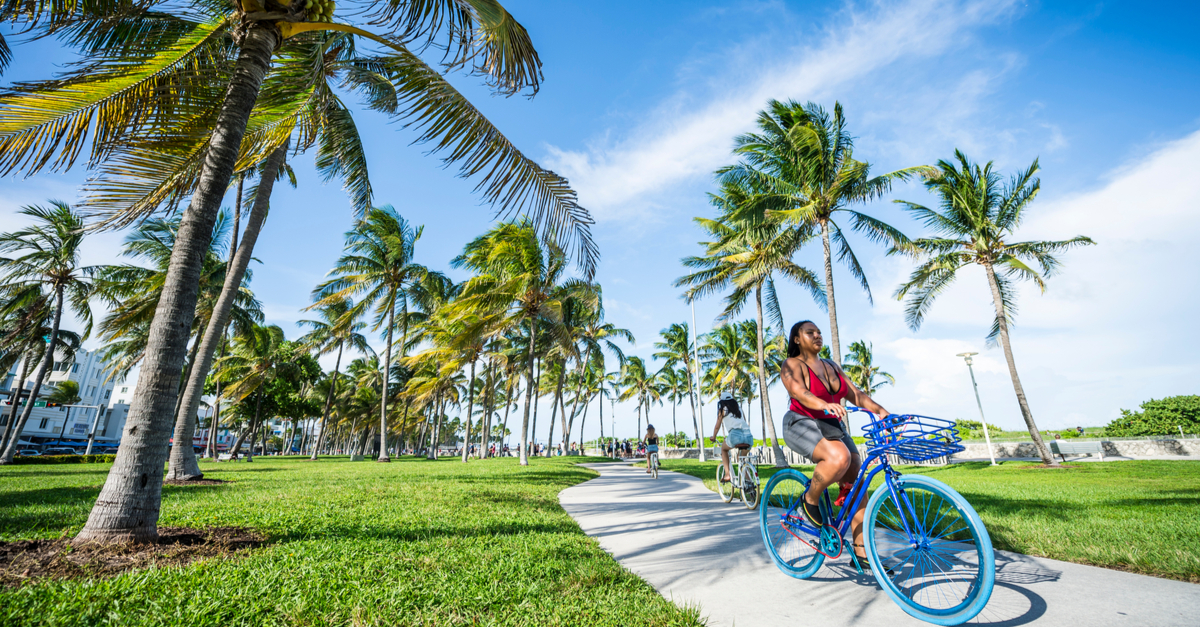 Miami with Bike. Source: Shutterstock
Buses from Miami to Naples
RedCoach and Greyhound are the primary bus companies providing a low Miami to Naples cost when traveling. RedCoach provides a single daily departure available any day of the week. In contracts, Greyhound buses are available during the weekend. On Saturday and Sunday, Greyhound will offer two buses. Notably, RedCoach Miami to Naples buses are faster as they provide an approximated 2h 05min travel time from Miami to Naples. On the other hand, Greyhound buses Miami to Naples travel time clocks between 16h 59min and 23h 25min. The reason behind the disparity is because RedCoach provided direct trips while Greyhound allows a transfer or two.
Unquestionably, Greyhound bus fares are a tad cheaper than its RedCoach counterpart. While RedCoach will be departing from Miami Miami International Airport to Naples, Greyhound buses find a departure point in Miami Airport Intermodal Station. Correspondingly, RedCoach buses stop in Naples at Bedzel Circle, while Greyhound docks at Davis Blvd. From these terminal stations, you can use a taxi and get to downtown Naples in roughly 16min.
Traveling by bus from Miami to Naples with RedCoach and Greyhound
Aboard the RedCoach bus, you can expect a welcoming leather seat that guarantees travel comfort. If you have an electronic device with you, say a phone, tablet, or laptop, you can charge it via the electrical outputs and browse using the free Wi-Fi. A table for each seat ensures you have adequate space to place personal belongings. However, there is a reservation for extra baggage, folded bikes, and service pets. If disabled, the staff at RedCoach is ready and willing to offer a helping hand.
You may also make the Miami-Naples trip via Greyhound buses and benefit from services like onboard entertainment and free Wi-Fi to surf the internet. The seats feature remarkable comfort to avoid strained sitting when traveling over long distances. Worry not about a drained phone and laptop battery as there are electrical sockets at your disposal in the Greyhound bus. If you have luggage, including a foldable bike, Greyhound buses will have storage space. Further, service pets can sit with their owners on the bus. Also, don't forget to talk to Greyhound's customer support if you need help owing to reduced mobility.
To Naples by train/ bus/ flight—travel tips
A sufficient dose of beach, art, foods, and nature awaits your arrival in Naples. As soon as you arrive, be sure to make a stop at Marco Island to enjoy the peaceful seclusion brought about by the cool ocean breeze. Later on, you can tread down to downtown Naples. The sheer number of art galleries in the area will provide you with a never-ending spectacle.
While in the city center, spend some cash shopping in the exotic centers operating there. If you are all for the peace and quiet offered by nature, check out Gordon River Greenway and enjoy the wild side of the city. Of course, you may not forget to visit Goodland and enjoy the marine delicacies served in the village restaurants.