Stay grounded: Faster than flying, better for the planet
It can be a common perception that taking a flight is the fastest way to get from A to B. There's no doubt that flying can be a quick and efficient way of traveling. But it also has a significant impact on the environment. When you look at the end-to-end journey time, it's not always as quick as it seems: just think about the time wasted waiting in line at check-in, at security, as well as the times you've had to wait to board or to pick up baggage.
The good news is: traveling by train or bus can be just as fast as taking a plane. Another advantage is long-distance trains and buses in Europe are modern, comfortable and well-equipped with WiFi, outlets and refreshments. And then there's the much bigger baggage allowance!
We have identified 25 routes in Europe from the 100 most popular, where taking a train or bus is quicker than flying. Here, we've calculated the CO2 saving possible by switching wings for tracks or road. What more could you ask for?
Ground rules: 25 routes that are quicker by train or bus
Route
Mode
Train/bus
duration*
Flight
duration*
Saved time*
train/bus
vs. flight
CO2 (kg)
flight
CO2 (kg)
train/bus
Saved CO2 (kg)
train/bus
vs. flight
1
London - Brussels
Train
116
304
188
55
25
-30
2
Paris - London
Train
137
318
181
58
26
-32
3
Rennes - Paris
Train
87
236
149
52
24
-29
4
Rome - Florence
Train
72
207
135
39
18
-22
5
Paris - Bordeaux
Train
126
254
128
85
38
-46
6
London - Leeds
Train
133
247
114
46
21
-25
7
Paris - Marseille
Train
187
297
110
112
51
-62
8
Valencia - Madrid
Train
98
206
108
51
23
-28
9
Paris - Lyon
Train
117
224
107
67
30
-37
10
Manchester - London
Train
125
229
104
45
20
-24
* Travel times and time saved are calculated in minutes.
Click here to get access to the full routes included in the research.
How the ranking works
Omio researched all European routes included in the ranking. The ranking is based on the 100 most popular routes for trains, buses and flights booked on Omio during summer 2019 (15.08.-30.09.2019).
Stay on the ground: Get there with Omio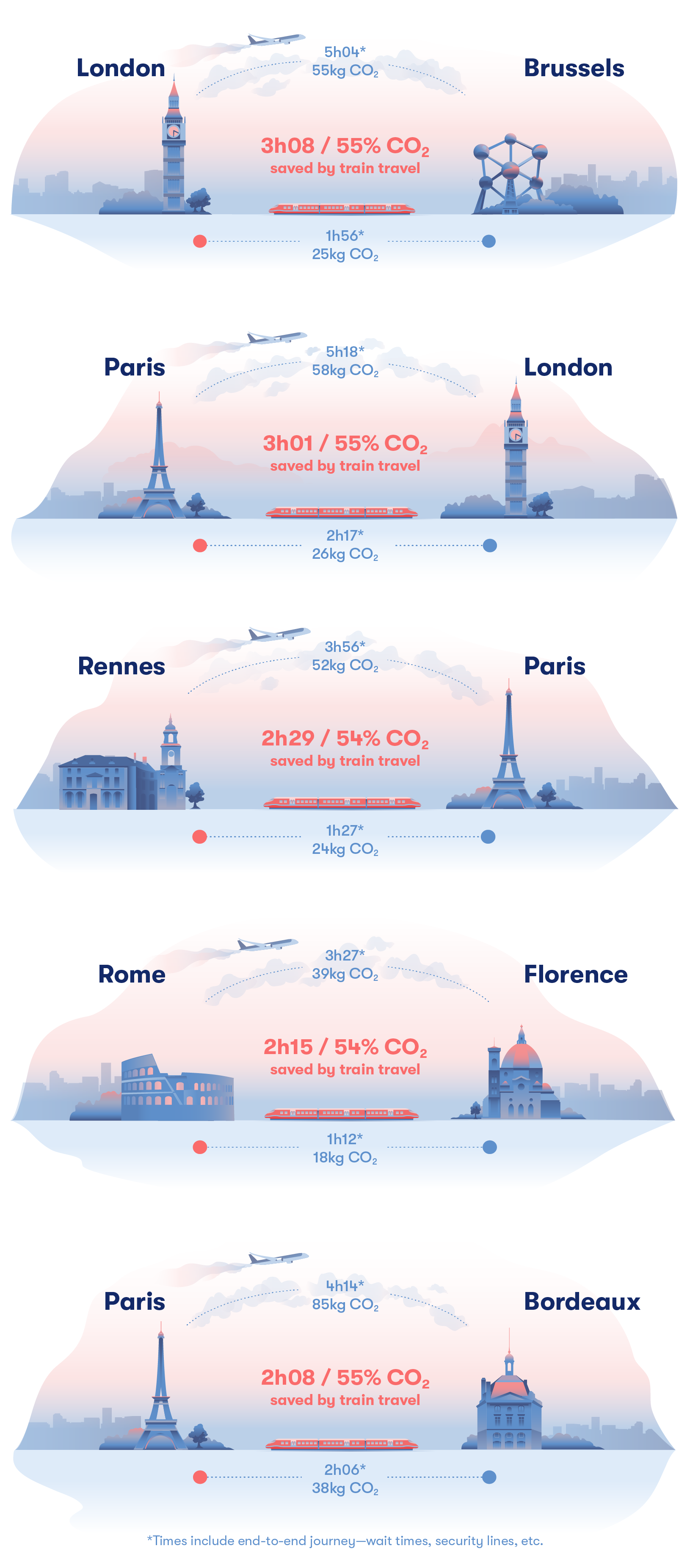 First-class vs second-class train travel in Europe
Most train companies in Europe have two classes, first and second. Second Class is the cheapest option—think coach class in the United States—and offers comfy seats and in some cases, free Wi-Fi. If you want to guarantee a peaceful journey look out for quiet carriages, available in second class at no extra cost.
First Class is the more expensive option but affords guests comfier seats, larger tables, charging outlets, free Wi-Fi, complimentary food and drinks and access to lounges. Many train companies will offer last-minute upgrade deals to 1st class so it's always worth double-checking!
Ready to go? Get there with Omio
Trains in Europe
Trains in Europe are a fast, safe and efficient way of traveling around countries and across the continent. Train travel is one of the most popular choices for locals and visitors alike thanks to trains being clean, modern and fast.
Train companies in Europe vary from country to country with some companies crossing into neighboring countries. Most train companies in Europe are state-owned, meaning there's one main train company providing the routes throughout a country, occasionally with smaller regional companies running some local routes. The biggest exception to this is the UK, where train companies are privatized meaning there are multiple companies serving routes across the country.
Furthermore, all countries have committed to high-speed trains across Europe. Many routes, particularly across borders can be done within a matter of hours. These routes include London to Paris and Amsterdam to Brussels. For longer journeys, night trains can be considered. Although they were once more popular there are still some night trains that run throughout Europe.
Explore several countries in Europe by train
Europe by train can seem overwhelming but, in reality, it is often easier and faster than flying! With train tracks stretching the width and breadth of Europe, getting around by train is an enjoyable way to see the continent. With lots of different ticket options allowing for travel in several countries, getting around by train is as easy as your daily commute. From London to Paris, Berlin to Amsterdam and Prague to Budapest, discovering Europe by train is an unforgettable experience.
| | |
| --- | --- |
| Trains from Rome to Florence | |
| Trains from Madrid to Barcelona | |
| Trains from Barcelona to Madrid | |
| Trains from London to Paris | |
| Trains from Prague to Vienna | |
| Trains from Paris to London | |
| Trains from Rome to Venice | |
| Trains from Florence to Rome | |
| Trains from Paris to Amsterdam | |
| Trains from Milan to Venice | |
Train Companies in Europe
Everything you need to know about European Train Travel
Taking the train is a great alternative to flying in Europe: seats are generally spacious and comfortable, boarding avoids the long waits at airport security, and it lets you view the picturesque landscapes of the regions you travel through - from the snow-tipped Swiss Alps to the rolling green hills of Spain's Basque Country. Additionally, most main train stations in Europe are located in the city center, saving you potentially expensive cab rides to and from the airport.
Train service, speed, and prices vary considerably depending on country; Western Europe tends to operate more modern, high-speed trains, while Eastern European trains can be less frequent but also tend to have far cheaper ticket prices. Train ticket prices can fluctuate considerably, so it's best to book your train tickets as far in advance as possible.
When is the best time to book train tickets in Europe?
With long-distance trains, it's best to book as far in advance as possible. Most companies release tickets 90 days in advance but there are some exceptions;
Eurostar and Deutsche Bahn release tickets 180 days in advance, French international trains (i.e. Paris-Amsterdam) release tickets 120 days in advance and Eastern European countries release tickets just 60 days in advance.
During peak months (i.e. the summer season and Christmas) trains will be busier and more expensive, as cheaper tickets sell out faster so, booking tickets as soon as they're released will help keep costs down.
If you are booking a short-distance or intercity train within Europe, these tickets can be bought on the day of travel as prices fluctuate less.
Traveling by Train in European Countries
Traveling by Train in Europe: FAQS
Trains in the U.S.A
Explore the United States: trains within the US and Canada
Want to see what the United States and Canada have to offer but want to leave the car at home? Then it's time to embrace the train!
Train Companies in the U.S.
Amtrak is America's train company, traveling to more than 500 destinations within the U.S. and across the border to Canada, too. Some of its most popular routes include New York to Toronto, Boston to Washington D.C., Chicago to San Francisco, Seattle to Los Angeles and Chicago to New Orleans.
Company Bio: Amtrak
Amtrak, the United State's state-owned train company, has 21,000 route-miles throughout 46 states, District of Columbia and parts of Canada. Running more than 300 trains a day, Amtrak trains serve 500+ destinations. Providing services coast to coast, Amtrak can get you from New York City to Los Angeles in four days.
Train Companies in Canada
If you're heading to Canada, check out VIA Rail. Travel on "The Great Western Way" and discover Canada from Toronto to Vancouver or take "The Maritime Way" and explore the country's Eastern provinces.
Company Bio: VIA Rail
VIA Rail Canada is an independent, state-owned corporation that operates intercity train services throughout Canada. Running 500 trains a week, the company transports more than 4.7 million passengers yearly. The most popular Via Rail route is the Montréal–Ottawa–Toronto line, which takes a little more than five hours end-to-end. This line transports around 2.5 million people each year.
Traveling the U.S. or Canada by train is an enriching experience like no other. So get on board!
Trains in the U.S FAQ's: