Train to Rome
Awe-inspiring art and architecture. Rich history. Fantastic food. Superior shopping. Rome has it all! When traveling to Rome by train, you have a lot of options. You can find high-speed, direct trains from most major Italian cities to Rome, and Italy's Regional and Intercity trains offer service from the smaller cities and towns. No matter where you begin your trip, trains to Rome arrive in one of the city's three main train stations: Termini, Tiburtina or Ostiense. Located in the heart of the city center, Termini is not only Rome's largest station, but it is also one of the largest railway stations in Europe. When planning your trip to Rome, keep in mind that the fastest journeys by train from Milan to Rome take about 3h 10min; from Venice, about 3.5h; and from Naples, about 1h 10min.
Trenitalia to Rome
Trenitalia, Italy's largest train operator, provides domestic and international train services to Rome on their Regional, InterCity, and high-speed trains. Trenitalia's Regional trains stop at just about every town and city in Italy and generally provide the lowest-cost train service to Rome. Trips on the Regional trains are usually slower than other trains because they stop at most stations along the way. Most Regional trains arrive at Rome's Termini or Tiburtina railway stations. Trenitalia's Intercity trains travel between Rome and Italy's larger towns and cities, such as Naples and Sicily.
The Intercity train routes are usually faster than Regional trains because they make fewer stops along the way, and they are still relatively inexpensive. Intercity trains use all three of Rome's main train stations, Termini, Tiburtina, and Ostiense. The fastest trains in the Trenitalia fleet are the high-speed trains, which travel between most major cities in Italy.
Trenitalia has three types of high-speed train: Frecciarossa, Frecciargento and Frecciabianca. Most of the high-speed service into Rome is provided by the Frecciarossa trains, and most of these trains pull into the Termini railway station, although a few of them arrive at Rome's Tiburtina station. Trenitalia also operates the Leonardo Express, which provides non-stop service between Termini station and Roma Fiumicino airport (FCO).
Italo to Rome
Italo is a privately run train company that offers high-speed train service to over 30 cities in Italy. Italo offers direct service to Rome from many major Italian cities, including Milan, Florence, Venice, and Naples. Italo trains to Rome stop at the Termini station.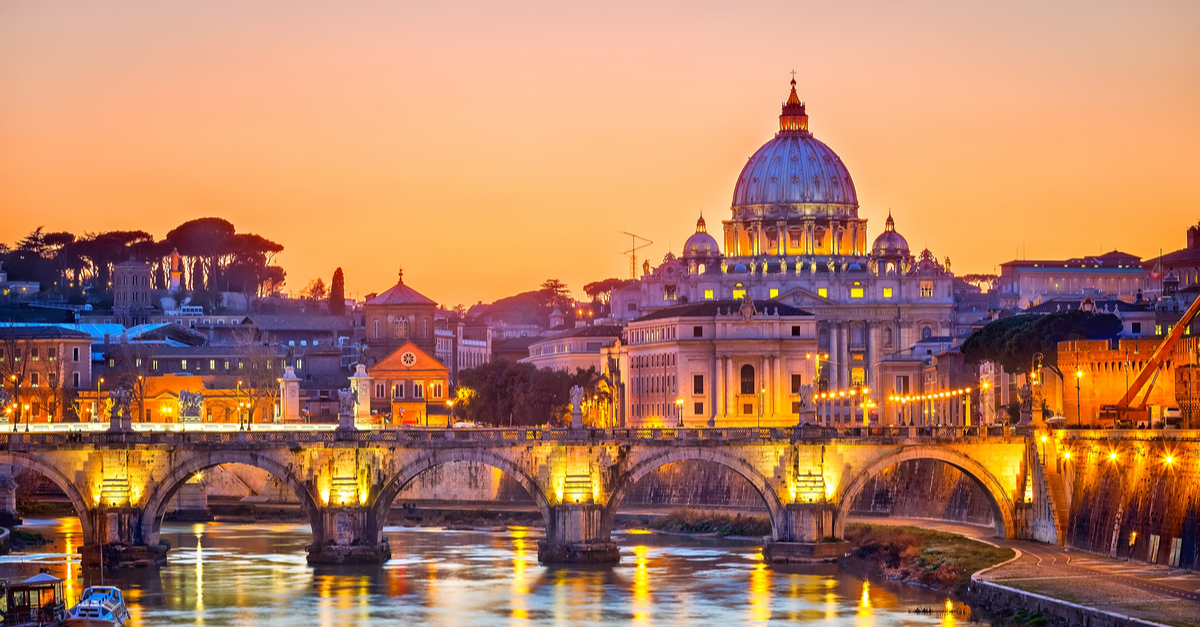 Rome Brifge Lights. : Shutterstock
Main train stations in Rome
Rome has three main train stations: Termini, Tiburtina and Ostiense. Termini station is Italy's largest station, with over 800 trains passing through the station every day. The station not only serves the high-speed, Regional and Intercity trains coming from throughout Italy, it also serves the city's Red and Blue Metro lines in the lower level.
Termini is located in the center of the city, less than 1.5 miles (2.5 km) from the Pantheon, the Trevi Fountain, and the Colosseum. Termini is packed with amenities for travelers, including train ticket offices, luggage storage, VIP lounges, car rental counters, tourist information, and a wide variety of shops, boutiques, and restaurants. Tiburtina is the second-largest railway station in Rome.
It is located at the eastern edge of the city center, about 1.8 miles (2.9 km) east of Termini. Tiburtina has many of the same travelers' amenities as Tiburtina, from train ticket offices and VIP lounges to shops and restaurants, and the Blue Metro line stops at the station. Located in the southwestern section of the city center, Ostiense is the smallest of Rome's major train stations.
In addition to Trenitalia's Intercity trains, the station serves the FR1, FR3, and FR5 lines of Rome's urban railway, and the Piramide Metro station is connected to Ostiense by a pedestrian underpass.
Onboard facilities Rome
Facilities onboard trains to Rome vary depending on the type of train you're riding. All of Italo's and Trenitalia's high-speed trains have air-conditioned cars with restrooms and some level of food and beverage service (on Italo trains, there are vending machines plus catered food service for passengers in the Primo and Club Executive classes; most Trenitalia trains have a bistro car available to all passengers). The trains have comfortable seats with electrical outlets and Wi-Fi.
Intercity trains to Rome are air-conditioned, have restrooms in each car, and have a café car or bistro service on the train, and they offer comfortable seats with power outlets. The Regional trains are the most basic trains, but they do have restrooms and comfortable seats. Regional trains may or not have air-conditioned cars, and food is not available for purchase on the trains (although passengers may bring food with them to eat on the train).
Train tickets to Rome: useful to know
When purchasing your ticket for trains to Rome, buying early not only guarantees to get the seat of your choice, but it also locks in the lowest price for your ticket. You can purchase your ticket as much as six months in advance for most trains. When it's time to travel, you can use either a mobile or printed ticket on Italo trains to Rome; Trenitalia tickets be must be printed in advance or at the station.
You don't need your ID to board most trains in Italy, but it's always good to be ready to show your passport, just in case. Before boarding a Regional train or a Leonardo Express train, you'll need to validate your ticket at one of the validation machines on the platform. Validated tickets are good for up to 4h. Most other tickets are issued for specific dates and times and do not need to be validated. With Omio, you can easily search for your train, purchase your tickets online, and then store your tickets in one account.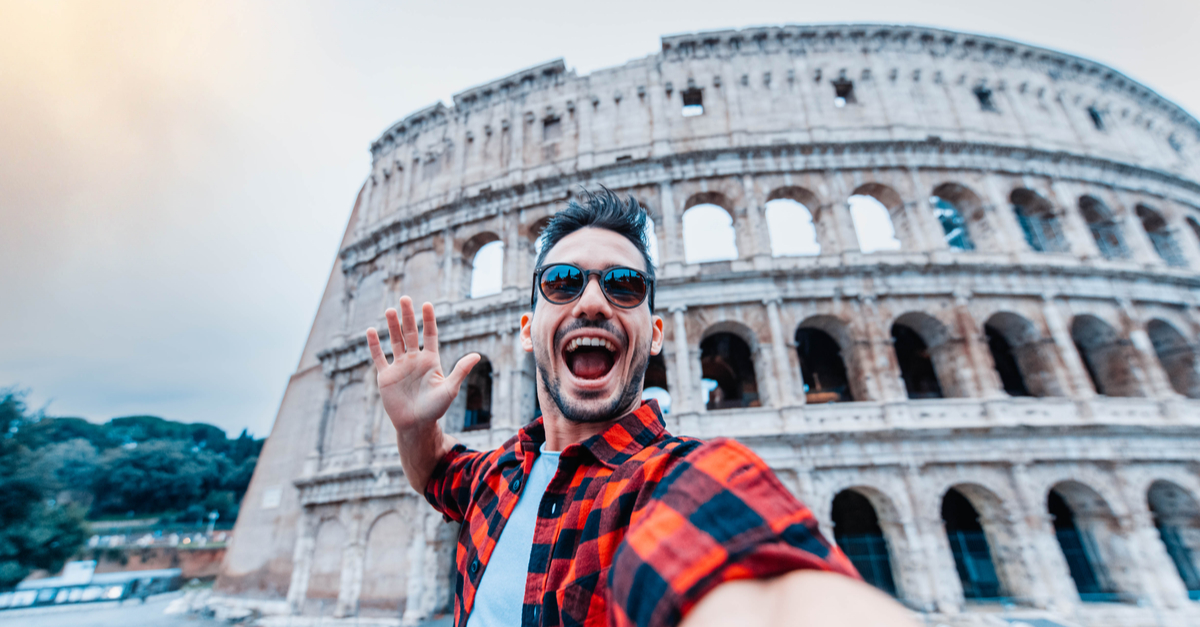 Rome Selfie. : Shutterstock
To Rome by train—travel tips
Many of the tourist destinations in Rome such as the Colosseum, the Spanish steps, and the Roman Forum, are located in the city center. If you spring for a hotel in the city center, it will be easier to visit your room to drop off souvenirs or simply take a break from sightseeing. Be sure to bring comfortable shoes, because you'll probably be doing quite of bit of walking around the city.
Rome's Metro system has three lines that provide limited service to the city center, plus an urban train (Ferrovie Urbane) that augments the Metro service with three additional lines. The city also has six tram lines that provide service outside the city center. Rounding out the public transportation options is the city's extensive bus system, which carries passengers to the parts of the city that aren't served by the Metro, urban railway, and trams.
If you're planning to use public transportation while in the city (or even for day trips out of the city), you can save some money by purchasing a one-, three- or seven-day travel card that provides unlimited trips on the city's buses, trams, Metro, urban trains and Trenitalia's Regional trains.
Rome is a beautiful city that is filled with incredible architecture and monuments, world-renowned works of art, and incredible cuisine. History buffs revel in walking in the steps of the ancient peoples while exploring the Colosseum, Pantheon, and Roman Forum. Aficionados of art and architecture can spend hours admiring the Sistine Chapel, the Baths of Diocletian, and St. Peter's Basilica. And visitors of all stripes will enjoy sampling the fresh pasta and gelato, sipping coffee at a local cafe, and wandering through the palazzos, taking in the local culture while being surrounded by people from all over the world. When you travel by train to Rome, all of this and so much more is at your fingertips!