Trains from London to Stonehenge
Traveling by train to Stonehenge from London is a relatively fast way of traveling. It is also among the most economical; and flexible means of traveling the two locations. Trains from London to Salisbury take about 1h 25min. Stonehenge lies 83 miles (134km) from London. More than 30 trains travel from London to Stonehenge daily.
London to Stonehenge: Daily Departures
There are more than 30 daily trains that depart London headed for Stonehenge. This leaves over a hundred options for travelers to choose from weekly. The earliest train departs London at 8:18 a.m. and arrives Stonehenge and arrives Stonehenge at 10:20 a.m. taking 2h 2min. The last train leaves at 11:05 p.m. and arrives Stonehenge at 1:20 a.m.
How long is the journey by train from London to Stonehenge?
Trains from London to Stonehenge take 1h 25min. The slowest train can take up 2h 30min. This includes a layover period at Salisbury. Omio provides all the schedules available from London to Stonehenge for travelers to get the most convenient hours.
What are the departure and arrival train stations for trains from London to Stonehenge?
Departure train station: The departure station for trains from London to Stonehenge is London Waterloo Station. The station is London's largest train station. It operates daily from 5:30 a.m. to 1:45 a.m. There are over 25 bus lines that stop at the station providing rides to other parts of London, The station features ticket machines operated by South Western Railway. Other facilities include an information point, baby changing facilities, cash machines, several ATMs, telephones, and Wi-Fi for traveler's entertainment. There is a lost property office, photo booths, water fountains, and about 31 food concessions. Drivers can access short-term and long-term parking at the station. The station provides induction loops at all ticket office windows and a lift that links the station to the main concourse. Waterloo station provides mobility assistance vehicles and station staff to provide extra assistance to reduced mobility passengers.
Arrival train station:The arrival train station or trains from London to Stonehenge is the Salisbury Station. It lies on South Western Road. Travelers can get buses from the station to other destinations. Line STB heads to Stonehenge while line 66 provides rides to Salisbury. Alternatively, travelers can catch bus lines PR3 from the station to Wilton or DI to Bath in Salisbury. The Salisbury Railway Station is a two-minute walk from the station and travelers can get trains to other destinations. The facility operates daily from 8:10 a.m. to 8:00 p.m.
Salisbury train station provides several toilets on platform 4 and baby changing facilities at the station. The station provides a seating area, luggage trolleys, public luggage trolleys, and Wi-Fi. The station features several cafes and food concessions. The facility features a Station Car Par with long-term and short-term parking options. Salisbury train station features a train ramp at the station and courtesy wheelchairs for reduced mobility passengers. The station also provides accessible tickets machines, lowered counters, and induction loops. There are accessible restrooms and station staff to assist low mobility passengers.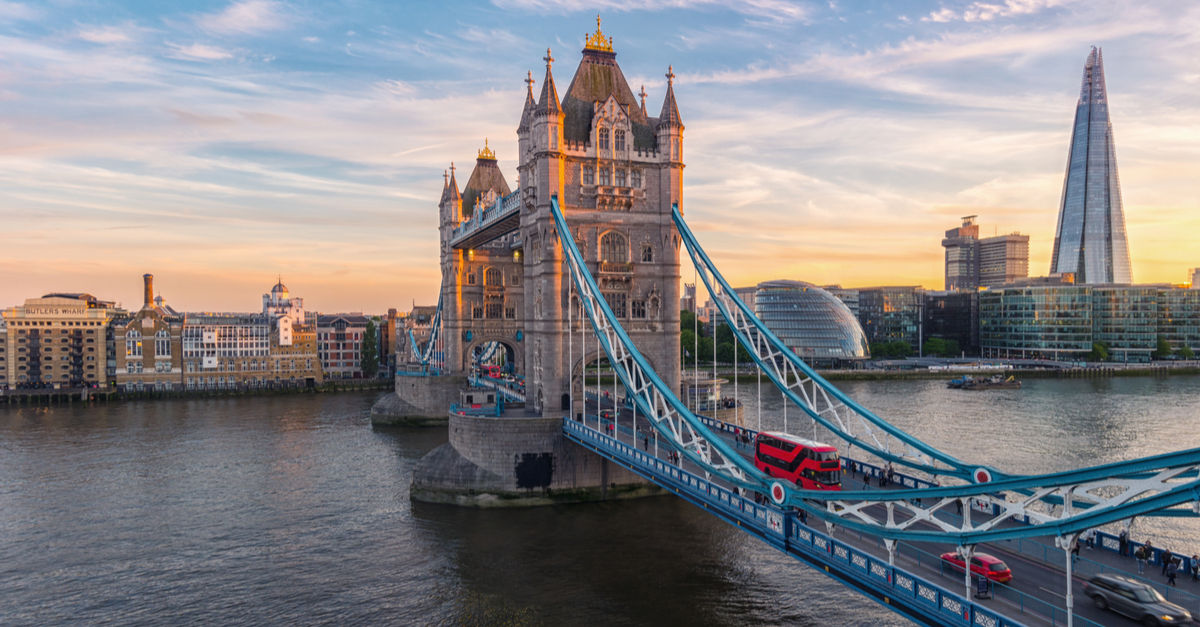 London Bridge Sunset. Source: Shutterstock
Which train companies travel from London to Stonehenge
All trains from London to Stonehenge are operated by South Western Railway. Trains are operated every thirty minutes. They provide trains on this route with a stopover at Salisbury.
Southwestern Railways from London to Stonehenge
South West Railway networks several routes in England including Hampshire Surrey, Wiltshire, London, and Devon. The South Western Main provides train services from London to Stonehenge. These trains operate at a speed of 100mph (160km/h).
Trains from London to Stonehenge: Services on Board
South Western trains provide first-class and standard class types of seating. First-class passengers get wider and comfortable seats with extra legroom. First-class passengers also get large tables and onboard entertainment services. Tables come with wireless charging ports. Other privileges that come with first-class include at-seat snacks and lounge access in select train stations. Trains from London to Stonehenge provide quieter zones for travelers that want to get away from the noise. All trains have free Wi-Fi onboard to keep travelers entertained.
Trains provide badges for nursing parents on board to nurse their babies in privacy and comfort. Travelers can bring small bags and cases on board. However, western railway trains limit luggage to a maximum of three items less than 30 " 70*90 cm. Travelers can bring bicycles on board provided they make reservations earlier. Each passenger can bring a maximum of two pets on board provided they are confined in carriers. Trains provide restrooms, payphones, and luggage storage racks. Trains are wheelchair enabled for easier access by reduced mobility travelers. Train cars have induction loops to assist passengers with hearing problems. Washrooms are wheelchair accessible and the entrances feature low resistance doors for easy passage by reduced mobility travelers.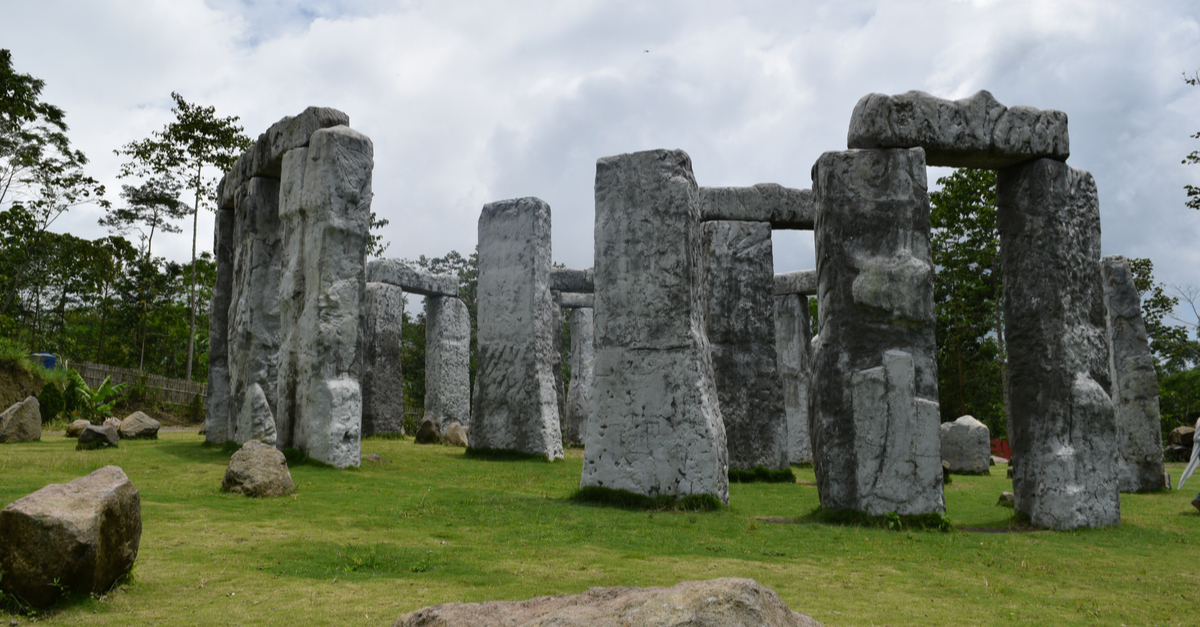 Stonehenge. Source: Shutterstock
How to find cheaper tickets for trains from London to Stonehenge
Travelers that wish to get cheaper train tickets should consider buying tickets in advance. Ticket-selling platforms often let out tickets a few months before their scheduled dates. The earlier you buy the ticket the cheaper it's likely to cost. Also, consider being flexible to get cheaper train tickets from London to Stonehenge. If you have a fixed schedule, there may be cheaper train ticket deals a few days before or after the scheduled date.
However, being flexible with your travel dates can make you land a cheaper train ticket deal. When it comes to cheaper train tickets, always opt for routes with stops. Trains with connecting transfers often have cheaper tickets than direct services. Remember to keep an eye on ticket selling platforms that often have promotions and discounts to land a cheaper train ticket deal.
To Stonehenge by Train- travel tips
Stonehenge is one of the most recognized England's Historic sites. The town stands out in the Salisbury plains and it features plenty of mystery and attractions. Stonehenge provides an ethereal experience for its visits due to the mysteries around it Art lovers can visit the Salisbury Cathedral, one of the most religious sites in England. It features a lovely interior of marble and limestone artworks. It also features a gallery-like triforium, elaborate tombstones, and gothic cloisters.
Soak in some history at Cathedral; Close House which entails well preserved Elizabethan and Georgian houses. It houses the Mompessom House which showcases a rare collection of glassware, a walled garden, and classic furniture. Visitors can join the education programs at the museums or catch a concert performance.
Art lovers will also love a visit to the Arundells which features artifacts from the 13th century and a sizeable art collection. It also provides lush gardens and guided tours of the mansion. Families will love picnics in the Old Sarum which features awesome views of the Wiltshire plains.
Nature lovers can visit the Larmer Tree Gardens which features privately owned gardens, an open-air theater, and bird sightings. Of you are lucky you might catch the Larmer Tree Festival, a three-day event that attracts visitors from all over the world. Cholderton Charlie's Rare Breeds Farm offers rare breeds of livestock animals like goats, pigs, and chickens. It also features a nature trail ideal for hikers. The facility features an onsite restaurant, several water gardens, and an adventure playground for children, and a picnic area Old City Center features many quaint streets that provide great shopping options, delightful architecture, and courtyards. It houses the North Gate which provides great views of River Arin and the cathedral.
Stonehenge also houses fine dining options and cuisine from all parts of the globe. Bakery Café is famous for its breakfast dishes and visitors can enjoy baguettes, cupcakes, muffins, and scenes. The Bridge Inn lies beside River Avon and it offers scenic views of the Salisbury countryside. The hotel provides a wide selection of homemade British meals with creative choices. Siam Smile Thai Kitchen is famous for its Gal Tang Chicken, grilled marinated chicken with garlic and herbs served with sweet chili dip sauce. Agora provides excellent Mediterranean cuisine with big portions of baba ganoush, hummus, and pita.