Train to Brighton
Brighton, which happens to be the resort city of the United Kingdom, is readily accessible via affordable yet comfortable trains. After finishing your train ride to Brighton, you will arrive at Brighton Railway Station. The station is the sole train terminal serving the city, and it operates approximately 1.3 miles (2 km) from downtown Brighton. The terminal accepts trains from a variety of cities, including London, Manchester, and Birmingham.
However, it is also possible to depart from European cities at a relatively long distance from Brighton, such as Milan and Paris. During your trip, you can either travel direct or welcome some stopovers. Usually, the non-direct train rides accommodate only one stop. The travel duration varies from 1h 5min to 4h depending on departure city.
Thameslink to Brighton
You might be traveling via a Thameslink train to Brighton when departing from cities like London. Thameslink started offering rail transport services in 1988 and went through re-structuring later to accommodate more travelers. The railroad company offers both nonstop and indirect trains for passengers wishing to travel by train to Brighton. Typically, Thameslink finds departure points in London Bridge and Leicester Railway Station.
Sometimes, you may find Thameslink exiting London St. Pancras Train Station. Such a situation arises if you are traveling from cities relatively far from Brighton, such as Paris, and your train allows a transfer in London. The usual arrival train terminal for Thameslink is Brighton Railway Station.
Southern to Brighton
Southern is another train company that serves passengers wishing to travel to Brighton from various cities in the United Kingdom. Since its commencement of operation in 2001, Southern continues to link various cities like London, Southampton, and Seaford to Brighton. Consequently, the usual departure terminals for Southern trains include London Bridge, Southampton Central, and Seaford Railway Station. When servicing the various routes to Brighton, Sothern provides trips free from transfers. After completing their rides, trains by Southern stop at Brighton Railway Station.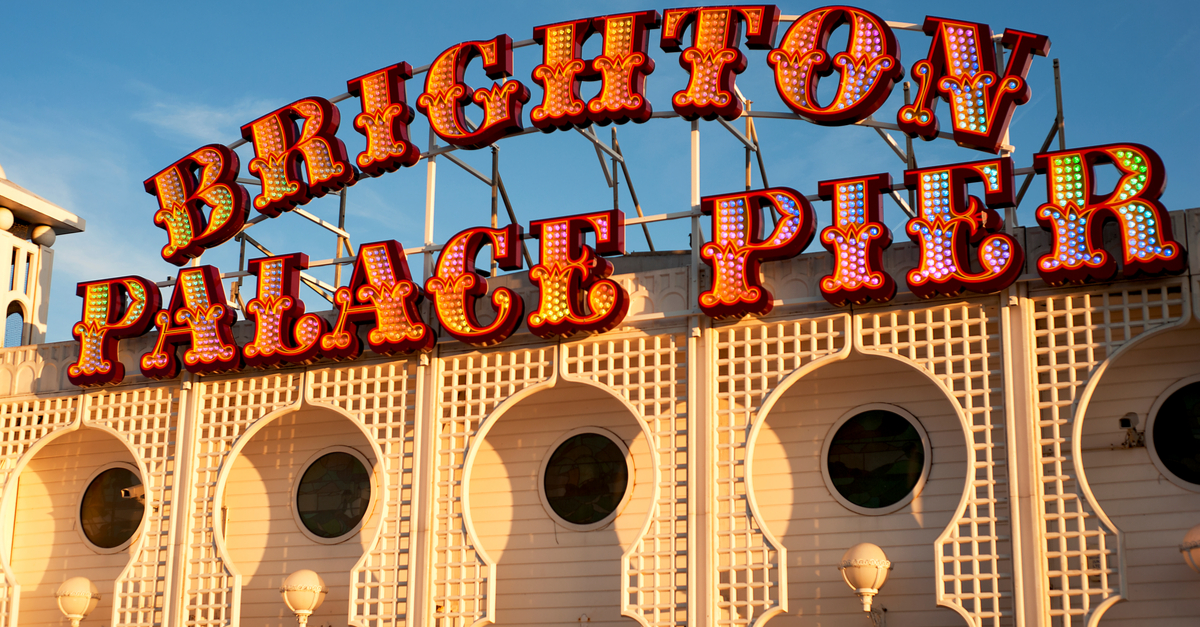 Brightson Palace. Source: Shutterstock
Main Train Stations in Brighton
Brighton city has one train terminal called Brighton Railway Station. The station receives medium and high-speed trains as well any long-distance train to Brighton. There is nearly 1.3 miles (2 km) worth of road distance that separates it from Brighton city center. After you get to Brighton by train, you can catch a cab from the terminal to central Brighton and arrive in roughly 6min. However, buses are an even affordable transfer option. You can board the Brighton & Hove buses and get to the city center in approximately 11min.
If you are spending some time at Brighton Railway Station, you can enjoy the various amenities available onsite. For example, there is free Wi-Fi, parking space, and first-class lounges accessible in the station. Additional services for travelers include a front desk, ticket office, and luggage storage facility.
Onboard facilities Brighton
By traveling aboard the Thameslink trains during your trip to Brighton, you can be sure to enjoy a variety of comfort-adding services. Most trains by the company offer Wi-Fi free of charge. To confirm that your ride will feature internet access, you can look for a Wi-Fi logo plastered on the train door. Inside the train, you are free to bring electronic devices, such as a phone, with you. There are power outlets available for charging too.
However, you must locate them in the rear first class. In most trains, you will find clean toilets. If you have some baggage with you, Thameslink will not restrict loading it on the train and taking it to Brighton. However, all passengers should comply with the laid regulation of bringing up to two suitcases. Additionally, such luggage must weigh less than 50 pounds (23 kg). But even with the maximum allowed baggage pieces, you can still bring your bicycle.
Ensure that the bicycle is fully foldable and features relatively small wheels. As for pet lovers, Thameslink allows guide dogs and pets of the same class on the train. If you require help when traveling due to a disability, Thameslink has a team to provide aid. You may receive assisted travel even without giving notice beforehand. Traveling via the Southern trains also avails you of a list of commendable services. You can bring your phone or laptop to the train and browse using the free Wi-Fi available onboard.
If aboard the First Class, you will access sockets where you can recharge the drained batteries of your laptop, tablet, or phone. You will find that the seat you take will allow adequate legroom during the reasonably short trip on the train. As for travelers with luggage, Southern lets you bring some baggage on the train. However, the company advises that you ensure your luggage doesn't block aisles in the train or disrupt the comfort of fellow passengers. Your bike will also find some space on the train.
However, Southern only allows foldable bikes. While you can have your pet next to you during your train ride to Brighton, there are some flexible restrictions. The trains allow two pets per passenger. For safety purposes, you need to keep your pet in a carriage at all times. If you have a disability that makes it difficult to access the train, Southern will help you navigate to and inside the train. You can also get help when loading or off-loading baggage on and off the train. However, you need to give the staff a heads up one day in advance.
Train tickets to Brighton: Useful to know
When buying tickets for a train to Brighton, you can keep off heavy travel expenditure by making a purchase in advance. For example, you might find tickets available a few weeks before you depart. Be sure to check the ticket cancelation and modification policies from your provider. Most companies that provide the trains to Brighton offer their passengers e-tickets. You may possibly print your ticket, but mobile tickets can suffice when traveling.
As the ticket may not have your name on it, it's not always necessary to show your ID alongside your tickets. Sometimes, it isn't easy to keep track of all your tickets, including cancelations. Thus, it is crucial to have a single store of all tickets. On Omio, buying train tickets to Brighton is fast and easy, and it's possible to store all your tickets in your Omio account.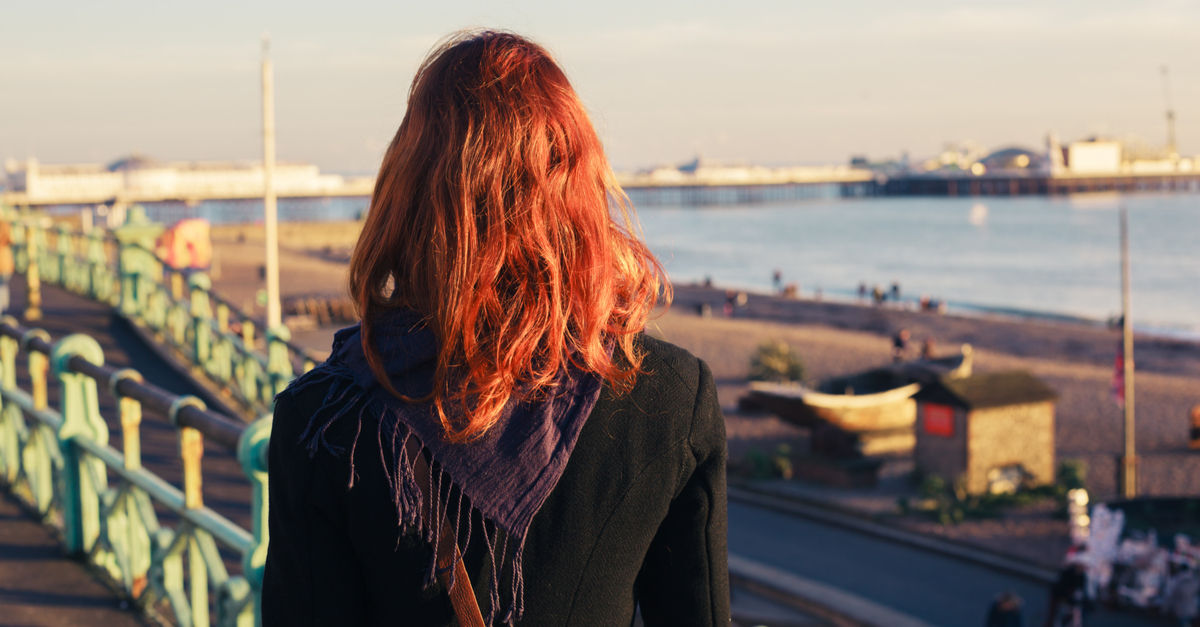 Brightson Shore. Source: Shutterstock
To Brighton by train – travel tips
While the "resort city" status might be the reason you want to travel to Brighton, the beaches are the must-see attractions. In the shorts and t-shirts weather, you can enjoy a swim or a simple bask in the sun. On the sandy beaches, you will enjoy the sunset on the renowned Brighton Pier. When navigating to the beach, public transport can be helpful.
You can board the affordable Brighton & Hove buses that can get you around the city and even to the train station. With a flexible budget, traveling via the city's white cabs is ideal. To board a taxi, you can wave one off the street. Alternatively, Cycle Brighton can rent you a bicycle at a pocket-friendly price and help you tour the city if you have some love for riding.
A heritage-rich, food-oriented marine city is the phase that describes Brighton. To see what makes the city special, start with a visit to The Royal Pavilion. Together with the enchanting Pavilion Gardens around it, the ancient structure will give you a history of the city. Next, at SeaLife Centre, you will enjoy watching a rich aquatic life while observing the corals in the world's oldest aquarium.
There are some glass-floor boats to help you explore the aquarium even better. Before declaring your tour complete, spend some time at Brighton Marina, where numerous restaurants provide you with local dishes and drinks.