Trains in Austria: an Overview
General information about Austrian Trains
Despite its very mountainous geography, Austria has a highly developed rail network due to its central location in Europe. Trains in Austria are operated by OBB and Westbahn. Traveling by high-speed train lines or small regional routes in Austria provides the opportunity to discover wonderful alpine landscapes and beautiful scenery. The Austrian rail network services numerous routes, covering both local and international destinations.

ÖBB (Österreichische Bundesbahnen): ÖBB is Austria's state owned train company and was formed in 1947. Austrian trains are known for being clean, frequent and very punctual, with about 96% trains running on time. ÖBB is one of Austria's greenest companies, and transport around 1.3 million passengers a day.
Trains to Austria
Austria has a well-developed railway system that trains a popular means of transportation in the region. The country operates most railway services through the Osterreichische Bundes Bahn (OBB), the national railway organization. It offers several regional rides featuring regular operations with multiple stops and other high-speed options between major cities.
Moreover, you can conveniently go to Austria by train using the different international and efficient models, including the Czech RegioJet, German-ran RailJet Express (RJX) and EuroCity Express (ECE), and OBB-owned Regional Express (REX) services. The mountainous Austrian landscape offers beautiful sceneries to enjoy during a train ride along several routes such as the Semmering railway, providing access to lovely and historical cities.
Booking your train ticket with Omio for Austria
Booking a train ticket to Austria using Omio enhances your convenience since it requires a few simple steps. You begin by entering your travel details on the site, including your intended travel date, departure station, and arrival venue. After processing the information, you get back an information page displaying the train schedules and prices. You can comfortably choose your preferred voyage and include a discount card for your trip. Furthermore, you can conveniently accommodate your itinerary by selecting between high-speed trains and the slower options with multiple stops.
Train companies in Austria
Austria's primary train service provider is the national rail company, the Osterreichische Bundes Bahn (OBB). It features four models that operate within the region, classified as REX, S-Bahn, and InterCity (IC). REX rides provide access from Vienna to the neighboring cities, whereas S-Bahn links suburban areas within major towns.
IC enables you to voyage by train to Austria's significant regions like Vienna, Graz, and Salzburg. OBB also has three high-speed types, the EuroCity (EC), RailJet (RJ) and WESTBahn, running between major Austrian cities. Besides these, you can find international trains to Austria like RailJet, RegioJet, EuroCity, and InterCity Express, with nighttime options via the D-train, OBB NIghtJet, EuroNight Kalman Imre and EuroNight Metropol services.
Popular international routes by train
Trains to Austria feature multiple high-speed models that enable you to ride along popular international routes to surrounding cities. EuroCity services operate from Innsbruck to Munich (Germany) and other Italian towns like Milan and Venice. You can also utilize this provider to reach Poland, Slovenia, Hungary, and Croatia.
InterCity Express trains mainly connect you to several German cities, while the Czech RegioJet links Vienna with Prague and Brno in the Czech Republic. The RailJet Express (RJX) enables you to travel to Austria by train from Zurich (Switzerland), Budapest (Hungary), Prague (Czech Republic) and Munich (Germany). Notably, you can enjoy nighttime travels onboard the OBB Nightjet (NJ and EN) that goes to France and Italy and the D-train that runs to Serbia and Poland. EuroNight Kaman Imre and EuroNight Metropol allow you to journey overnight to Budapest (Hungary) and Prague (Czech Republic), respectively.
When arriving by train in Austria
Austrians have earlier meal times, with lunch starting from around noon and dinner between about 7 p.m. and 8 p.m. They usually also have light breakfasts and dinners with a heavy lunch, snacking between eating times. Traveling to Austria via train is comfortable since the country's currency is the Euro, with foreign exchanges readily available in different cities.
Train Provider in Austria
OBB has several trains to Austrian regions like the S-Bahn and REX services, with the former operating within major towns and the latter linking Vienna with nearby cities like Salzburg. You can also find InterCity (IC) trains that connect larger cities through popular routes like Innsbruck to Salzburg. Notably, you can obtain an Interrail Pass and travel at no cost onboard the S-Bahn in Vienna, Innsbruck, and Salzburg.
Austria also has domestic high-speed trains like EuroCity (EC) that operate between multiple cities like Innsbruck to Kufstein. WESTBahn is a fast-paced model linking the Vienna area to Salzburg, while the Railjet (RJ) enables you to move from the capital to other larger Austrian towns like Graz and Innsbruck.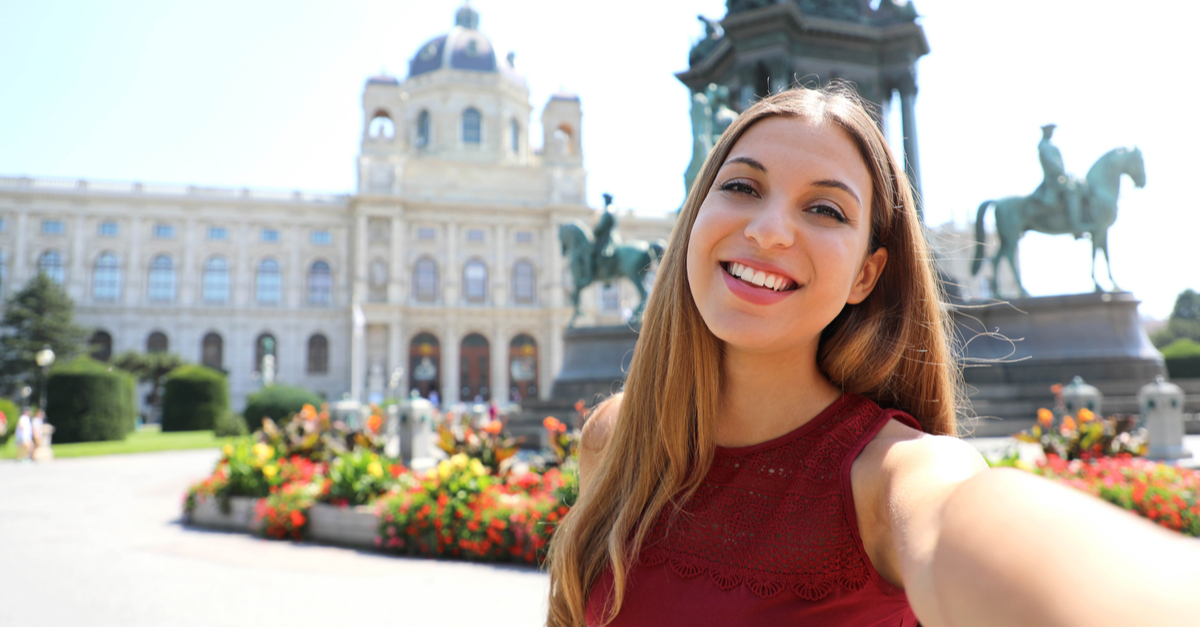 Austria Selfie. Source: Shutterstock
Main train stations in Austria
Vienna Central Station at Am Hauptbahnhof 1, 1100 Wien is accessible from the town center by train, bus, subway, tram and taxi. You can find Salzburg Hbf at 5020 Salzburg via taxi or bus from the central city. Innsbruck Hbf sits at 6020 Innsbruck, and you can reach it using the Line 3 tram. A taxi or Line 1 bus enables you to move from central Graz to the Graz Hbf at 8020 Graz. Villach Hbf is on 9500 Villach, and you can get to it by boarding the Line 5194 bus from central town.
Popular journey in Austria
Innsbruck to Salzburg is among the most frequently traveled route in Austria by train. You can get a seat beginning from around $32, with the voyage lasting from approximately 1h 45min to 4h 1min. Another busy route is Vienna to Salzburg that takes between around 2h 22min and 4h 40min, with prices starting from about $44.
You can go from Graz to Klagenfurt to visit some Klagenfurt attractions during a trip with durations from around 3h 7min to 4h 13min and fare beginning from approximately $39 per seat. Vienna to Innsbruck allows you to explore the areas outside the capital during a trip lasting between about 4h 14min and 8h 35min, with rates commencing at around $32. Salzburg to Villach charges from approximately $13 and takes anywhere from around 2h 17min to 4h 11min to complete its course.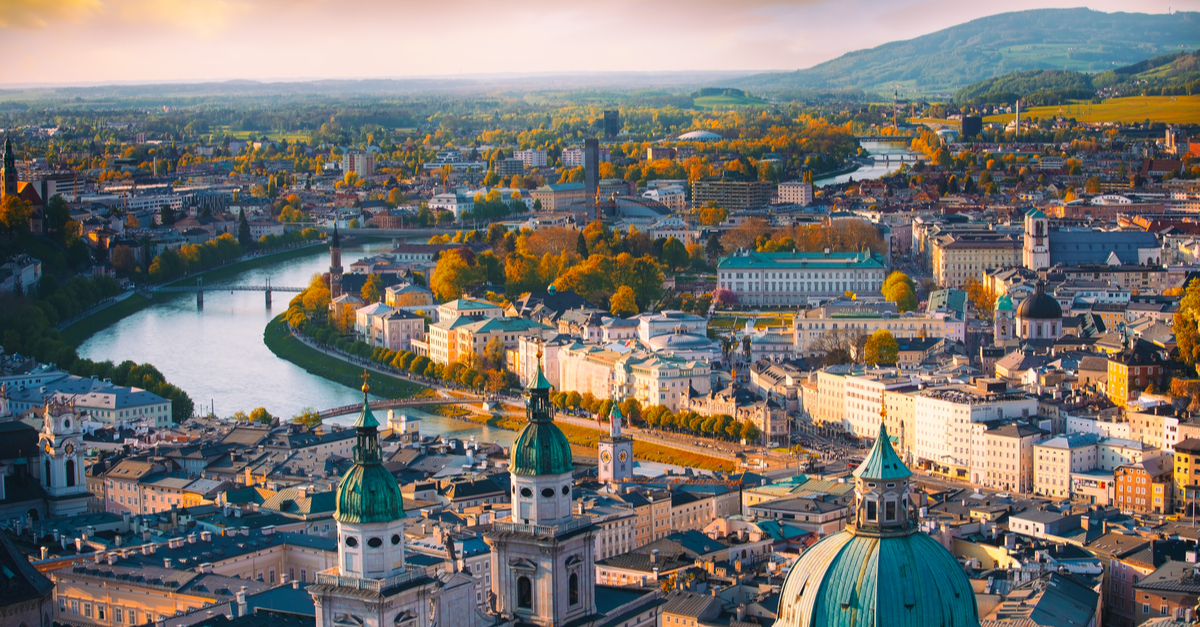 Austria Vienna. Source: Shutterstock
Popular train routes from Austria
A popular course from Austria by train is the Innsbruck to Munich course, taking a maximum of around 6h 29min with prices starting from approximately $29 per seat. Vienna to Zurich lasts from about 8h 27min to 15h 18min, charging from around $49. You can also travel from Vienna to Budapest between approximately 2h 37min and 8h 46min and prices from around $12. Another common route is the Salzburg to Prague trip, which costs about $32, lasting around 6h 18min to 11h 23min. The voyage from Vienna to Munich takes anywhere from approximately 4h to 9h 16min and charges from about $35 per passenger.
Good to Know
Although trains to Austria on the S-Bahn are free when traveling with an Interrail Pass around Innsbruck, Vienna, and Salzburg, Salzburg excludes S1 and S11 from this regulation.
Additionally, reservations for InterCity rides are optional, but it is generally advisable to obtain them when journeying during public holidays and the peak season, typically from May to September. When dining with locals, it is polite to say "Mahlzeit" or "Guten Appetit" before eating to wish one another a good mealtime.
Booking train tickets in Austria is easy with Omio. Just simply put the route and date you're looking for, then our search will find all the available options. Meaning all you need to do is find the one that suits you best!
Omio also offer by smaller companies too meaning you can see all the options available in one place.
To Austria by train – travel tips
You can enjoy a trip to Austria by train and visit the Salzburg Altstadt and its cemetery and catacombs in the city that used to be a spiritual center since the earliest Christianity days in Europe. This tour allows you to see the historical Benedictine Abbey of St. Peter, founded in AD 690 by St. Rupert, serving as the Archbishops' residence until the early 1100s.
You can visit the Schonbrunn Palace in Vienna and look through 40 rooms accessible to the public while appreciating the quality architecture with ornate ceiling paintings. The Innsbruck's Hofburg and Hofkirche enable you to see Emperor Maximilian I's palace and royal apartments. You can also view the emperor's tomb that features the ruler's bronze figure, and many consider it the German Reinassance sculpture's finest work.
If you prefer an active itinerary, you can go to the Kitzbuhel and Kitzbuheler Horn to ski and hike in one of the most sought-after attractions. Austria is also home to numerous quality eating venues such as the stylish Skopik and Lohn restaurant in the capital that offers contemporary and traditional menus. The TIAN is a restaurant in Vienna that provides exclusively vegetarian dishes, incorporating Michelin-worthy culinary art into the presentation.
For more information on traveling with children, luggage allowances and refunding tickets please visit our OBB page.
More Information about Trains in Europe