Bus from Washington to New York
Buses from Washington to New York provide about 20 to 27 daily rides on weekdays and around 34 Sunday services. These operations ensure that you can conveniently get a bus per hour, including on weekends. The buses take between approximately 4h and 8h to complete the 228.3 miles (367.4 km) journey between Washington and New York.
Washington to New York Bus Time: Daily Departures
Washington to New York buses provide around 20 to 27 daily operations on weekdays, allowing you to find a ride every hour. You can board the first daily bus to New York from Washington at around 1:45 a.m. and find the last ride at around 8:30 p.m. each day. If you prefer longer and more relaxing voyages, you can board the buses leaving at around 5:20 a.m. and 1:00 p.m. This route maintains a similar schedule on weekends, making it more comfortable for planned and sudden trips between the two towns.
How long is the journey by bus from Washington to New York?
The buses from Washington to New York, on average, take between around 4h and 6h 20min to complete their trips. Most services run non-stop between these two areas, with only one daily departure requiring a change. This voyage incorporates a change in Baltimore before reaching Port Authority Bus Station, lasting about 5h 30min. You can get some high-speed options with shorter durations ranging from about 4h to 4h 30min.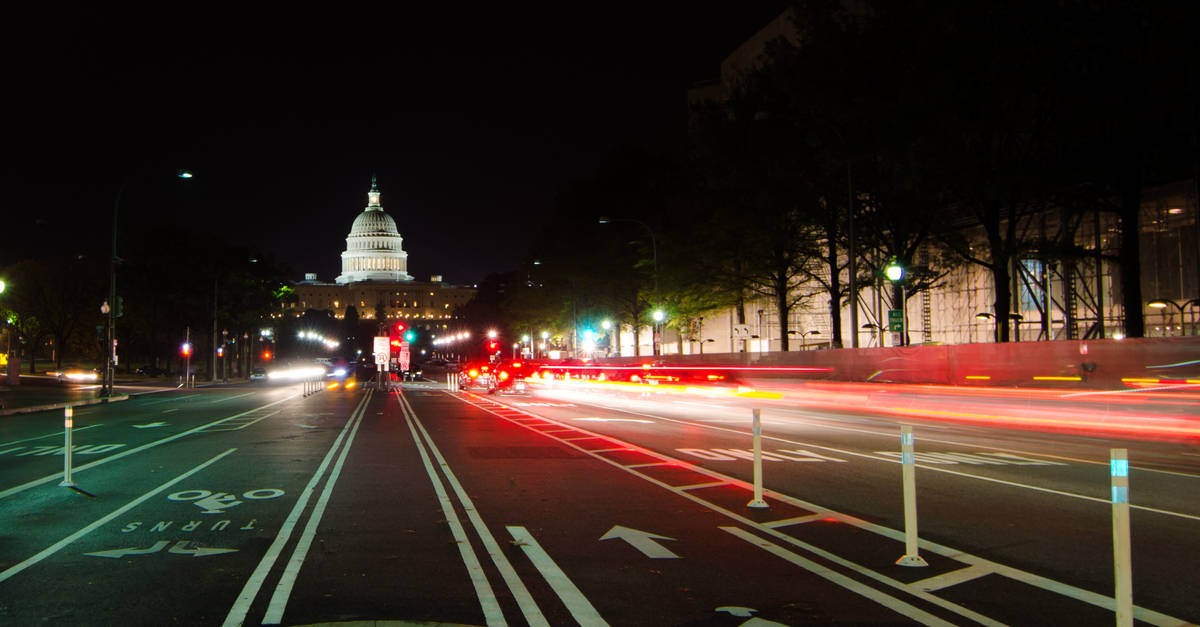 Washington Night Light. Source: Shutterstock
What are the departure and arrival stations for the bus from Washington to New York?
Departure bus station: You can leave for New York from Washington at Columbus Circle, Waverley Street, Union Station Bus Terminal, or Bus Collection Point I/B Stations. Columbus Circle is the primary departure station for most buses, and you can reach it in around 14min by bus or train. You can conveniently access restrooms, parking garage, shopping mall, and restaurants around this station.
Arrival bus station: Buses to New York can arrive at 7th Avenue/W 30th Street, 9 Avenue & West 34 Street, or Port Authority Bus Station. Port Authority Bus Station is the most popular arrival point, and you can access the city center from this venue in approximately 16min using a train or shuttle. You can get parking lots, charging stations, and a free Wi-Fi network at this station for added convenience.
Which bus companies travel from Washington to New York?
Peter Pan, Greyhound, OurBus, and Vamoose run the buses from Washington to New York. Peter Pan has at least six rides per day, while Greyhound delivers about eight services each day. Vamoose and OurBus run two to three times per day on weekdays, with the services increasing on weekends. These two companies also provide some of the most efficient rides with shorter travel times. All companies operate this course non-stop, ensuring you can comfortably travel to New York without hectic transfers.
Greyhound buses from Washington to New York
Greyhound presents most services each day, with the first ride starting at around 1:45 a.m. and the last bus setting off at about 7:30 p.m. The company has various durations throughout the day, taking anywhere from approximately 4h 20min to 5h 50min. You can also enjoy slower voyages via Greyhound buses that last between about 6h 20min and 8h.
Peter Pan buses from Washington to New York
Peter Pan begins operations at approximately 7:00 a.m. and has its final daily ride setting off at about 8:30 p.m. This provider's buses feature varying durations that range from about 4h 20min to 4h 35min, delivering some of the quickest durations on this route.
OurBus buses from Washington to New York
OurBus provides three buses every day, with the departures at approximately 8:30 a.m., 9:45 a.m., and around 5:45 p.m. The company offers direct services between the two cities, with the earliest bust taking around 4h 30min and the remaining two lasting about 4h. This duration generally makes it the fastest provider among the buses operating to New York from Washington. Besides, OurBus increases its services on weekends, offering up to 10 buses on Sundays for extra convenience and efficiency.
Vamoose buses from Washington to New York
Vamoose runs non-stop from Washington to New York, providing about six services each day. You can find two departures at around 9:30 a.m. and 10:10 a.m., with the remaining four departing in the afternoon between about 2:30 p.m. and 5:50 p.m. These buses take between approximately 4h 30min and 5h 10min. Notably, Vamoose offers around four rides on Saturdays from about 6:50 a.m. to 8:30 a.m. without afternoon services.
Washington Reflections. Source: Shutterstock
Bus Washington to New York: Services on Board
Greyhound provides economy and standard classes. You can take a carry-on bag on board the coach and place up to three extra baggage pieces in the compartment beneath the bus. In addition, you can travel with a bicycle by packing it in a compact box as oversize luggage. You also cannot journey with pets, with the company permitting travel only with service animals. Disabled travelers can travel comfortably since most Greyhound coaches have wheelchair-lifting equipment. Peter Pan has standard services and luggage policy that permits you to bring one 50-pound (22 kg) bag in the cargo hold and one extra 25-pound (11 kg) carry-on bag. You can also take a small cat or dog on board the bus by keeping the pet in a compact carrier. Aside from these, you can put a bike in a container to fit the available storage area under the bus. Peter Pan has designated staff to assist disabled travelers, with the company requiring you to contact them in advance for maximum comfort. OurBus comes with standard class coaches and allows you to take one checked bag in the baggage bay and one carry-on item. The company also permits you to store your bicycle in this storage area if it fits within the provided dimensions. You can only bring a legitimate service animal in a harness on OurBus rides. Moreover, travelers with disabilities can get in touch with personnel to organize for special assistance. Vamoose offers a standard class on most buses and allows passengers to take one small carry-on bag on board. You can also stow two additional baggage pieces in the luggage bay, including a disassembled and folded bicycle. However, the company prohibits travel with pets and only permits service animals on its coaches. Vamoose buses also have wheelchair lifts to enhance disabled passengers' convenience.
How to find cheap bus tickets from Washington to New York?
Booking your ticket in advance ensures you can obtain cheaper rates for buses from Washington to New York. You can also select later departures with pocket-friendly prices by being flexible with the travel dates. Besides these, you can find cheaper tickets for this journey by choosing slower trips that offer lower rates than the faster options do.
To New York by bus – travel tips
Shoppers can tour around Fifth Avenue, one of New York's top shopping centers with brand names. You can also conveniently access nearby attractions from this street, such as Central Park and the New York Public Library, for exciting sightseeing and shopping experience. One World Observatory is a deck on top of the One World Trade Center building, enabling you to enjoy sweeping views of the city. Art lovers can go to The Frick Collection to look at different art pieces from famous creators, including porcelain, paintings, and furniture. You can also visit St. Patrick's Cathedral to see stunning Gothic Revival architecture constructed in 1879.