Bus from NYC to Washington
Catching the bus from New York to Washington DC offers travelers a cheap mode of transport between the two cities. The route from New York to Washington DC is one of the most popular in America with hundreds making the trip daily. The distance between the two cities is 227 miles (approximately 365 km). This distance is covered in an average travel time of four hours and 30 minutes.
Buses from NYC to Washington offer several daily rides, ranging from about 18 to 30 services, providing reliable access throughout the week, including weekends and national holidays.
The operations enable you to get at least one bus leaving every hour, ensuring you can comfortably travel at any time between the two cities. This journey lasts anywhere from about 4h 20min to 11h 5min, giving you a convenient time to enjoy the scenery along the way.
How long is the journey by bus from NYC to Washington?
On average, a bus from NYC to Washington can take between approximately 4h 20min to 11h 5min to complete its course. Notably, the first daily bus that runs from Saturday to Wednesday and leaves at around 0:05 a.m. has a transfer in Philadelphia. Besides this service, the other rides do not feature any transfers throughout the day, enhancing comfort and convenience for experienced and first-time travelers.
How many buses are there from NYC to Washington?
You can find at least 18 buses operating per day on this route on weekdays and Saturdays, with the number changing to about 30 on Sundays and 24 on national holidays. These operations deliver an average weekly frequency of approximately 120 rides.
Generally, the first NYC to Washington bus leaves every day at around 0:05 a.m., with the last ride departing at about 8:45 p.m. However, the morning schedule changes on public holidays, Thursdays and Fridays, when the first service leaves at around 2:45 a.m.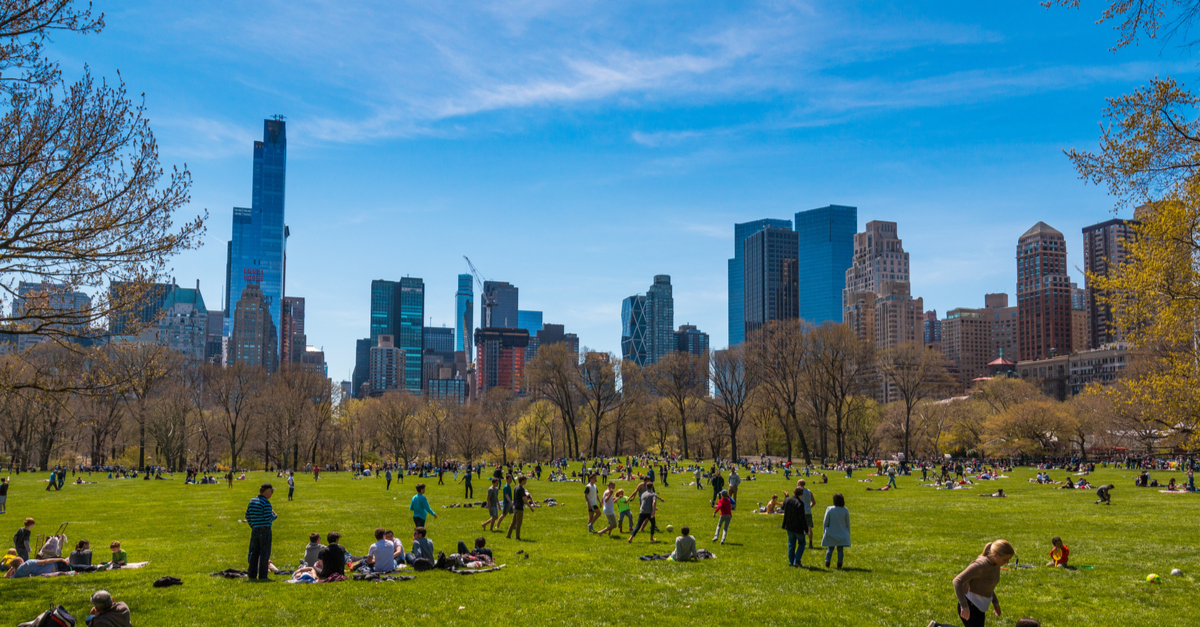 New York Central Park. Source: Shutterstock
What are the departure and arrival stations for buses from NYC to Washington?
Departure bus station: You can leave from NYC to Washington via bus from the Port Authority Bus Station or 7th Avenue/W 30th Street. A bus, subway, and taxi enable you to access the former station in around 10min, whereas you can get to the latter venue via taxi or subway in approximately 12min. You can get free Wi-Fi, power outlets, and parking at NYC's main departure point, the Port Authority Bus Station.
Arrival bus station: Your bus can arrive at four locations, including the Union Station at Columbus Circle, Stadium-Armory Station & Bus Bay F, Bus Collection Point I/B in Arlington, and Waverly Street/Montgomery Avenue in Bethesda. You can get to the town's center from these stations by shuttle, subway, or taxi, with durations ranging from about 11min to 45min. The main station used is the Union Station, where you can find an ATM, elevator, vending machines, payphones, and restrooms.
Which bus companies travel from NYC to Washington?
You can find a bus from NYC to Washington from four major providers; Greyhound, Vamoose, Peter Pan, and OurBus. Greyhound has around 10 buses per day and delivers high-speed operations and slower options, taking anywhere between 4h 20min to 11h 5min. Out of these daily rides, you only require a transfer in the service that leaves at about 0:05 a.m.
Peter Pan offers some of the shortest durations along this route, ranging from around 4h 20min to 4h 35min. The company does not have any transfers along this course. Vamoose delivers the second-fastest traveling time of approximately 4h 30min, providing a direct voyage with the final stops in Arlington, Virginia or Bethesda in Maryland. OurBus operates non-stop three days per week, running on Fridays at 1:00 p.m. and 3:00 p.m. and Saturdays at 3:00 p.m. It runs between the two cities at 11:00 a.m., 3:00 p.m., and 6:00 p.m. on Sundays, with the morning ride being the day's fastest course.
GoBus New York to Washington DC
GoBus buses from New York to Washington DC are the busiest carriers on the route. These buses offer more weekly schedules than any other company operating between the two cities. GoBus operates trips between the two cities are express connections while others are long-distance trips with a maximum of two stopovers along the way. Those with stopovers have no changes thus passengers travel on the same bus throughout the journey.
To Washington by bus – travel tips
You can tour around the National Mall and Veterans Memorials, where you can see the Washington Monument and memorials to veterans of Vietnam, the Korean War, and World War II. The Vietnam Veterans Memorial is one of Washington's most popular tourist sites, showing names of service members who are missing or died. You can enjoy fireworks displays around the monument during the Independence Day celebrations, depending on your itinerary.
Food lovers can enjoy various delicacies in Washington, such as classic Spanish menus in Spanish villa-like settings at the Del Mar restaurant. Masseria is another quality venue with a Michelin star offering Italian dishes. If you are traveling with family, you can have a fun experience at the various theme parks in Washington and nearby towns such as Kalorama and Hersheypark.
Greyhound NYC to Washington
Greyhound is the main company servicing this journey with about 10 rides per day. It has some of the route's longer durations, reaching between around 7h 50min and 11h 5min.
This provider includes one stop in Philadelphia during the voyage that begins at 0:05 a.m., operating from Saturday through Wednesday of the succeeding week. You can enjoy non-stop rides during the other nine journeys available throughout the remainder of the day.
Peter Pan NYC to Washington
Peter Pan operates direct and high-speed NYC to Washington buses, providing about five to eight services each day. You can complete your voyage anywhere from about 4h 20min and 4h 30min, creating some of the fastest durations along this route.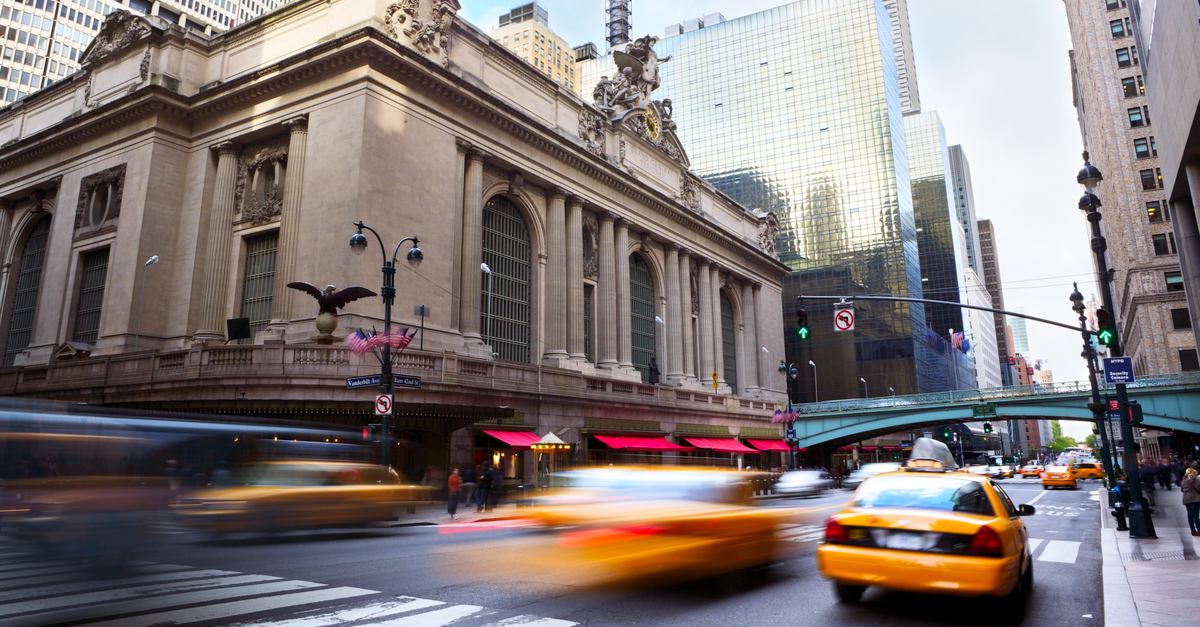 New York City Lights. Source: Shutterstock
Vamoose NYC to Washington
You can find up to nine non-stop buses from Vamoose running between these two towns. This company takes about 4h 30min on all its journeys, making it a convenient option when dealing with a fixed itinerary. Notably, Vamoose runs this route daily and has its final stations a few minutes from Downtown Washington in Maryland and Virginia.
OurBus NYC to Washington
OurBus offers efficient buses to Washington from NYC without transfers that last from approximately 4h 20min to 4h 30min. Services from this provider are available a few times a day on Fridays, Saturdays, and Sundays.
NYC to Washington Bus: Services on Board
Greyhound comes with a free Wi-Fi network to connect to most portable machines like laptops and phones for instant communication. You can have a 25-pound (11 kg) carry-on that fits in the available overhead space or underneath the seat. The company also permits three additional luggage pieces with dimensions adding up to 62 inches in the storage bay beneath the bus.
You can compactly fold your bicycle into a wooden or canvas package that meets the required measurements. Greyhound permits service animals onboard with restrictions on pets. Disabled travelers can also travel in comfort since the company provides wheelchair-equipped coaches.
Peter Pan has Wi-Fi connectivity to ensure you can comfortably communicate with your dear ones at home throughout your ride. This provider allows up to 50-pound (22 kg) luggage in the baggage bay and one 25-pound (11 kg) compact carry-on bag that you should place under the seat or in the overhead compartment.
You can disassemble and store a bike in a canvas or wooden container, with a weight not exceeding 50 lbs (22 kg). You can only travel with a therapy pet in a pet carrier or service animal that must stay within your space. The company offers accessible coaches equipped with lifts that can accommodate scooters and wheelchairs.
Vamoose provides an onboard Wi-Fi connection to enhance your convenience when keeping in touch with friends or colleagues. You can store two items weighing up to 50 lbs (22 kg) each in the compartment underneath the vehicle and place one carry-on luggage in the overhead bin or beneath your seat.
Besides, you can also keep a folded bicycle in the luggage bin under the bus. The company restricts pets on board, with only certified service dogs allowed to accompany the customer. Vamoose equips most rides with wheelchair lifts for passengers with reduced mobility. OurBus incorporates Wi-Fi onboard most buses to merge comfort with convenience.
You can bring one compact carry-on bag that can fit underneath the seat or in the overhead compartment. The company also permits one 50-pound (22 kg) luggage in its storage under the bus, allowing you to fold a bike in a container meeting the provided dimensions. OurBus only allows trained service animals onboard and provides some ergonomic buses with wheelchair accessibility.